These are absolutely the BEST gluten-free cinnamon rolls! I've been making cinnamon rolls every Christmas morning for ten years and this is by far the best recipe I've tried!
I feel like there is nothing I can say that will accurately do this recipe justice. But I still have so much to say about this recipe.
First, I am not a sweets person. 10 out of 10 times, I'll order a glass of wine instead of dessert. I'll take chicken liver over chocolate any day.
But cinnamon rolls are one of my weaknesses.
I have always loved them – the gooeyness in particular. The gooey frosting, the gooey cinnamon center, the gooey dough. I now realize gooey is a gross word so I'm going to stop using it now.
But do you SEE the gooey cinnamon caramel on the bottom? Something about the combo of butter, coconut sugar and cinnamon just melts into the dough and the bottom is covered in this crazy good sauce. I can't even explain it.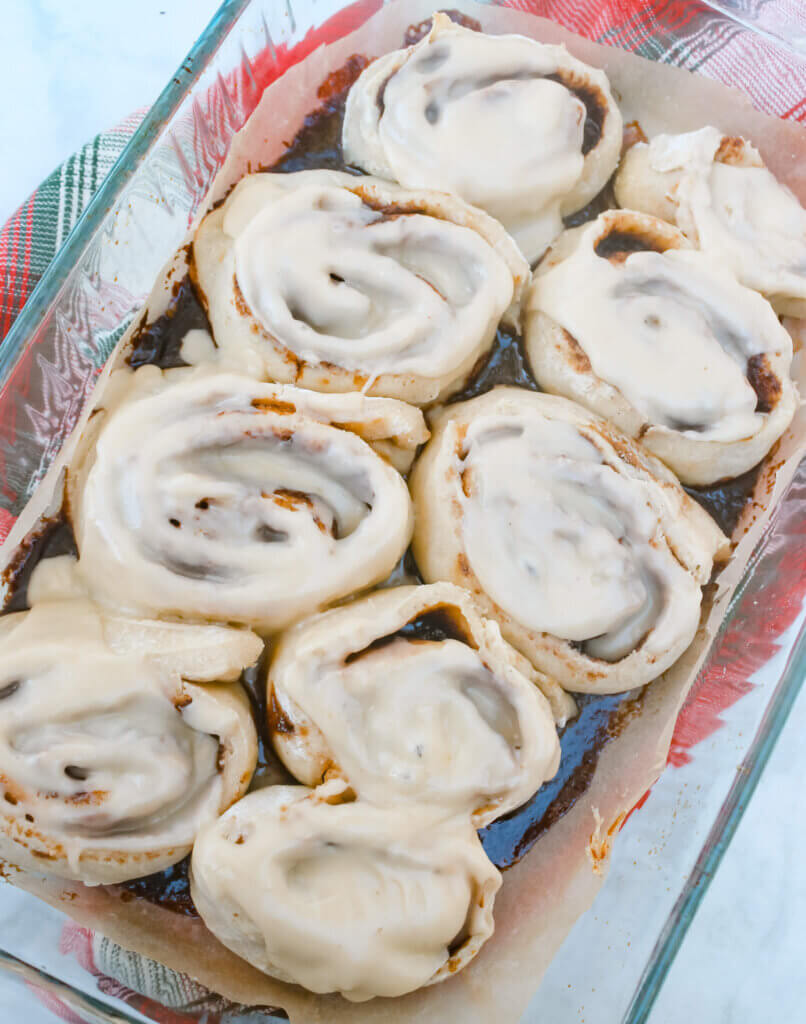 So listen, I've been trying to make a gluten-free cinnamon roll recipe for years. I've used paleo recipes, gluten-free recipes, keto, sugar-free and all recipes in between.
And to be honest, they all sucked.
A big difference with this one is the added use of yeast. You need yeast for that fluffy, gooey dough.
And trust me, after ten years of exiperimentation – these are the best gluten-free cinnamon rolls. I'm sure others are comparable, and some are SUPER complicated. But that's not my cooking style.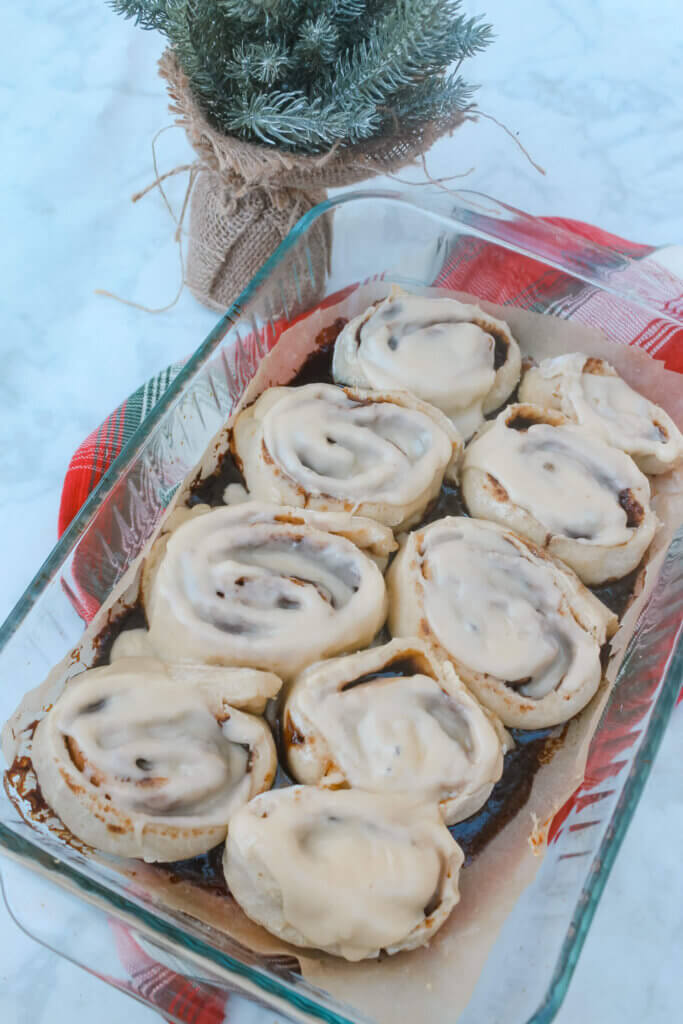 They're just so perfect for Christmas morning. Look how beautiful they are!
Tips:
If the dough is too wet, add flour.
If the dough is too dry, add water.
Definitely use parchment paper to roll it out.
If you don't have a rolling pin, use a wine bottle (see below).
I don't love cream cheese so I used butter instead, but feel free to use what you like.
Use parchment paper in the pan so nothing sticks. This is a sticky recipe.
The BEST gluten-free flour blend I've found is Bob's Red Mill. It's a 1:1 flour blend and it makes baking so much easier.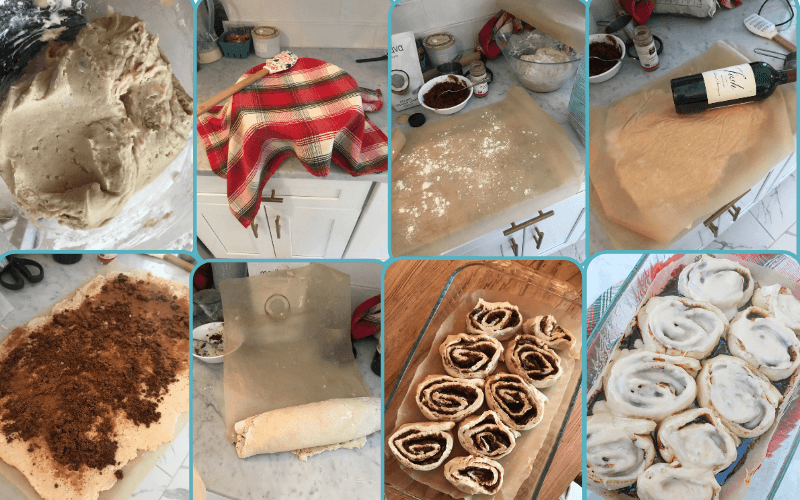 Other Christmas morning breakfast ideas: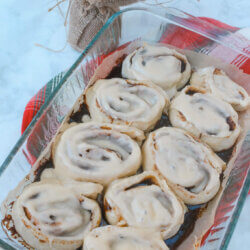 The BEST Gluten-Free Cinnamon Rolls
These gluten-free cinnamon rolls are easy to make and perfect for Christmas morning!
Ingredients
For the dough:
1

tbsp

active dry yeast

2

eggs

1.5

cups

milk of choice or water (more if you need, I live in a humid climate)

1

tbsp

vanilla extract

1

stick

butter, melted

4

cups

gluten-free flour
For the cinnamon filling:
1.5

cups

coconut sugar

2-3

tbsp

cinnamon

6

tbsp

melted/softened butter
For the icing:
4

tbsp

melted butter

1

cup

powdered sugar

1

tsp

vanilla extract

enough water to thin to desired consistency
OR for cream cheese frosting with maple syrup:
Instructions
Mix all the wet ingredients of the dough in a large bowl along with the yeast – the milk or water, eggs, vanilla and butter.

Let it sit for five minutes so the yeast can work its magic.

Add in four cups of gluten-free flour.

Mix until a dough ball is formed. If it's too dry, add a few tablespoons of water. If it's too wet, add a few tablespoons of flour.

Once the dough is right, cover with a dish towel and place in a warm area. I just left it on my countertop. You can leave it for 1-18 hours, which makes this a great option to mix the night before!

When ready to bake, preheat the oven to 350.

When the dough has about doubled in size, lay out some parchment paper and sprinkly flour on the bottom (no sticking!).

Add the dough to the parchment paper, add flour overtop, then lay another piece of parchment paper overtop.

Roll the dough out into a large rectangle (a wine bottle works well for this).

Next, mix your coconut sugar, softened butter and cinnamon until it's well incorporated.

Spread evenly over the dough.

Roll the dough up and slice into 8 with a sharp knife.

Line a baking dish with parchment paper and add the 8 cinnamon rolls to the dish.

Bake for about 30 minutes. Your oven may differ from mine.

While it's baking, mix up your icing or cream cheese frosting! Just add all ingredients to a bowl and mix.

When done baking, let it cook for 5-10 and drizzle the icing overtop![p