So, I'm pregnant. And I'm looking for ways to safely detox.
Especially now that my estrogen is naturally increasing (something that happens during pregnancy). Unfortunately, because of this increase, I've developed a small fibroid. Fibroids usually form due to estrogen dominance and don't always cause issues. But, with continued high levels of estrogen – fibroids can actually grow very large and even need to be removed.
Now, I know the fibroid I'm dealing with is just due to pregnancy. But I'd prefer to safely consume foods that bind to excess estrogen and flush it from the body. This coleslaw does exactly that. In addition to binding to carcinogens (which cause cancer) and flushing them from the system all while encouraging regularity. Cruciferous veggies are a great source of fiber. Let's not forget how important pooping is for proper and effective detoxification.
Regular bowel movement effective remove dead cells, toxins, waste and other harmful substances from the body. This is crucial for overall health and well being and is particularly great if you suffer from skin issues like acne. I find that a lot of acne sufferers also have constipation – which can cause a myriad of health issues.
CRUCIFEROUS VEGGIES AND ESTROGEN
Cruciferous veggies are rich in indole 3 carbinol, a substance that studies have shown bind to estrogen and effectively remove from the body.
"Studies increasingly indicate that dietary indole-3-carbinol (I3C) prevents the development of estrogen-enhanced cancers including breast, endometrial and cervical cancers. Epidemiological, laboratory, animal and translational studies support the efficacy of I3C. Whereas estrogen increases the growth and survival of tumors, I3C causes growth arrest and increased apoptosis and ameliorates the effects of estrogen." Source
CRUCIFEROUS VEGGIES AND CANCER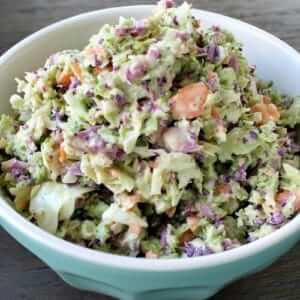 Detox Coleslaw
Detox Coleslaw - loaded with cruciferous veggies to prevent cancer, detox the liver for clearer skin and more energy and promote regularity!
Ingredients
1

small head of cabbage

1

small head of cauliflower

I chose purple cauliflower

1

small head of broccoli

4

medium carrots
Dressing
1

cup

mayo

make your own avocado oil mayo or buy it here - do NOT buy storebought mayo with soy or canola oil

5

tbsp

sour cream

2

tbsp

mustard

1

very small red onion

2

tbsp

maple syrup

salt and pepper
Instructions
Wash and roughly chop each veggie into smaller chunks.

You can chop by hand, or do what I did: toss each into a food processor. This makes it so much easier and quicker to prepare.

Add each veggie to one big bowl.

For the dressing, using the same food processor (no need to clean) just add in all the dressing ingredients.

Let it go for at last 30 seconds, or until the red onion is completely smooth in the dressing.

Toss the dressing with the salad and let them sit in the fridge for at least an hour before serving.
Notes
Use coconut oil mayo/vegan mayo and coconut yogurt or vegan sour cream to make this recipe vegan.