When I was in fourth grade, I woke up one morning with a face full of acne. It literally happened overnight, and it didn't go away until my early twenties. And when I say acne, I don't mean a breakout here and there. I wasn't one of those cute girls happily dancing around with one barely-there pimple in the acne commercials.
I had deep, painful, pimples. I had blackheads. I had whiteheads. I had huge pores. I had a face that almost dripped with oil. Sometimes, it hurt to smile. And I tried just about everything to get rid of it. Proactiv, Neutrogena, antibiotics, Dr. Murad, tetracycline, even two rounds of Accutane. Not a single thing worked.
My self-esteem was nonexistent. I was embarrassed to make eye contact with people. I had no confidence and it affected my relationships. By the time I was 20 I was so frustrated, I would've done  anything for clear skin. By that point, I'd spent literally thousands of dollars to try and get rid of it. From expensive creams, face wash and exfoliants to facials to supplements that promised clear skin. Nothing worked.
And then it dawned on me when I was finally going to school for nutrition – it was internal.

The reason I couldn't get rid of my problem skin wasn't because I couldn't find the right face wash, it was because there was something wrong with my insides. The more I learned, the more it made sense. I was always constipated, I was vegetarian for five years, I ate soy, wheat, legumes and pasta. I ate beans and vegetable oils because I thought they were healthy. I got my daily intake of "healthy whole grains." I had horrible periods and intense mood swings. My cravings were through the roof, a classic sign of blood sugar irregularity. I was always lethargic and severe anxiety. The products I was using to heal my acne weren't the issue, my diet was.
Most people don't realize that skin issues are internal issues. What is happening in your gut will reflect in your skin. So when you have candida overgrowth, high blood sugar, an overgrowth of harmful gut flora and/or leaky gut – you are going to have skin issues. When you eat junk food, or even when you eat things you think are healthy like whole grains, they convert to sugar once digested, worsening the problem. Not to mention the fact that most diets are lacking in the necessary nutrients to keep skin clear: omega-3s, vitamin A, E, D and K as well as zinc, selenium and magnesium.
The solution is to regulate blood sugar.
The solution is to rebuild gut flora.
The solution is to heal the gut.
The solution is to correct nutrient deficiencies.
The solution is to eat real food.
---
And I'm going to show you how to do it. 
You can purchase the program on its own, or you can purchase the Ancestral Organics Clear Collection and get this program for free (much more economical!). The Clear Collection comes with a cleansing oil, a toner and a moisturizer. These are designed to clear skin, eradicate acne, tighten pores and reduce redness and inflammation. This program is designed to fight acne both internally as well as externally.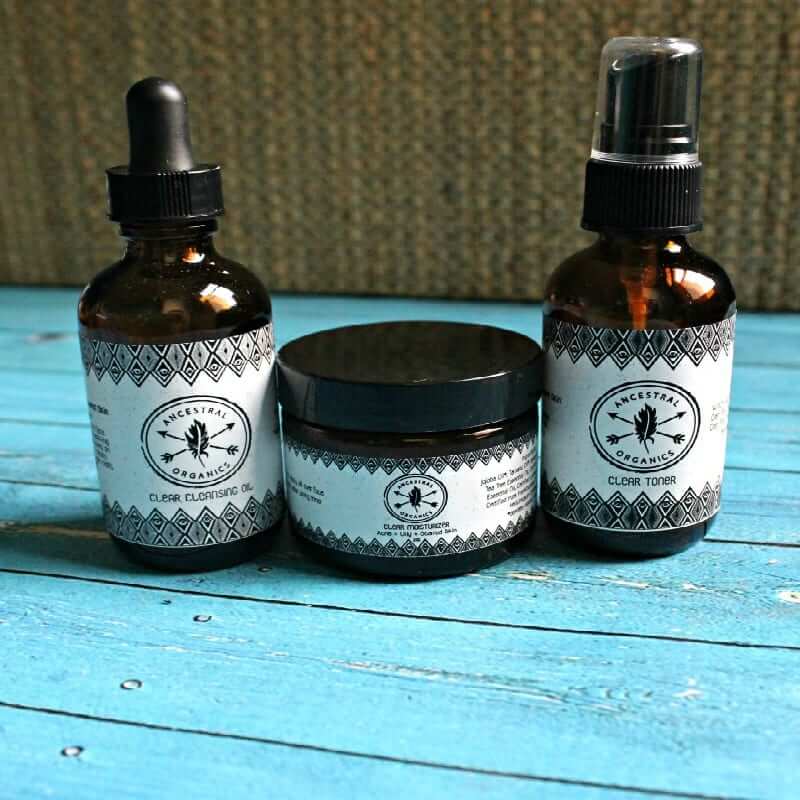 Order this collection here, then shoot me an email at dani@ancestral-nutrition.com and I'll give you FREE access to the essential glow program!
The Essential Glow Program comes with four weeks of meal plans, daily outlines and grocery lists to show you exactly what to eat to get clearer, glowing skin.
It also includes these guides:
Problem Skin Guide: a simple guide that teaches you easy steps to take care of your skin as well as different masks to do weekly to make sure your skin stays clear.
Makeup Makeover: You probably already know that most makeup can cause serious breakouts. But did you know that most makeup also contains toxic chemicals? In this guide I go through all of my favorite brands of makeup.
Bone Broth & Ferments: seems weird – but these two things are crucial to acne sufferers. Fermented food replenishes the body with good bacteria, which helps fight acne and keep it away. Bone broth heals and seal the gut lining and provides a ton of vitamins and minerals that are necessary for healthy skin.
The Kitchen Clean Out Guide: if you don't have junk food in your kitchen, you won't eat it! This is a step-by-step guide on how and what to eliminate from your refrigerator and pantry. Everything from canola oil to wheat!
Grocery Shopping Guide: so many people are overwhelmed when it comes to buying groceries, reading labels and knowing what to buy. I will teach you how to easily and effectively grocery shop.
Going Out Guide: you can still go out to eat! You just need to know how and what to order, and which easy substitutions you can make. Have your steak and eat it too!
Time Saving Tips: I know, we are all rushed, busy and too tired to make food. That's why I give these great tips on how to prep food, prepare in advance, store and generally make your life a whole lot easier.
Guide To Healthy Fats: fats are not your enemy! This is not 1983 and I am not a fat-hater. Fats are actually necessary to losing weight! This guide will teach you all about which fats to eat, which to eat raw, and which to cook with!
Grains, Legumes and Carbohydrates Guide: not all carbohydrates are created equal. Find out which are safe starches and which you should avoid for easy, healthy weight loss.
Healthy Booze Guide: this program is alcohol-free, but this is a treat for the end! I teach you which alcohols you should give up and which actually have health benefits! Along with six awesome booze recipes.

Order the program HERE, without the Ancestral Organics products.
 Due to the online nature of this content, I cannot accept refunds. If you are in any way dissatisfied, please immediately contact me and we'll work it out.