This Healthy Moussaka is a delicious gluten-free version of the classic Greek dish. It's still rich-tasking like the original and ideal if you're health conscious and on a grain-free diet! 
Healthy Moussaka with Gluten-free Bechamel Sauce: 
I LOVE me some Greek food. It's my absolute favorite type of food and I could literally eat it every day.
Every time Scott and I have date night, I try to make him go to Parthenon with me (my favorite Greek spot in DC). I am obsessed.
The great thing about Greek food, which is especially important when dining out, is that they use olive oil instead of other rancid vegetable oils like canola and soy.
They use olive oil when they cook, in their dressings, to flavor food, etc. So I know that I don't have to worry about GMO veggie oils (unless it's not a good Greek establishment).
And it's always easy to eat well at Greek restaurants. Whereas at most restaurants I have to search for a healthy option and make substitutions, at Greek joints I have trouble ordering because I literally want half of the menu and can't make up my mind.
Fish, lamb, veggies, oregano potatoes, gyro meat on a big ol' salad, grape leaves, feta. But there is one big exception to this: moussaka.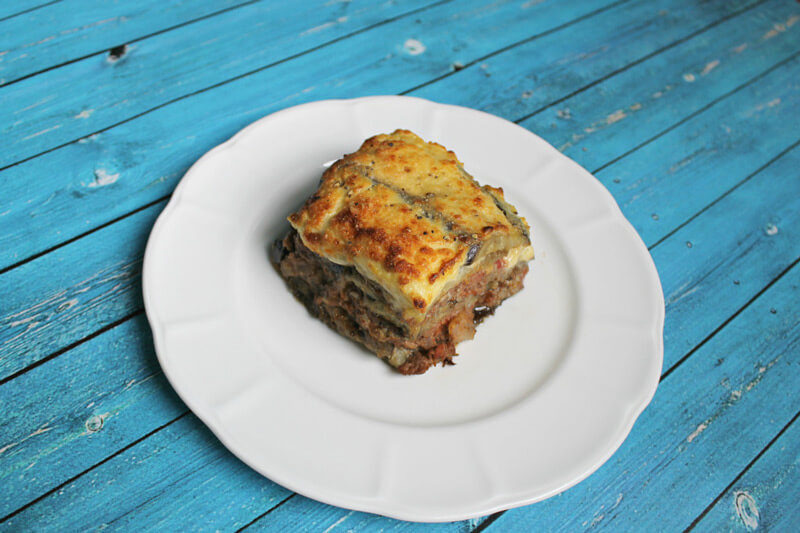 How Moussaka is traditionally made: 
Moussaka is a traditional Greek layered oven casserole dish made with vegetables and meat. The most authentic version is made with layered eggplant slices, cheese, and a rich slow-cooked meat sauce, topped with a thick béchamel sauce.
Moussaka is normally made with wheat in the béchamel sauce. The first time I ordered it, I fell in love with this dish. Only to later end up with a stomach ache, do some googling and find out there is indeed wheat. So here's how to make a great healthier version of this Greek comfort food dish – without wheat.
Why this Gluten-free Moussaka is the healthier option:
In this recipe, I use arrowroot powder rather than refined white flour to thicken the bechamel sauce making this a gluten-free moussaka recipe.
Why? Because refined white flour causes your blood sugar to spike and has zero nutrients. Arrowroot doesn't have these negative properties and is easily digestible.
This recipe used minced ground beef instead of traditional minced ground lamb. Lamb is way higher in calories and fat which I am not too worried about in general, but still. This recipe is rich enough as is.
I also make sure to use sugar-free tomato sauce and go for organic red wine to keep things as clean as possible.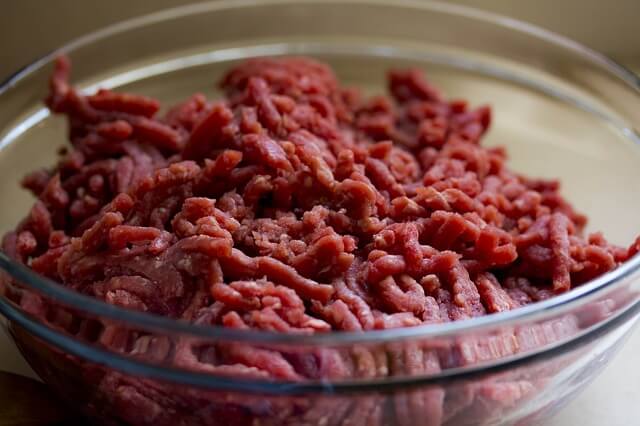 Variations on this healthy moussaka recipe:
I went for beef instead of lamb, but you could your ground lamb instead if you want.
If you don't like eggplant, you could make this with sliced zucchini or even potatoes.
Grated Pecorino can be used instead of Romano cheese.
Can I freeze leftover moussaka?
Yes, you can! Unlike other types of thickeners, arrowroot freezes well, so your bechamel layer won't turn spongy or slimy if you freeze a portion of moussaka for later consumption.
I cut up the leftovers into individual servings, stuck 'em in plastic bags and froze them. Just thaw and throw in the oven for a super easy dinner!
For more healthy Greek recipes, try my Greek Tuna Salad, Greek Chicken and Rice Bowl or my Lamb Stew.
DID YOU MAKE AND LOVE THIS HEALTHY MOUSSAKA RECIPE? GIVE IT YOUR REVIEW BELOW! ? AND MAKE SURE TO SHARE YOUR CREATIONS BY TAGGING ME ON INSTAGRAM!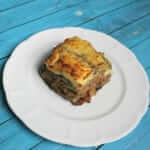 Print Recipe
Gluten Free Moussaka
This Healthy Moussaka is a delicious gluten-free version of the classic Greek dish. It's still rich-tasking like the original and ideal if you're health conscious and on a grain-free diet!
Ingredients
2

medium eggplants

sliced lengthwise

4-5

tbsp

coconut oil

1

can

tomato sauce

8 oz

1/2

cup

organic red wine

1

lb

ground beef

1

large onion

diced

1

tbsp

butter

4

garlic cloves

diced

1/2

tsp

cinnamon

1/2

tsp

nutmeg

1/2

tbsp

oregano

1

egg

salt and pepper
"Béchamel" Ingredients:
16

oz

organic heavy whipping cream

3/4

cup

romano

2

tbsp

arrowroot

2

eggs
Instructions
Preheat oven to 375.

In batches, sauté the eggplant in coconut oil until soft. You may need more or less coconut oil.

In another pan, melt the tbsp of butter and add the diced onion over medium heat.

When translucent, add the meat.

Let it brown a bit and all the other ingredients.

Let this simmer for about 20 minutes, or until most of the liquid has been absorbed.

Beat one egg in a bowl and slowly add the heated meat mixture. Be careful not to cook the egg. Once a good amount of the meat mixture has been added, add back to the pan and combine the whole thing.
For the Bechamel
Heat the cream over medium to low heat.

Add the romano.

In a separate bowl, beat the eggs and arrowroot.

Slowly add the heated cream to the egg mixture, equalling about a half a cup (make sure to add slowly!).

Add the egg mixture back into the cream.
To assemble:
Layer the eggplant, then the meat, then the eggplant, etc.

Do this until they run out.

Pour the cream mixture over top.

Bake for 45-60 minutes.