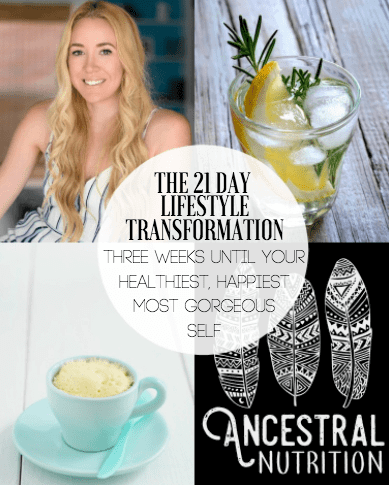 Want to know the secret to effortless and lasting weight loss? It's unbelievably simple.
But we've been taught that weight loss is difficult, that being healthy is hard, that we need to count calories and eat salads. Which is what I always did when I wanted to tone up, lose fat and get in shape.
So I counted calories, I counted carbs, I portioned out my meals, I ate a ton of salads, and I basically starved myself of the food my body wanted (and needed).
Almost as soon as I started, I was done.
I was tired of dieting. Dieting is freaking exhausting! Anything was better than the mind numbing calorie counting, weighing my food and just. being. HUNGRY. All I could think about was food. All I could feel was hunger, and guilt. I remember devouring two cupcakes after I had lunch one day, years ago. I couldn't take it back. I ate those cupcakes, and they were probably the best thing I ever tasted.
And then the guilt set in. I had failed my diet for the day. And I did it in the first place because the food I was eating wasn't nourishing, or filling, or healthy.
Let me let you in on a little secret: dieting isn't healthy.
Dieting isn't going to get you the body you want.
You know what is? Me.
Diets are bullshit. Let's just call it like it is. They. Don't. Work. If you've come here expecting to be introduced to some strict dieting plan, a green smoothie a day, a raw vegan diet, or any other bullshit fads, you will not find it here.
It's time to stop counting calories and carbs, stop eating low-fat food, and stop focusing on portions.

It's time to start eating real food. It's time to nourish your body. It's time to transform your lifestyle by eating healthy, real food. Because there is NO diet that will do for you what eating real, unprocessed food does.
Here is what we don't do:
count calories
count carbs
avoid salt
drink smoothies or shakes as meal replacements
skip meals
ignore hunger
binge
avoid meat
avoid fat
avoid sugar
guilt
What we do:
take care of our bodies
love ourselves
treat our bodies like the awesome, beautiful temples they are
feel confident
stay proud
eat well
eat when we want
eat until we're full
enjoy food
OWN this shit!


It's time to take ownership of your body. This is your life. It's time to stop falling for these fad diets. At no point in time have our ancestors ever been vegan (or even vegetarian), our ancestors have never eaten low-fat foods, or fake sugar. And guess what?
They had amazing, strong, healthy bodies, without disease.
So if you're ready to get serious about living a healthy lifestyle without dieting and without the nutritional misinformation, sign up here. You're either ready to take control of your life and body, or you're not.
Give me three weeks. I'll give you:
daily meal plans including breakfast, lunch, dinner and snacks that I will teach you how to tailor to your own bioindividuality ($150 value)
an outline of what to do daily and how to prepare your meals, directions and/or recipes for over 60 meals ($50 value)
20 amazing guides that will literally transform your life ($250 value)
Intro to the 21DLT
Bioindividuality Determination
Real Food Resources: a guide to finding locally, sustainably raised food across the US
Non-GMO Guide: a guide on how and why to avoid GMOs including the top ten offenders
Kitchen Clean Out Guide: 7 steps to a healthy kitchen and pantry
Non-Toxic Cleaning: a guide to replace current chemical based products with non-toxic options
Non-Toxic Makeup: a guide to which chemicals to avoid in makeup, and better and healthier makeup options (including all of my favorites!)
Non-Toxic Body: a guide to which chemicals and toxins to avoid in body products, and non-toxic body products to use instead
Bone Broth and Ferments: ancestral super foods that heal the body
Grocery Guide: a guide to effective grocery shopping techniques
Super Foods: the top 10 super foods, their nutritional compositions and why they're great
Booze Guide: The healthiest options for drinking along with six homemade, sugar-free drink recipes with my favorite secret ingredient for tasty and healthy drinks
Going Out Guide: a guide to eating at restaurants, what to avoid and what are generally safe options
Healthy Fats Guide: a guide to healthy and unhealthy fats, along with which to cook with and which to eat raw
Grains, Legumes and Carbohydrates Guide
15 Time Saving Kitchen Tips: 15 tips to save you time and money
Daily Checklist
Drink This Not That: a guide the the healthiest drink options and what to eliminate
10 Steps To Healing Hormones
Sweets Guide: a guide to sweeteners, sugar and healthy desserts (including my eBook!)
Daily Food Journal
Due to the online nature of this content, I cannot accept refunds. If you are in any way dissatisfied, please immediately contact me and we'll work it out.