I've never loved beans, but I do like refried beans with tacos. I don't, however, love what they do to my stomach. There's a reason a lot of people have issues with beans – they're loaded with enzyme inhibitors and difficult to digest. They're also full of phytic acid, which binds to minerals and prevents them from being absorbed. I know people love to talk about how healthy beans are and how they're such a good source of protein, but 100 grams of pinto beans have seven grams of protein and roughly 22 grams of carbohydrate.
Now compare that to wild salmon which has 25 grams of protein and 0 carbohydrates.
Luckily for you, I recreated refried beans using eggplant. Most recipes call for zucchini, but zucchini and I don't get along. Plus I had an eggplant in my fridge.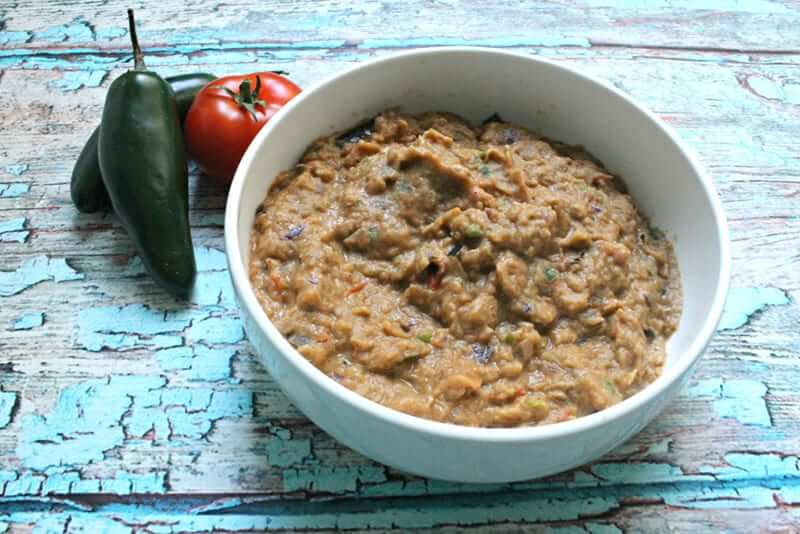 Paleo Pinto Bean
Ingredients:
1 small eggplant, diced into cubes (about 2.5 cups)
1 red onion, diced
1 Roma tomato, diced
1 jalapeno, diced (remove the seeds for less spice)
1 large clove of garlic, minced
1 tsp chipotle powder
1 tsp garlic powder
1 tsp cumin
2 tbsp coconut oil
1/4 cup bone broth (you may need a bit more)
Directions:
Melt the coconut oil over medium-high heat.
Add the onion and stir for about a minute.
Add the tomato.
Once softened, add the cubed eggplant.
It will take a while to cook the eggplant and it may start to become dry because eggplant absorbs the liquid. So add the bone broth.
When it's cooked, add the garlic, jalapeño, and spices.
Puree.