These smoked salmon breakfast potatoes are perfect for Spring and even better for an Easter brunch!
You guys. I love smoked salmon. I love potatoes. I love sour cream, and you can bet your ass I love fresh herbs.
This dish is screams spring time to me – fresh potatoes, bright herbs and seriously ideal for a brunch outside. Preferably paired with a green juice mimosa.
Plus, it's actually really, really healthy.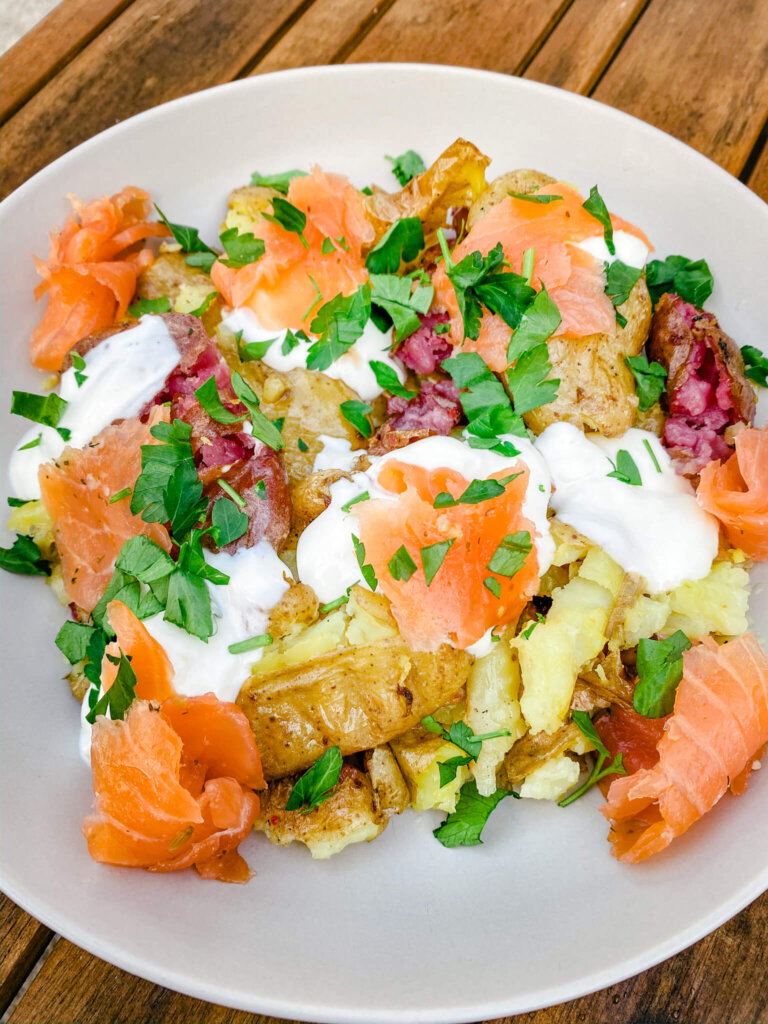 I know keto is all the rage, and I'm not bashing keto. It works vert, very well for some people. But just because keto works well for some people, does not mean that carbs are unhealthy. Just like keto is not inherently unhealthy.
What works for one person will not work for another. For me, as a woman in my fertile years who is active and works out and has a fairly stressful life – carbs are a necessary component of my diet.
They keep my blood sugar balanced and support my hormone production.
That being said, I AM low carb. And this recipe can be too – if you consume it properly.
Smoked salmon breakfast potatoes are crazy delicious – and they're meant to be consumed as a side dish.
Ideally, you'd have some smoked salmon breakfast potatoes on the side with a lil' salad and a few pasture raised eggs.
Health benefits of smoked salmon breakfast potatoes:
high in omega-3s: DHA and EPA, which are crucial for heart health and brain health
rich in protein (salmon)
anti-inflammatory
once these potatoes cool a bit, they become a resistant starch (starch that feeds beneficial bacteria in the gut)
sour cream is lactofermented and a delicious source of probiotics
parsley is anti-inflammatory and rich in antioxidants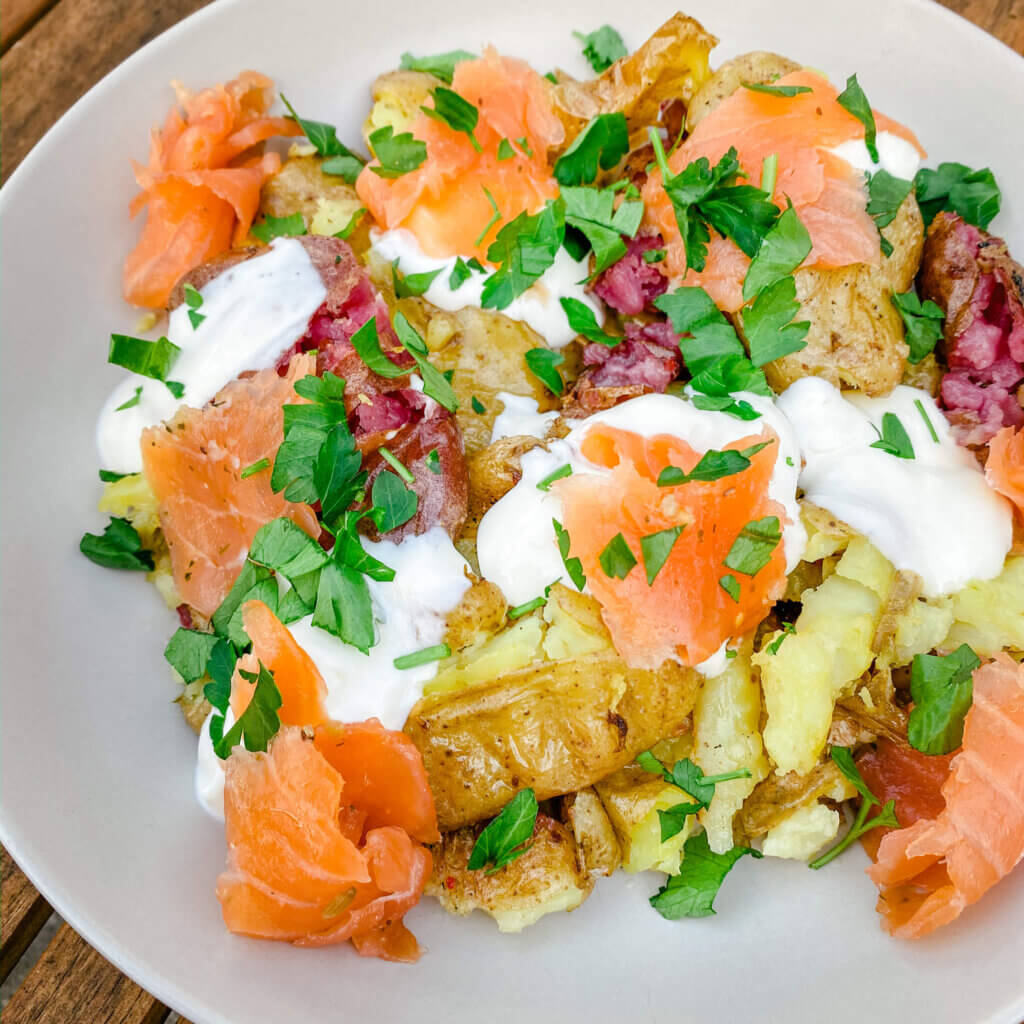 Other tips:
you can boil these before you bake them, which makes them easier to smash and gives them a better crisp
if you're crunched for time, just toss in olive oil and half way through cooking, pull them out to smash them
you can smash the potatoes with the bottom of a thick drinking glass, potato masher, whatever ya got
feel free to add any herbs you like, dill would be SO good
if you can access it, add salmon roe to this recipe to increase the nutrient density
Other recipes that are really, really good:
Breakfast Salad with Smoked Salmon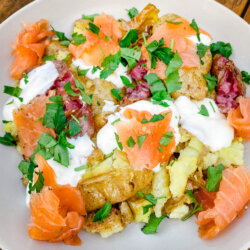 Smoked Salmon Breakfast Potatoes
These smoked salmon breakfast potatoes are super healthy and perfect for spring! Enjoy with a side salad and some eggs.
Ingredients
1

bag

fingerling potatoes

4

oz

smoked salmon

1/2

cup

sour cream

2

tbsp

chopped parsley

1/2

cup

avocado or olive oil
Instructions
Boil potatoes until tender, about 10-15 minutes.

Toss them in avocado or olive oil, then spread them on a parchment lined baking sheet.

Smash the potatoes, then add salt and pepper. You can add a lil' more oil if they're dry.

Bake until crispy, about 15 minutes.

Add to a bowl, then top with dollops of sour cream, the smoked salmon and the parsley.