I woke up one Saturday a couple weeks ago, the day before my birthday. Scott and I were meeting our friends that night and I was EXCITED. In celebration, I made big breakfast and a green juice mimosa.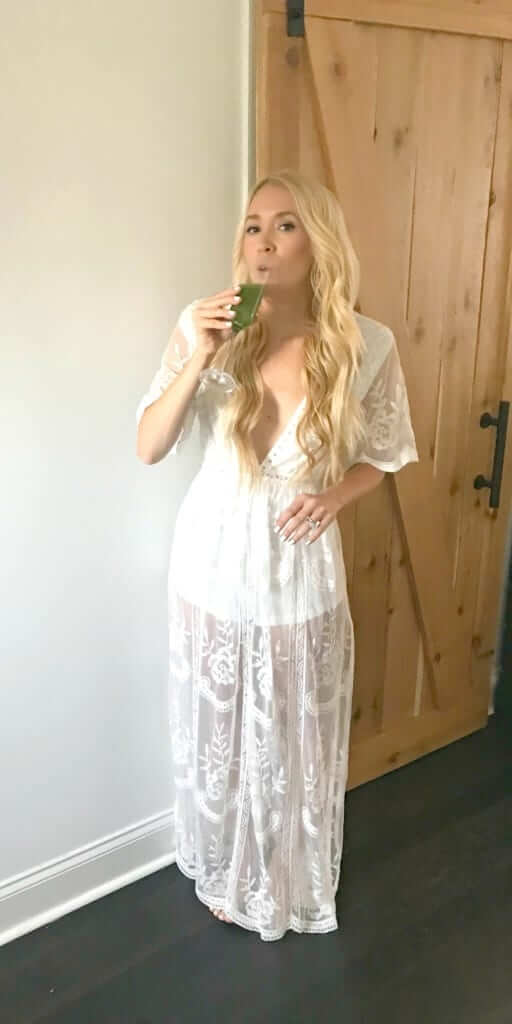 I chose a low-sugar (okay, like, no sugar green juice) which made this mimosa very tart.
If you prefer a bit sweeter, opt for a green juice made with an apple but still under 10 grams of sugar per serving. And read the bottle carefully, because many green juices have sugar listed as 10 or 11 grams, and then you realize the serving size is actually 2.
And then you just drank the amount of sugar you should have in an entire day.
Always check the sugar and the serving size!
Back to the mimosas.
I chose a VERY dry (low sugar) and organic blanc de blanc for my champagne, or sparkling wine. It's from Argentina so I guess technically it's called sparkling wine but really it's also champagne.
It's just not made in Champagne, France.
I love wines from Argentina. They have a great climate and land for wine, and many vineyards down there are organic. I only drink organic booze, and honestly it's not that much more expensive than the cheap shit.
And it won't give you a hangover (unless you drink too much, in which case, duh).
So I started the morning of my birthday weekend by dressing up, making breakfast and drinking a green juice mimosa and it was freaking DELIGHTFUL.
My son happily munched away on his Simple Mills pancakes, I ate my eggs and bacon and pancakes (give me all the breakfast food) and sipped on these green mimosas. Which made me feel much healthier, even though I was drinking before noon. I had like, one. So it's fine.
To be honest I drank more that night with friends. I brought a watermelon kombucha to the bar to use as a mixer and asked for blanco tequila and sodas – that I added a splash of watermelon booch to. That's just how I roll. And it was DELICIOUS.
Ingredients
1 bottle of organic champagne or sparkling wine
1 low-sugar green juice (or make your own)
Instructions
Pour champagne equally in four glasses, not quite to the top.
Finish off each glass with a pour of green juice.
Sip away!
https://ancestral-nutrition.com/green-juice-mimosa/