Is eating a salad for lunch everyday healthy? Here's the low down on lunch salads plus healthy lunch salad ideas that are quick and easy to make ahead.
If you follow me on Instagram, you know that I have a big ass salad for lunch almost every day. So many people get caught up on lunch. They don't bring food to work and then end up ordering out or eating food in the office – neither of which is as healthy (or cheap!) as simply packing your own salad.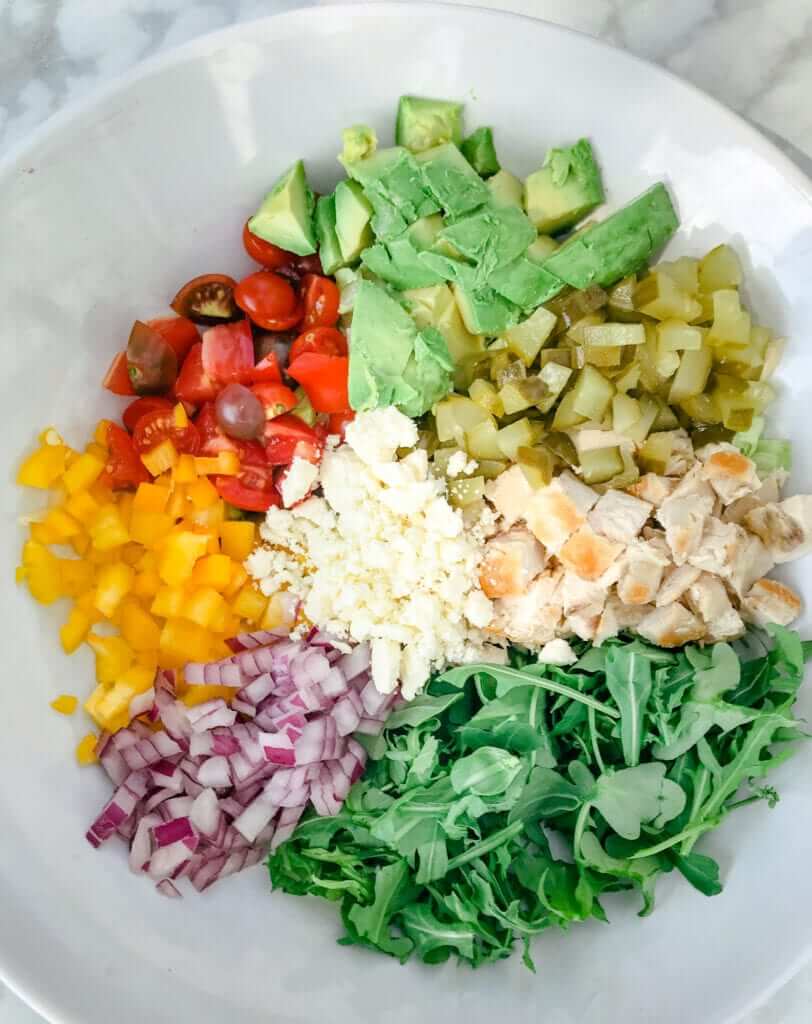 Why you should have a lunch salad every day:
It's cheaper.
Many people find themselves at the local cafeteria, coffee shop or ordering PostMates for lunch. Buying lunch daily seriously adds up. Statistics vary, but the average cost of buying lunch runs around $12. That's $60 per week. That's $3,120 on lunch alone!
Now consider that making your own lunch salad runs around $4. That's the average cost I've tallied for my healthy packed meal prep salads, which are 100% organic veggies, combined with a low-sugar salad dressing and organic, pasture-raised meats.
Even eating organic, high quality is cheaper than eating out.
Don't get me wrong, you don't have to eat 100% organic, but know that if you do choose to – it's still cheaper than eating out. My advice is to do the best you can with your grocery budget.
Prioritize organic proteins and stick to the clean 15 and dirty dozen. The dirty dozen are the fruit and veggies grown with the most pesticides, so try to purchase those organically.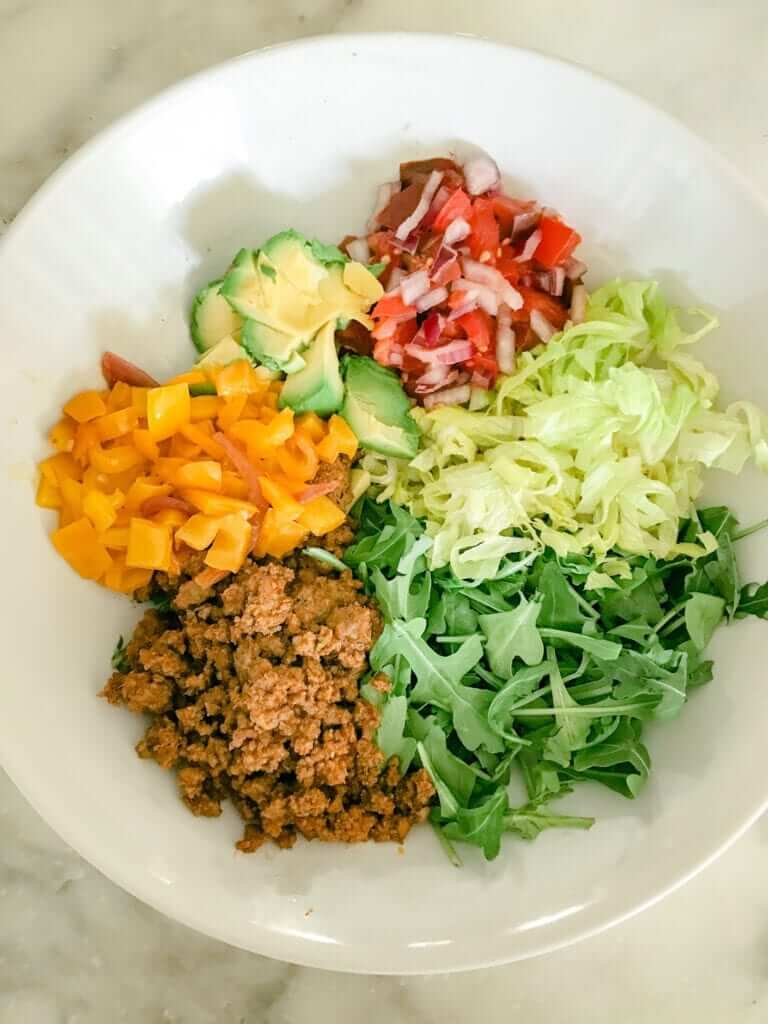 It's healthier.
This is kind of a no-brainer right? Eating a daily lunch salad will help you achieve your wellness goals, whether they're reduced anxiety or losing weight.
What you eat is the biggest determining factor when it comes to mental health, disease prevention, lifestyle, happiness, etc.
Eating a healthy lunch salad every day is a simple, easy way to look and feel better. When it comes to choosing a sandwich from a local coffee shop or bringing your own salad to the office – your body will thank you immensely for choosing the salad.
Bonus – you'll look better, feel better, have clearer skin and less stress!
Eating a lunch salad every day boosts brain health!
Researchers found that consuming leafy greens daily kept brains looking 11 years younger on average (source). This study was published in Neurology and found that eating 1.3 servings of leafy greens a day prevented cognitive decline.
In the age of Alzheimer's and dementia, this is huge. This is one simple step people can take to protect their brains and prevent cognitive issues!
How to make a leafy green lunch salad every day.
Choosing the right base for your salad:
This is actually incredibly simple and I do this by utilizing a lot of leftovers. First, I buy my favorite leafy greens which include arugula, spinach and romaine. Use whatever base you like, but just know that we're talking dark, leafy greens – not iceberg. This will be the base.
Then, add veggies! I chop up a ton of veggies on Sundays to toss into my salads.
My favorite veggies salad toppings include:
avocado
beets
tomato
red onion
cheese (feta is a favorite!)
peppers
all kinds of seeds (love spicy pumpkin seeds)
cucumber
cabbage
artichokes
olives
pickles
The best proteins to add to your lunch salad:
As for proteins, I usually bake chicken on Sundays. I toss in avocado oil and salt then bake on 375. I also often sautee up some ground beef, which is perfect for taco salads or I make a simple Greek shrimp salad.
And always utilize leftovers! If I made tacos the night before, I'll use the leftovers for taco salads. Or if I made steak, steak salad it is! If I make a chicken stirfry, I just add that to a bowl with arugula and olive oil!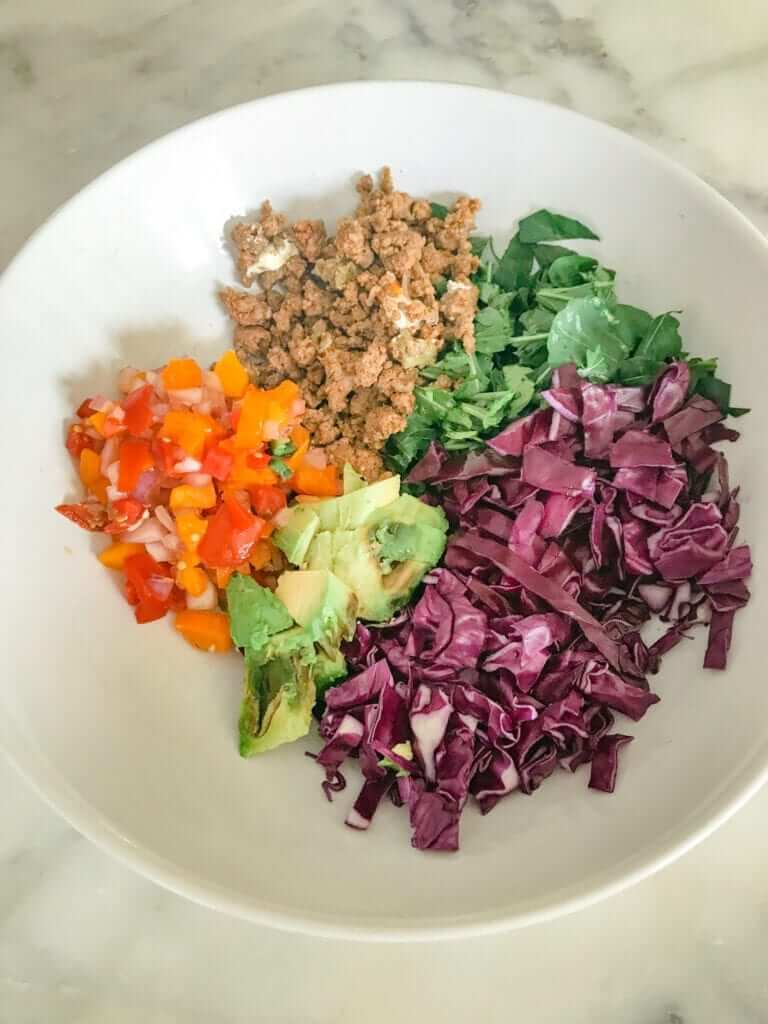 A note on making healthy salad dressings.
Most store-bought salad dressings are pure garbage. They are often made from soy, canola or grapeseed oil – all of which are highly processed and inflammatory.
Most of the time, I add a hefty drizzle of good quality olive oil and sea salt. This is delicious and brings out the natural flavors in the salad.
My favorite store-bought salad dressings are Primal Kitchen, Chosen Foods and Tessemae's (their habanero ranch). These are the only three salad dressings I've found with healthy ingredients.
Or better yet, make your own!
For healthy salad recipes check out these: