This fancy caprese salad is gluten-free, low carb, super easy to make and such a crowd pleaser. Try it for your next cookout or dinner party!
I made this fancy caprese salad for our Father's Day dinner. We had gone to a nice brunch earlier in the day and Scott actually told me this meal was better.
I made this salad, spaghetti with homemade sauce (his favorite) and grilled chicken and veggie skewers. I have to admit, it was a damn good dinner.
I prefer using buffalo mozzarella because not only is it incredibly creamy, it's easier to digest than cow's milk. I don't have a dairy allergy, but with being celiac, I do have a more sensitive digestive system.
I actually gave up dairy for close to a year when I was pregnant and then nursing my son (he had terrible reflux). I thought it might also help my digestion, mood and skin but honestly I noticed no difference. And I missed cheese.
After I re-introduced cheese, I also felt fine. I didn't break out or have an upset stomach, so this was a good indication that dairy and I are total pals. I just keep to grass-fed dairy and choose buffalo, sheep or goat milk cheese over cow.
You could also use a decent brand of paleo, dairy-free cheese in place of the buffalo mozzarella, like Mykonos brand. I haven't had it but I hear they make pretty good vegan cheese.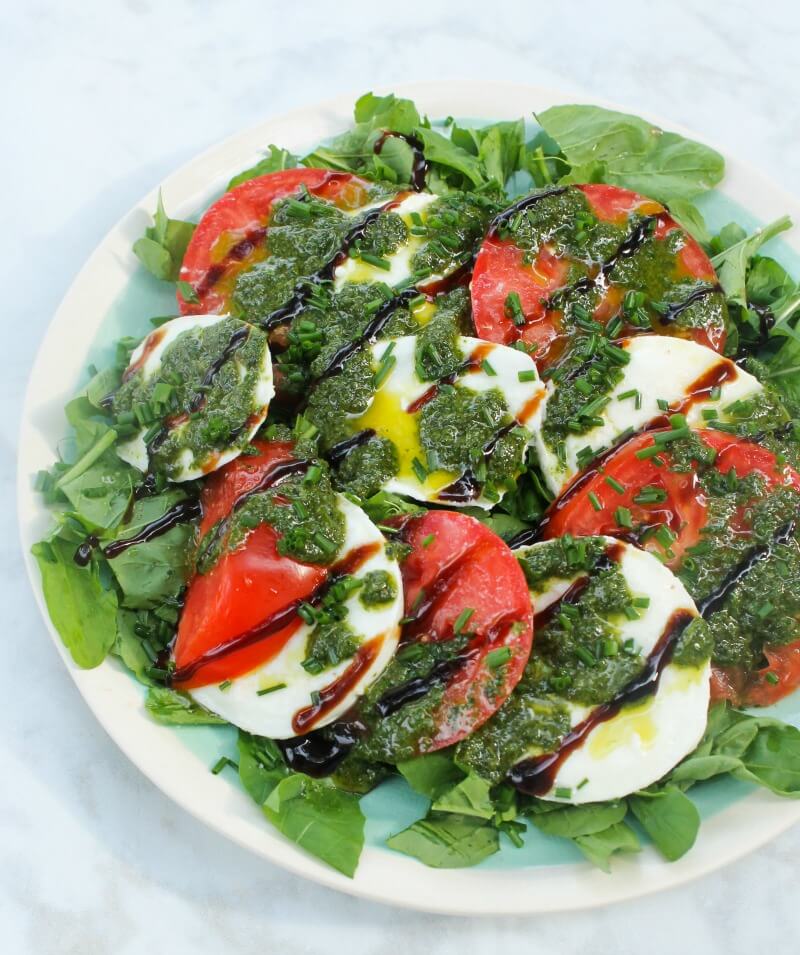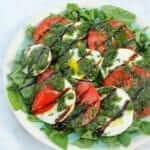 Print Recipe
Fancy Caprese Salad
Ingredients
1

large tomato

1

lagre ball of mozzarella (also called Ovoline, I used grass-fed buffalo milk mozz)

3

cups

arugula

1/4

cup

olive oil

1/2

cup

basil leaves

1/2

cup

parsley leaves

2

tbsp

fresh chopped chives

1

tbsp

balsamic glaze
Instructions
Chop the arugula into bite size pieces and arrange it flat on a nice plate.

Slice the tomatoes and mozzarella into slices and alternately layer them on top of the arugula.

Add the olive oil, basil and parlsey to a blender and blend until smooth.

Pour on top of the tomato and mozzarella.

Sprinkle the chives overtop.

Drizzle balsamic glaze (I used the organic one from Whole Foods) over the entire salad.

Top with sea salt and a little more olive oil if you like.