This is the best summer salad – it's full of delicious, fresh summer produce. It's healthy, gluten-free and so easy to make! Try it for your next cookout!
Summer is my absolute favorite season. I love the warm weather, the long days, the beach and best of all: summer veggies!
I have a big garden in my backyard and go to the farmers market in my neighborhood every Saturday. Whatever I don't grow myself, I get from local farmers.
I swear, these cherry tomatoes are so sweet they're basically candy.
This is my first year growing lettuce and it's the easiest thing I've ever grown. I cut it, eat it, and a few days later there's more. It's so easy and fresh – I love it.
Every year I also grow a ton of basil. I use it all summer long, then dry it for winter. It has a much stronger flavor than store-bought dried basil. The fresh basil in this salad paired with olive oil, salt and the juiciness of the tomatoes is really all the dressing you need.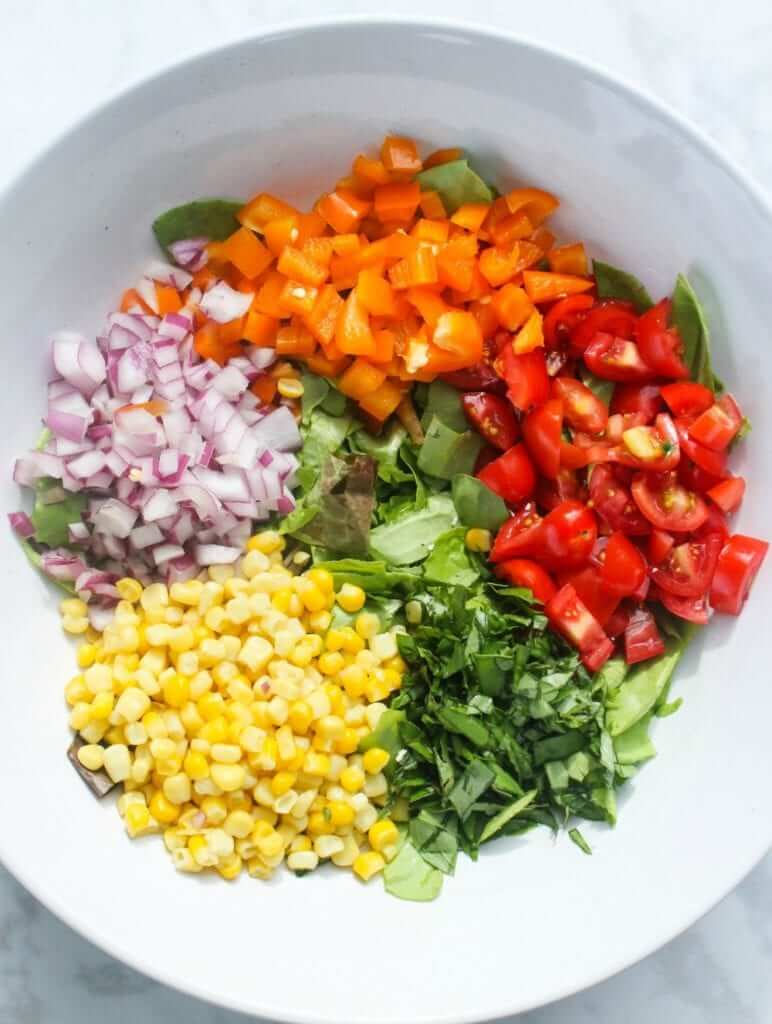 A word on corn: I don't eat a ton of corn as it's a grain and can be irritating to the cut, but I find that eating it 1-2x a week isn't a problem at all.
HOWEVER.
Over 90% of corn grown in the US is genetically modified. ALWAYS buy organic corn. If someone tells you that all corn is genetically modified – they have no idea what they're talking about. Corn is hybridize, a natural process in which farmers have cross-bred plants for thousands of years. It occurs in nature. Genetic modification is not natural, it is the act of splicing genes and combining two species that would never naturally be combined – resulting in a genetically modified product that has been linked to cancer. Genetic modification happens in a lab – not nature. Always buy organic corn!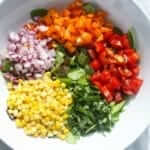 Print Recipe
The Best Summer Salad
Ingredients
1

cup

cherry tomatoes, halved

1

cup

organic corn

1

handful of basil leaves, chopped

1/2

red onion, diced

3

cups

fresh lettuce (mixed greens, arugula, spinach, whatever you like)

1

yellow or orange bell pepper

1/3

cup

olive oil
Instructions
Layer the lettuce leaves on the bottom of a large salad bowl.

Add the corn, tomatoes, red onion, basil and onions on top.

Drizzle the salad with olive oil, salt and pepper.