Jump to Recipe
This paleo huevos rancheros recipe is surprisingly easy, quick, healthy, gluten-free, keto and low fodmap!
I love food. It's as simple as that. I saw a popular Instagrammer post a plain salad with chicken and talk about how she just loves boring meals (no shame, good for her) and while that's cool – it ain't me.
I don't like boring food.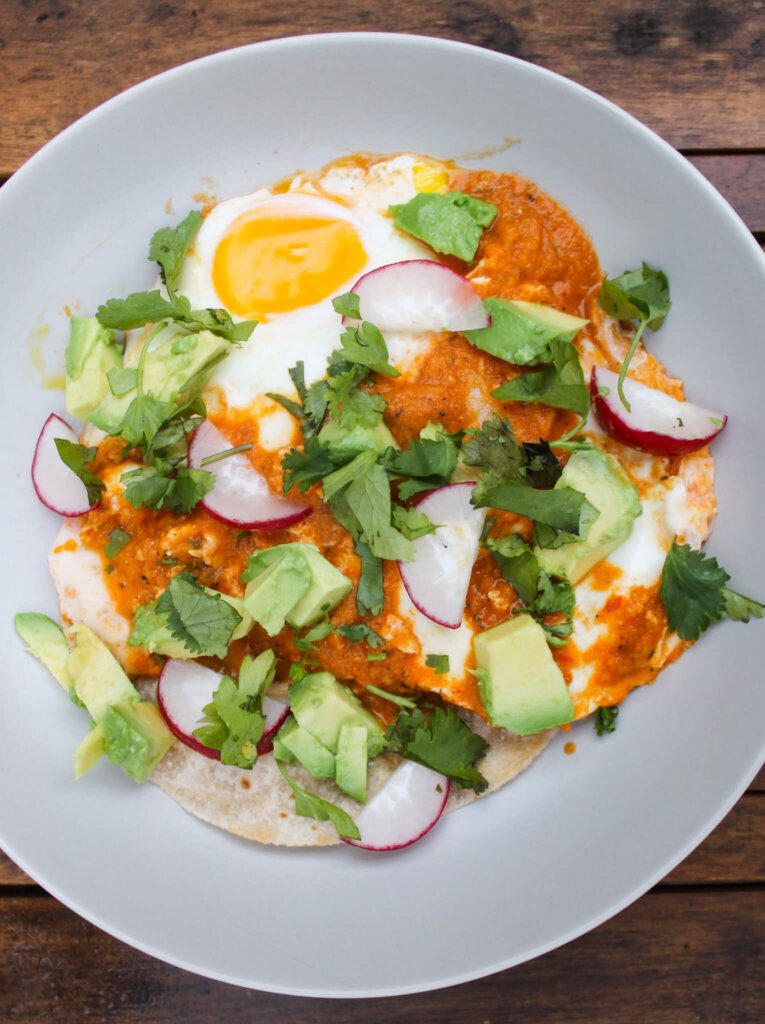 I want variety, I want flavor, I want spices and depth and deliciousness.
And I want it to be healthy.
That's how I came up with this huevos rancheros recipe! It's not a traditional recipe and I'm sure any native Central American would make a better version, this is how I made it. And honestly, it was pretty damn good.
Health benefits of paleo huevos rancheros:
20 grams of protein, mostly from the eggs
rich in choline from the egg yolks
loaded with antioxidants from the tomatoes, bell pepper and avocado
rich in fiber (avocado)
contains over six different vegetables, which helps build a healthy gut microbiome
low in carbohydrate which will help maintain balanced blood sugar
Tips:
I am healing from some gut issues so I'm on a low FODMAP diet – if you're not feel free to add onion and garlic!
Like all of my recipes, this does not have to be followed to a T. Add whatever you have on hand and don't worry if you're missing an ingredient!
If you don't have fresh tomatoes, use canned.
If you don't have access to grain-free Siete tortillas, you can make your own or just use corn to keep it gluten-free.
Other recipes: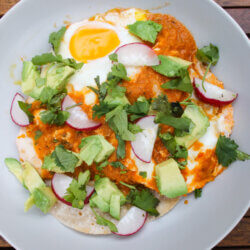 Paleo Huevos Rancheros
Ingredients
1

Siete cassava tortilla

2

roma

tomatoes, chopped into 4

1/2

yellow bell pepper, sliced

2

large green onions

2

tbsp

olive oil

1

tsp

chipotle powder, chili powder and/or cumin (you could also use a taco seasoning)

3

eggs

1/2

avocado, diced

2

radishes, sliced

2

tbsp

cilantro, chopped
Instructions
Turn on the broiler in the oven.

Mix the tomato, bell pepper and green onion with olive oil, salt and pepper.

Put them in a baking dish and broil until they begin to brown, 5-8 minutes.

While that is cooking, heat 1 tbsp olive oil over medium heat.

Once hot, add the tortilla. Brown a bit on both sides. You can make it more or less crispy.

Remove the veggies from the oven and blend them, you can add any seasonings you like. Blend until smooth.

In a pan, add the sauce. Crack three eggs and cover.

Once the eggs are set, remove and place them and the sauce on top of the tortilla.

Add the avocado, cilantro and radish.