Jump to Recipe
This Mexican breakfast hash is paleo, whole30, gluten-free and SO delicious and filling. It's packed with protein and veggies too.
Unlike my husband, I need some variety with my breakfasts. I don't want the same thing every morning. My favorite thing is to actually look up breakfast and brunch menus at cool restaurants and recreate the recipes at home.
This recipe was born mostly out of boredom with scrambled eggs. And craving tacos for breakfast. But I don't love egg tacos, so here ya go.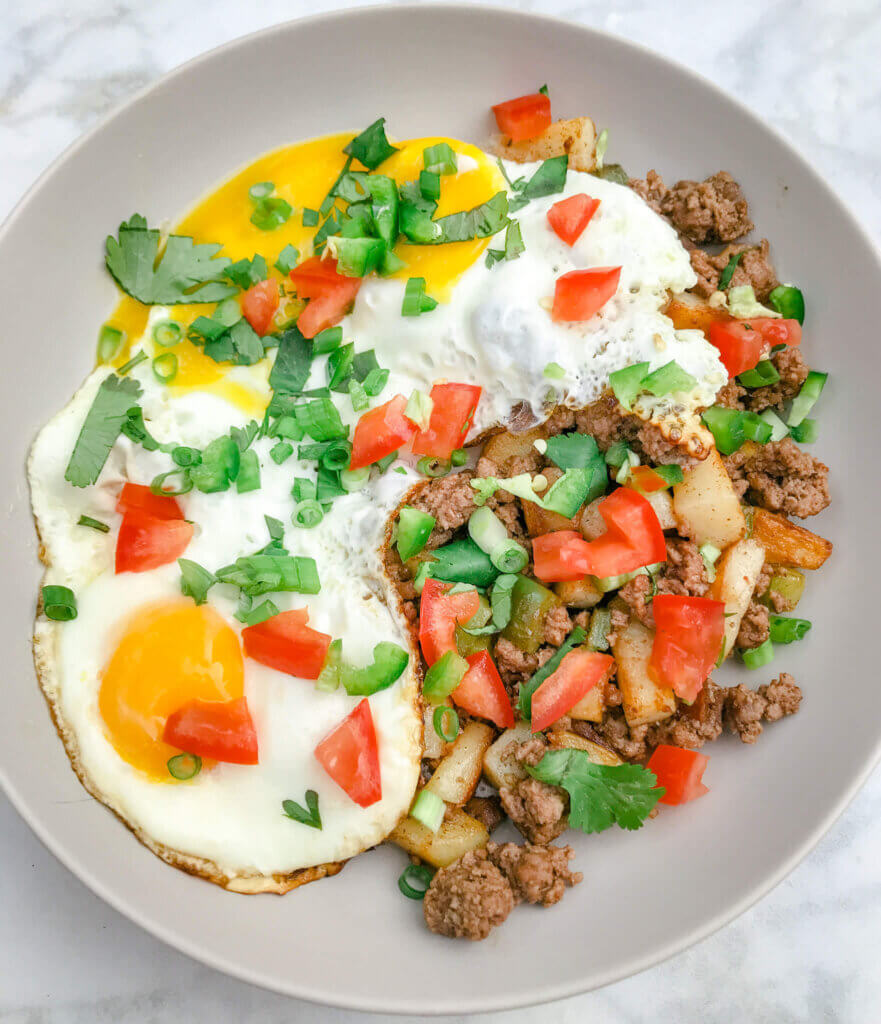 Health benefits of this Mexican Breakfast Hash:
it's Whole30, paleo, gluten-free and keto if you omit the potoato
contains six different veggies, which is great for beneficial gut bacteria
contains roughly 25g protein
rich in healthy fats
contains b12, iron, zinc, choline, selenium, biotin and a variety of b vitamins
rich in antioxidants from plant foods
grass-fed ground beef is high in omega-3s and great for the earth
Tips:
feel free to mix up the spices and use taco season, chili powder, whatever you like
you can use any color bell pepper
add spinach to make it even healthier, which I meant to do but forgot
prep at night to have in the morning
Other Recipes: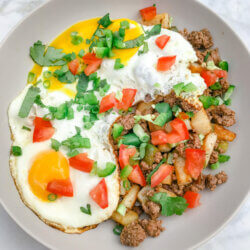 Mexican Breakfast Hash
Ingredients
1

tbsp

olive oil

1

small

potato, diced

1/2

green bell pepper, diced

1/3

cup

ground beef (more or less is fine)

1

tsp

cumin

1

tsp

smoked paprika

2

eggs

1

roma tomato, diced

1

tbsp

cilantro, chopped

1

tbsp

green onion, diced

1

tbsp

jalapeno, diced
Instructions
Heat the olive oil over medium heat.

Add the diced potato and cook until all sides begin to brown.

Add the green pepper, cook until soft.

Add the ground beef, cook through.

Add the cumin and smoked paprika.

Remove from pan, set aside.

Cook two eggs, over medium or over easy.

Add eggs on top of the hash.

Top it all with the tomato, jalapeno, green onion and cilantro.