Jump to Recipe
What can I say? This gluten-free veggie shakshuka was everything I'd hoped it would be: freaking delicious, beautiful, full of delicious veggies and healthy protein and topped with fresh herbs and cheese. Name a better breakfast. You CAN'T.
Seriously you guys, this was so good. I love waking up and making a healthy, delicious and filling breakfast.
I feel like this is a breakfast I would make if I were living in the Italian or French countryside, growing my own veggies and raising chickens. It just feels fancy and European and it's so delicious.
I actually have no idea what I'm talking about, seeing as I've never been to the Italian or French countryside. But like, doesn't it just seems like that kind of breakfast??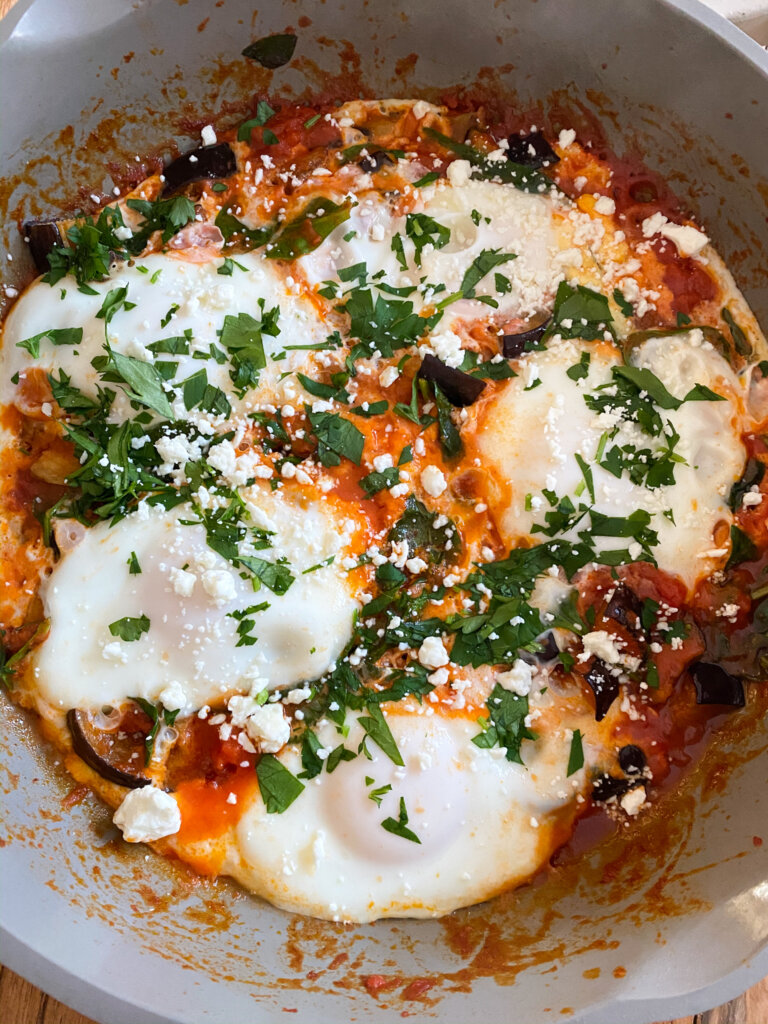 Health benefits of this recipe:
rich in protein – each person gets three eggs which is nearly 20 grams of useable, healthy protein
eggs are incredibly healthy and rich in choline, which is particular healthy if you're pregnant
antioxidants from the veggies
spinach is a healthy leafy green rich in folate, vitamin K, magnesium, etc
eggplant has shown to exhibit anti-carcinogenic properties
the ingredients in this recipe are anti-inflammatory
Tips:
you can use any kind of sauce you like, I used Rao's marinara (it's my favorite) but feel free to use arrabbiata, vodka sauce or just a can of tomatoes with your favorite spices added
feel free to use any veggies you have on hand, this would be perfect for using up leftover vegetables in your fridge that are about to go bad
to keep this strict paleo, just eliminate the feta
parmesan or pecorino would go beautifully with this gluten-free veggie shakshuka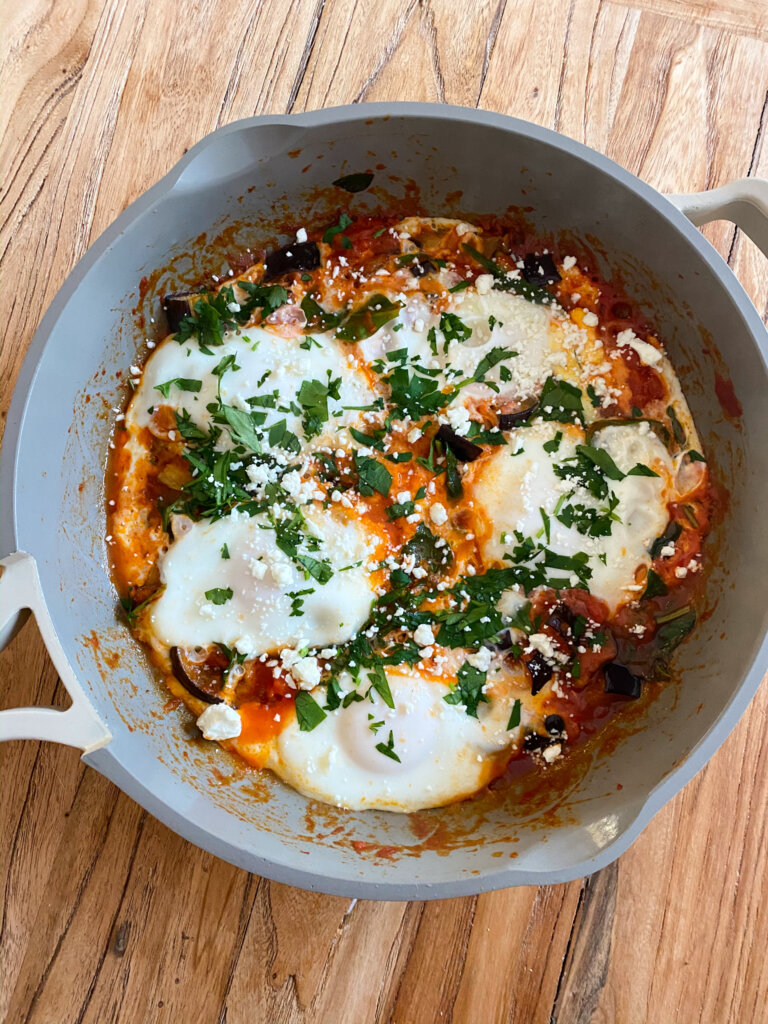 Other really delicious recipes I promise you'll like: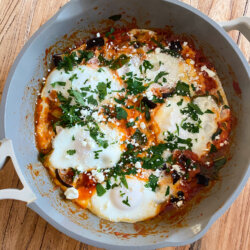 Glutrn-Free Veggie Shakshuka
This gluten-free veggie shakshuka is a healthy, quick and delicious breakfast ready in 20 minutes!
Ingredients
2

tbsp

olive oil

1

small

eggplant, cubed

2

cup

Rao's marinara (or your favorite jarred marinara)

large handful of fresh spinach

6 eggs

2

tbsp

chopped parsley

2

tbsp

crumbled feta
Instructions
Heat olive oil over medium/medium high heat.

Add the cubed eggplant, I used a small eggplant for this.

Add the marinara and turn to low.

Add the spinach and stir it all around.

Crack the 6 eggs overtop and cover the pan.

Keep the pan covered for about 3 minutes, or until eggs are set.

Sprinkle with parsley and feta.