Jump to Recipe
It's soup season ya'll! And this Gluten-Free Creamy Wild Rice and Chicken Soup is perfect for these colder months and darker days!
I get very into soup when cold weather rolls in. I mean, to be fair, I now live in Charleston, SC where "cold" weather is like, 55 degrees. Which works out very well for me, since I hate being cold.
But I still love to snuggle up to a dining room table with my family and just chat while our Christmas tree sparkles in the background – while eating soup. It's so damn homey.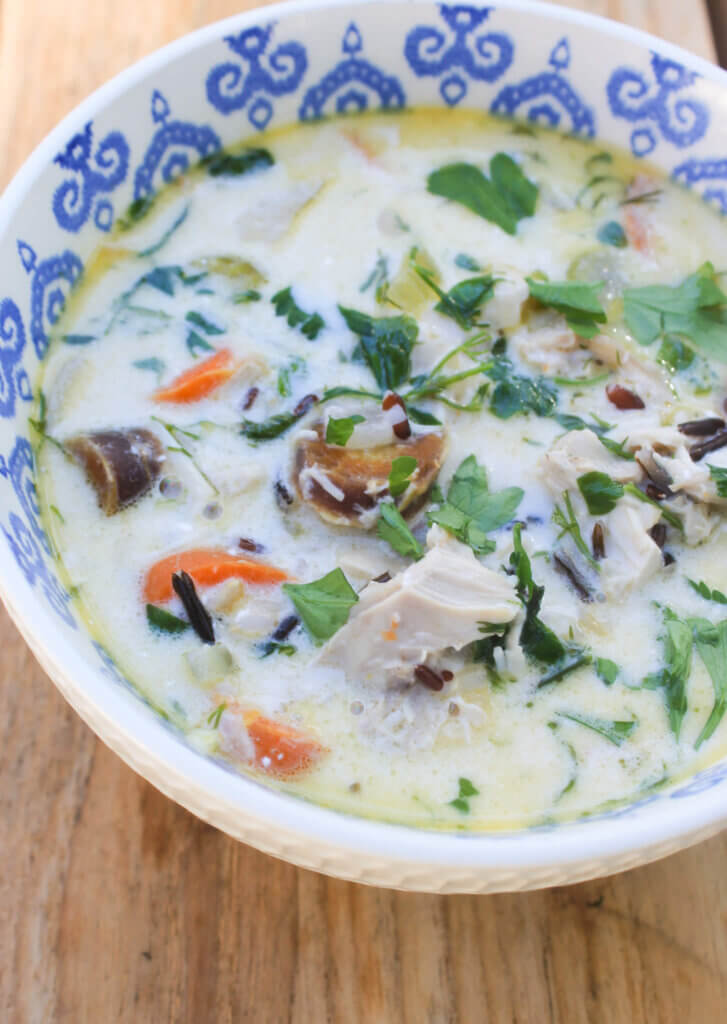 Health benefits of this Gluten-Free Creamy Wild Rice and Chicken Soup:
packed with protein from the chicken
made with homemade bone broth (recipe HERE), this soup is very healing for the gut
boosts the immune system via the broth, veggies, adequate protein, fiber and garlic (all of which also benefit gut health)
rich in antioxidants from the veggies and herbs
decent amount of fiber from the veggies and wild rice
great for gut health due to the various plants in this soup, which beneficial gut bacteria feed on
bone broth is high in glycine, which is the amino acid the stomach lining is mostly made up of, therefore it strengthens the gut
Tips:
Other Recipes (they're all gluten-free, I'm celiac people!):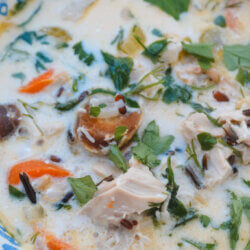 Gluten-Free Creamy Wild Rice and Chicken Soup
Ingredients
2

tbsp

olive oil

1

large onion, diced

4

celery stalks, diced

2

garlic cloves, minced

2

carrots, chopped

5

cups

bone broth

1

cup

wild rice

1

lb

chicken thighs or breasts

8

oz

cream cheese

1/4

cup

parsley

1/4

cup

dill

2

tbsp

fresh chives
Instructions
Over medium heat, add the olive oil, onions and celery and cook until translucent.

Add the garlic and carrots, stir until fragrant.

Add in the bone broth, rice and chicken.

Let it simmer for about 45 minutes.

Remove the chicken, then chop or shred it and add it back.

Add the cream cheese and herbs, stir until combined.