This gluten-free white chicken chili is perfect for a chilly fall day or even a hot summer one. Would also be great when it's snowing. Okay whatever it's so good you can eat it year round.
Everyone Halloween I make chili. I don't know why, I just started doing it years ago and never stopped. I like traditions. But honestly, I don't really like chili. And I make good chili. Fresh spices, lots of onions and peppers, high quality grass-fed beef. It's definitely delicious. I just don't really care for chili.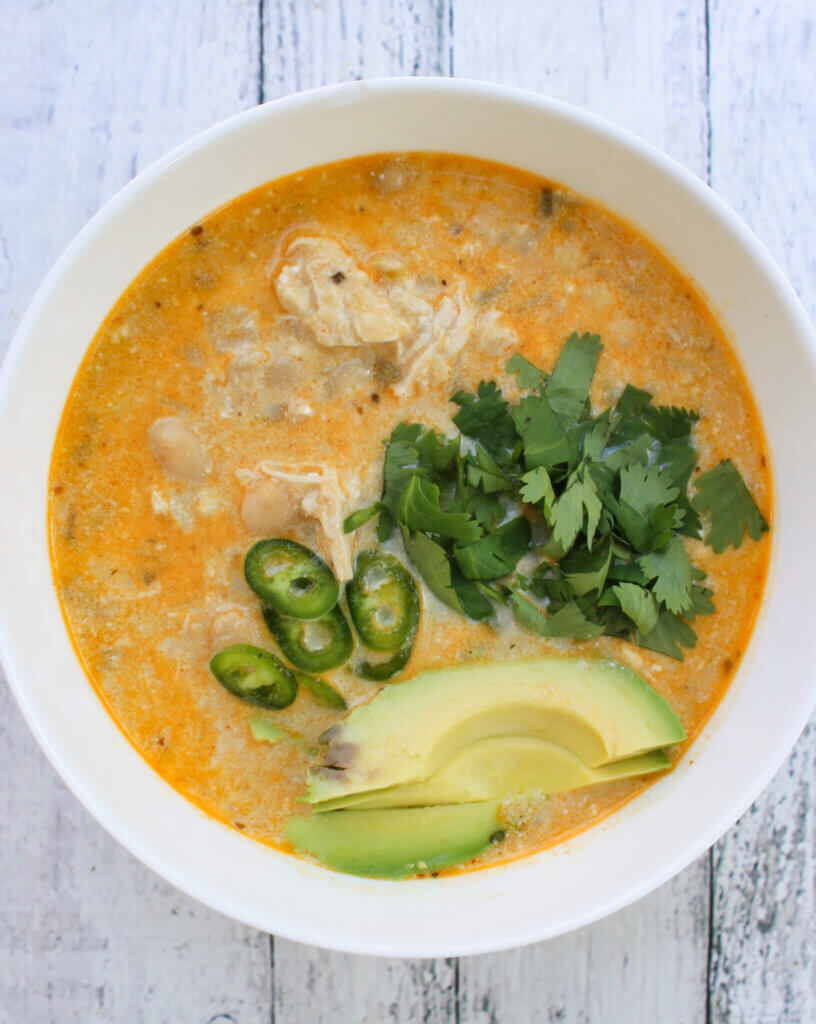 Since it's almost Halloween and I like to make warming meals, even though it's currently 83 degrees here in Charleston – I wanted to make a chili I'd actually enjoy. The tomato based chili is not for me. Enter the white chicken chili!
This white chicken chili is:
gluten-free
high in fiber thanks to the beans
high in protein courtesy of the chicken
gut healing from the homemade bone broth (find my recipe HERE)
easy to digest because I used lactose-free and grass-fed dairy
You don't have to use dairy. You could make this paleo in addition to gluten-free by using something like coconut milk or even Kite Hill cream cheese (it's almond based).
I loosely used Cooking Classy's recipe, which calls for pureeing half of the beans to add a creamy texture. I thought this was genius.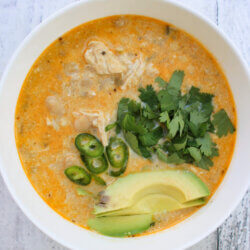 Gluten-Free White Chicken Chili
Ingredients
1

onion, diced

2

cloves

of garlic, minced

2

tbsp

olive oil

8

oz

green chilis (I used two cans of Luna Rio)

4

cups

chicken broth

2

cans

northern white beans

1

cup

frozen or fresh corn

3

chicken breasts

1

tsp

cumin

1

tsp

paprika (or smoked paprika for a smoky flavor)

1

tsp

garlic powder

1/2

tsp

oregano

8

oz

lactose-free sour cream (like Green Valley Creamery) or even cream cheese

top with lime, cilantro, avocado, jalapeno – whatever you like!
Instructions
Heat olive oil over medium heat and add the onion.

Once the onion is translucent, add the garlic until fragrant.

Let it simmer. While simmer, drain and rinse the beans extremely well.

Add half of the beans to a blender and blend until smooth.

After about ten minutes or until chicken is cooked through, remove from pot.

Shred the chicken and add it back in.