This gluten-free leftover turkey and wild rice soup is the perfect way to use up the bones and leftover meat from your Thanksgiving turkey!
Every Thanksgiving I buy a huge turkey. In years past it's because I often invite people last minute – people I find don't have anywhere to go, a last minute guest showing up, and because I want to make sure everyone has enough AND I have leftovers. God I love leftovers.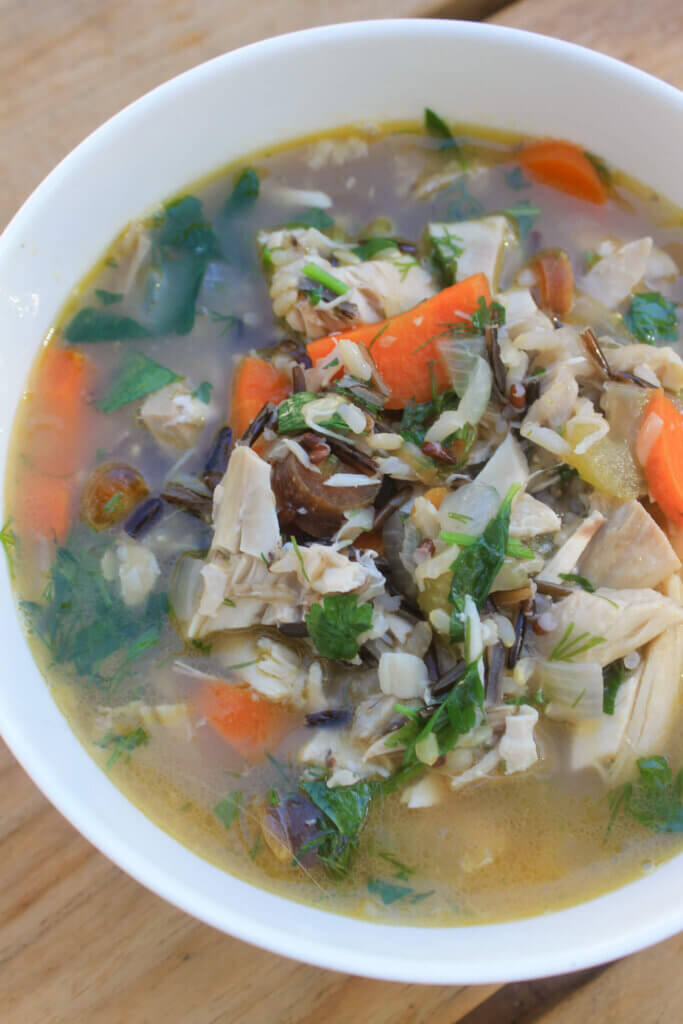 This year is different. This year there is a pandemic and like the experts warned, winter is surging. So it's just my immediate family and my mother in law. We drove home to DC from Charleston and are having a lil' Thanksgiving, just three adults and two toddlers.
So why the hell did I buy a 17lb turkey?
It's my nature. I feed people even when there aren't people to feed. And now I have a shit ton of leftover turkey.
Enter leftover turkey and wild rice soup!
This is the perfect way to use the WHOLE animal guys.
DON'T YOU DARE THROW OUT THOSE BONES.
Listen, leftover turkey carcass makes the absolute most delicious, rich, nourishing broth. Out of all the broths – beef, chicken, pork, etc. turkey broth is my favorite. The flavor is unreal.
And don't be intimidated by making broth. You can't fuck it up (what better time to curse than the holidays, during a pandemic!). Unless you don't let it simmer long enough. But overall it's super easy.
How To Make Turkey Broth
Take all the meat off the turkey bones.
Add bones, carcass, tendons, leftover drippings (ALL OF IT) to a large stock pot or crock pot.
Toss in carrots, onions, celery – whatever ya got.
Cover in water, preferably filtered.
Add a bunch of sea salt. You can add a tbsp of apple cider vinegar as well if you have it.
Cover and cook on low for at least 12 hours.
I just let it go in my crockpot overnight.
Remove the bones (I put it through a colander).
Store in jars, freeze what you won't use.
That's it! Really easy. It cooks while you sleep.
Tips for this Gluten-Free Leftover Turkey and Wild Rice Soup
If you don't have turkey, use chicken!
If you don't want to make your own broth, just use store bought.
Use any leftover herbs or herbs you love – I added parsley and sage.
For more flavor and a nutrient boost, squeeze a lemon into the soup.
Add any other leftovers you like, green beans and peas would be perfect!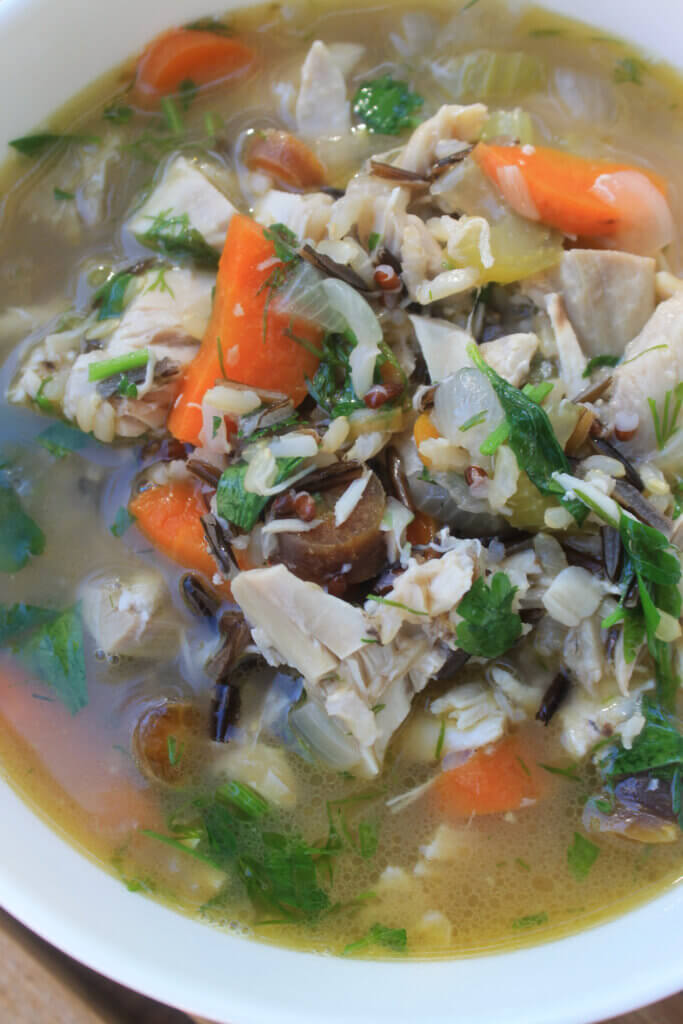 You can also try my leftover turkey pot pie soup!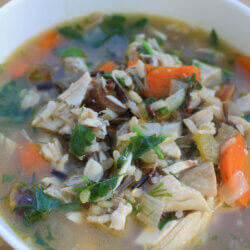 Gluten-Free Leftover Turkey & Wild Rice Soup
This soup is perfect for that leftover Thanksgiving turkey, or just add rotisserie chicken!
Ingredients
2

tbsp

olive oil or butter

1

onion, diced

3

celery stalks, diced

2

carrots, diced

2

garlic cloves, minced

6

cups

broth (make your own turkey broth, see above!)

1

cup

rice

3

cups

cut up turkey (or chicken!)

herbs – I used parsley and sage
Instructions
Heat butter or olive oil over medium in pot.

Add diced onion and celery.

When translucent, add carrots.

Add the garlic and quickly stir, don't let it burn.

Add the broth and cup of rice.

Cover and lower to a simmer for 30-40 minutes, until rice is cooked.

Add in leftover turkey, use as much or as little as you like.

Add in herbs, I used leftover parsley and sage.