This cauliflower potato soup is paleo, gluten-free, low carb and insanely delicious!
As much as I love summer and I'm sad to see it go, I'm doing my best to embrace soup season. I know people absolutely love fall and to be honest, I've never been one of them.
But this year I'm determined to change all that!
I'm embracing all things cozy: sweaters, cute boots, fall scented essential oils, pumpkin picking with my kids and ALL the soup for dinner.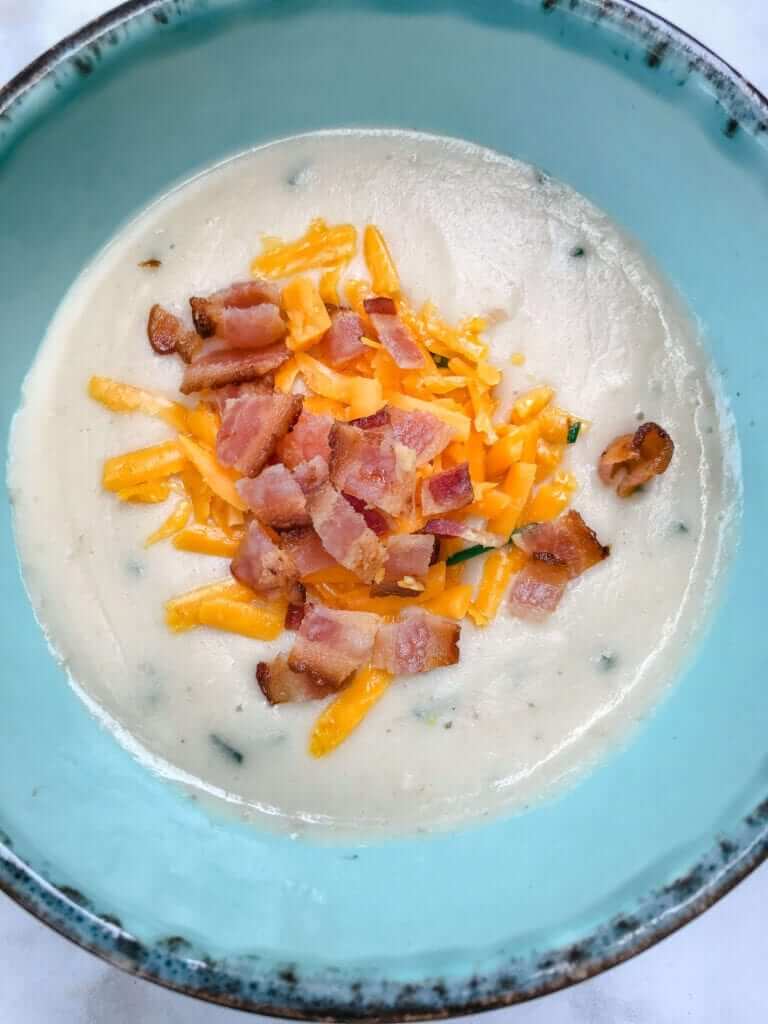 Which is actually great, because who knew soup was so freaking easy to make? I don't know why I don't make it more often. It requires one pot and my blender or immersion blender (I prefer this for a chunkier, heartier soup). You just let it simmer on the stove and it requires very little work overall.
This recipe, while incredibly healthy, also feels incredibly decadent. It's rich and creamy and topped with bacon – which many people think is going to kill them, but in reality when it's well sourced and organic, is quite healthy. You can read the article I wrote on how bacon is healthy HERE. You're welcome America!
If you'd like to make this recipe extremely low carb or keto, just omit the potato. This is a great way to sneak veggies into your kid's diet. My boys gobbled this up (husband included).
Cauliflower is loaded with micronutrients and has anti-carcinogenic benefits. Bone broth is rich in minerals as well as collagen, the most abundant protein in the body. Our hairs, skin, nails, bones, joints, etc. are all made up of collagen – as is the gut lining. Because of this, bone broth strengthens our skin, hair, joints and bone as well as heals and seals gut lining. It's a food we should all be consuming more of!
Plus it makes the soup taste so much richer. Here's how I make my own.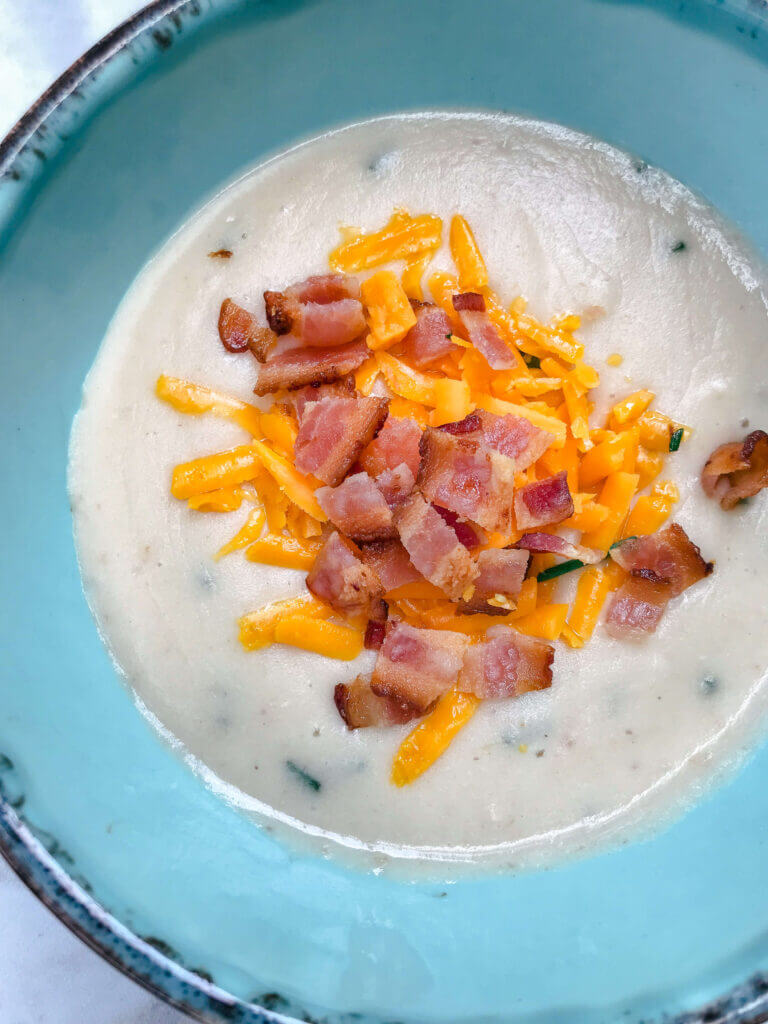 wfwqf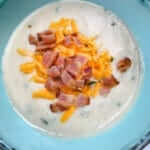 Print Recipe
Cauliflower Potato Soup
Ingredients
16

oz

frozen cauliflower (or one bag)

2

medium potatoes, peeled and diced

1

tbsp

olive oil

1

large onion, diced

1

tsp

garlic, minced

3

strips of bacon

1/2

cup

cheddar (optional)

chives, chopped

3

cups

bone broth
Instructions
Sautee the onion and garlic in the olive oil in a large pot.

Add the cauliflower, potato and bone broth.

Let simmer for 20 minutes.

Once the potato is soft, transfer the soup to a blender and blend until smooth.

Add chopped chives and topped with shredded cheddar and bacon.