This easy chicken and veggie green curry is paleo, keto, gluten-free and crazy good. It's perfect for meal prep and tastes better the next day!
I've been craving warmer, spicier dishes lately. Maybe it's because fall has already seemingly visited DC and it's only August. It's raining consistently and it's often in the 60s. I'm not ready for it because I'm a summer lover through and through, but I do love a big bowl of warm, spicy, flavorful curry.
I got some really beautiful Asian eggplant from the farmers market and paired it with eggplant I grew in my backyard. I LOVE eggplant.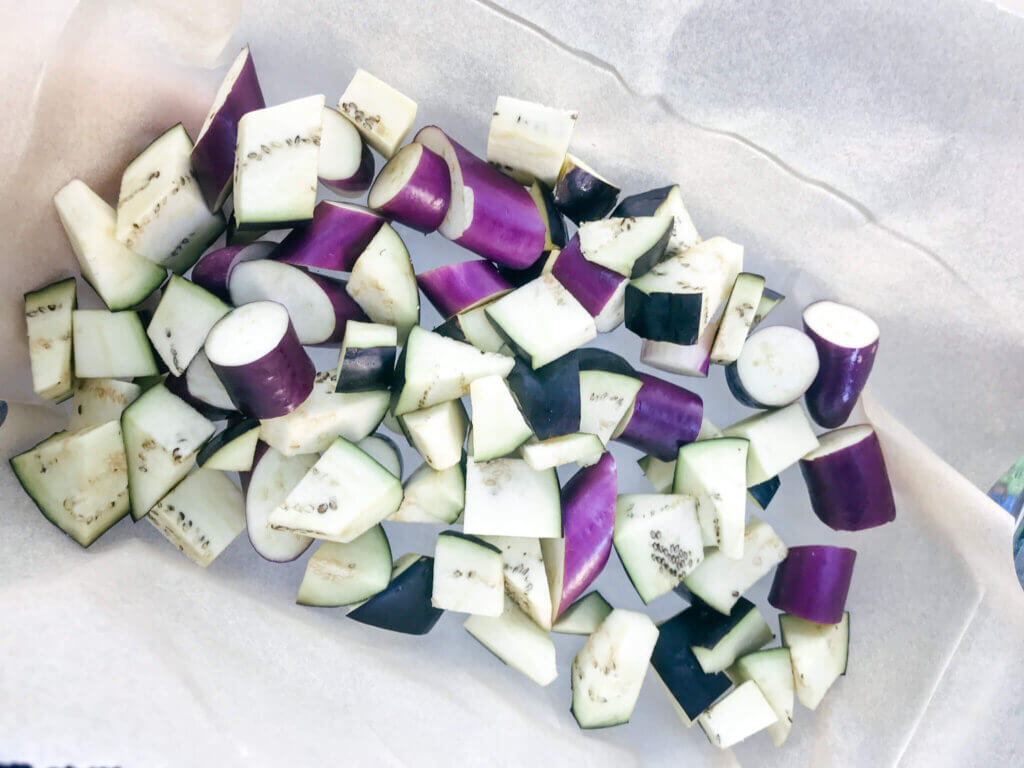 You can add any veggies you like. Bell peppers and shiitake mushrooms would be brilliant in this dish. I found half a bag of broccoli, cauliflower and carrot mix in my freezer, so I tossed that in.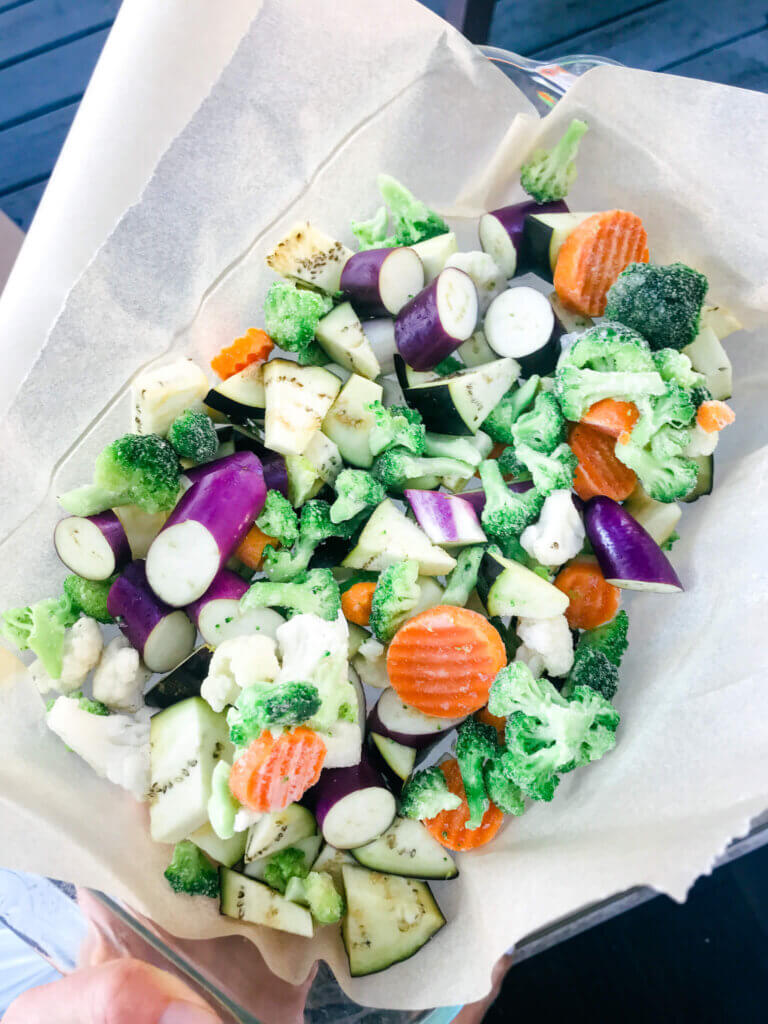 Then I topped with 1lb of chicken breasts from my amazing farmer. He grows the most amazing, healthy, pasture raised chickens. I drizzled olive oil, salt and pepper all over the chicken and veggies. Then I roasted it all on 375 for about 40 minutes.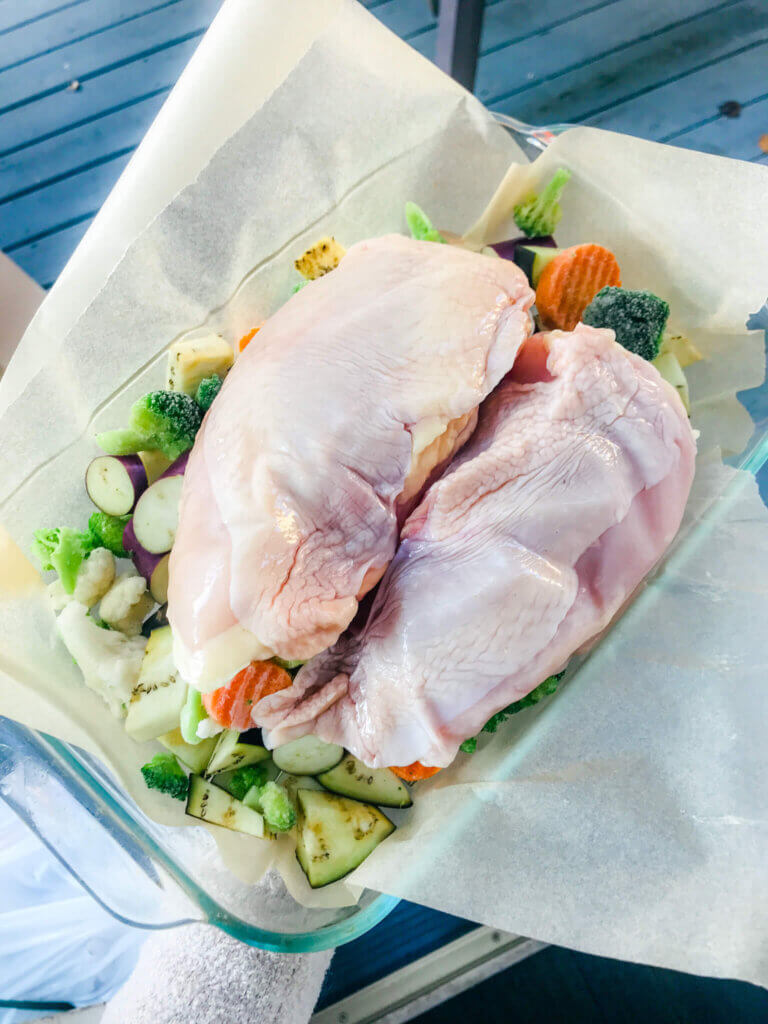 I let it cool and then enlisted the help of my toddler to chop up the chicken. We bought him these "baby knives" so he can help cook. I think it's CRUCIALLY important to teach children how to cook. Also, you know, free child labor.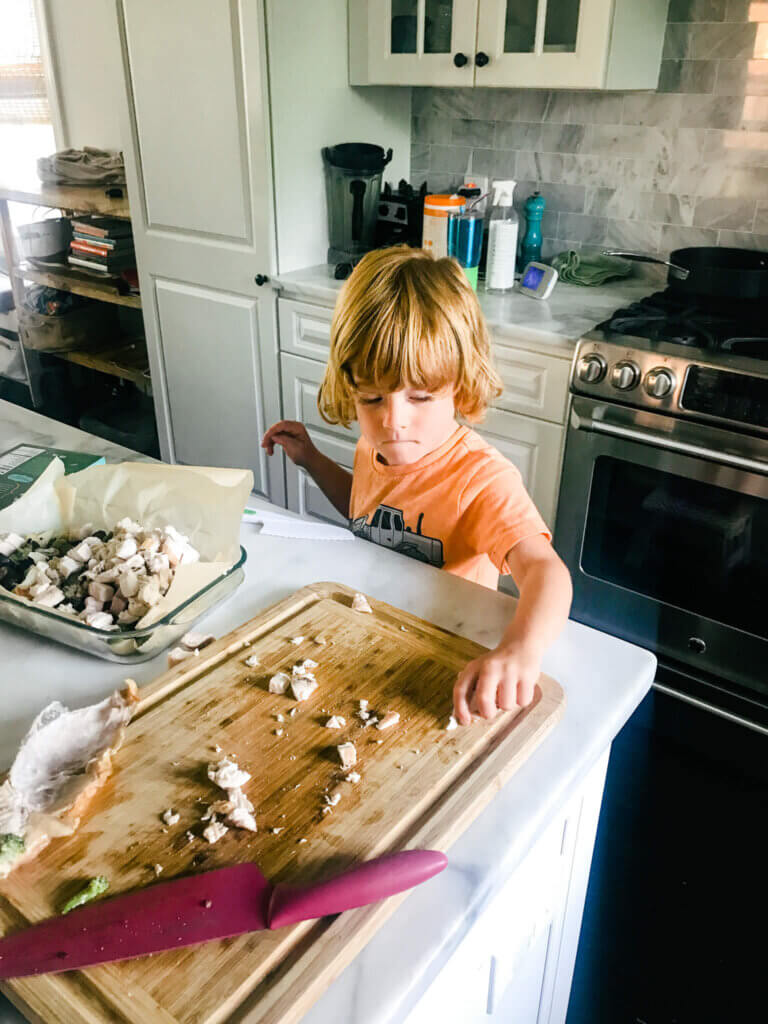 We added all the veggies and chopped chicken into a pot, warmed it up and added a package of Mike's Organic Green Curry. I bought it on sale at Whole Foods.
That's what makes this dish so easy. I love green curry, but I didn't have all of the necessary ingredients on hand to make it. Plus, like, I don't have the patience. I need something quick. Mike's curries are delicious, organic and so easy.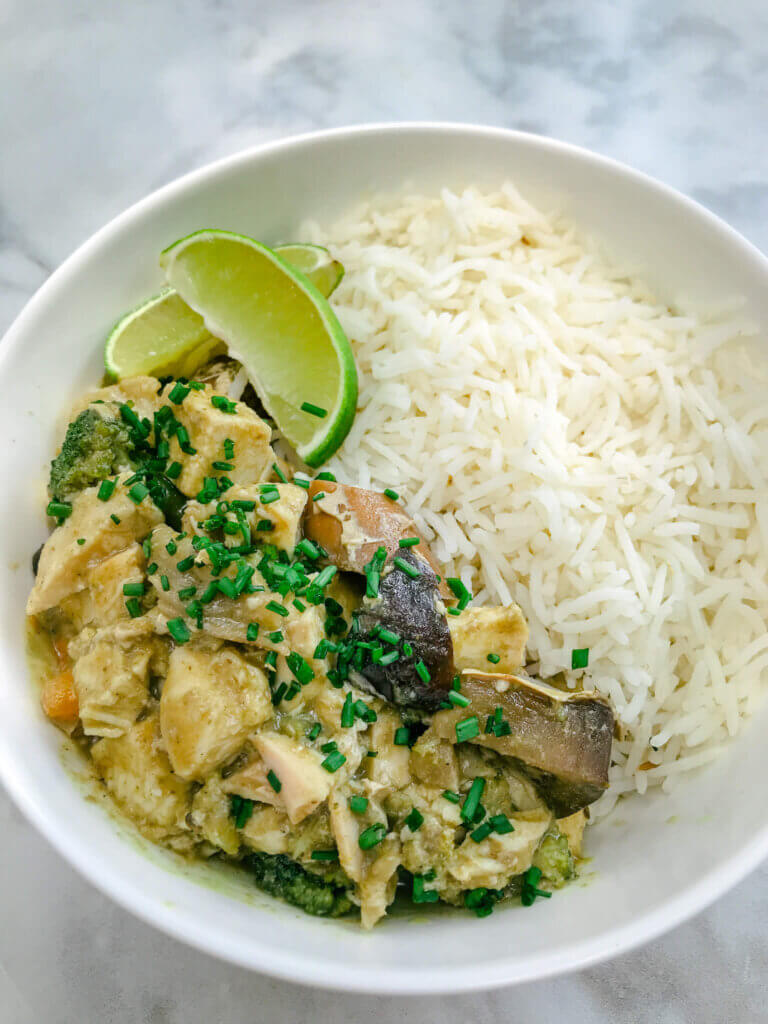 I added chives from my garden and a drizzle of lime on top.
Tips:
this dish is already keto, serve it with cauliflower rice to keep it that way
feel free to use any kind of curry, this would also go well with a red or yellow curry
I added this sriracha from Yellowbird Foods and it was AMAZING with this dish
if you don't have these specific veggies, use whatever you have and like
this dish is paleo, gluten-free, keto, dairy-free and super healthy so use it to meal prep
make on a Sunday to eat throughout the week
More Recipes: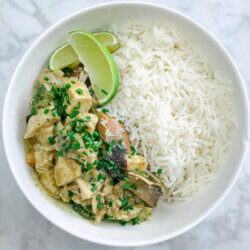 Green Chicken Curry and Veggies (Paleo, Keto, Gluten-Free)
Ingredients
2

chicken breasts

2

small eggplants (or one large)

1

bag

frozen mixed veggies (I chose broccoli, cauliflower and carrots)

4

tbsp

olive oil

1

pouch

Mike's Green Curry (OR 1 can of coconut milk and one green curry grocery mix)
Instructions
While the oven is heating, chop your eggplant.

Layer the eggplant and the frozen veggies along the bottom of a baking dish.

Drizzle with 2 tbsp of olive oil.

Add the chicken breasts to the top of the veggies, drizzle with additional 2 tbsp of olive oil and salt and pepper.

Chop up the chicken, add to the veggies and toss with Mike's Green Curry.