These sugar cookies are easy to make and best of all absolutely delicious! You truly would not be able to tell they were gluten-free without being told. They're seriously the best gluten-free sugar cookies!
It was recently Valentine's Day, and while it would've been nice to actually get this recipe out before the holiday, it just wasn't gonna happen. Mostly because I actually had no intention of making anything sweet for Valentine's Day, I was just going to do a nice dinner.
But at 3pm on the day before V-Day, I realized I didn't have enough bags of mini VD popcorn to go around for both of my sons' classes. Not to be confused with venereal disease. Valentine's Day, people. VD. So I ran to Whole Foods to buy more popcorn and lucky me – they were completely out of the cute little pink holiday bags.
Which meant one son would go with enough popcorn for his class, and for the other I was forced to make something. I figured cookies would be easy enough, and I had perfected this recipe over the holidays. I used this regular glutenous sugar cookie recipe which I'm sure is incredible for you gluten-eaters! I just adapted it to make it gluten-free.
The BEST 1:1 Gluten-Free Flour
You guys. I have been gluten-free for over ten years. I am celiac. I know my shit when it comes to gluten-free food. Dare I say I am an expert. And dare I say that Bob's Red Mill Gluten-Free 1:1 flour is the BEST, most incredible flour for gluten-free baking. You can literally use it in any recipe that calls for glutenous flour and have a VERY similar result.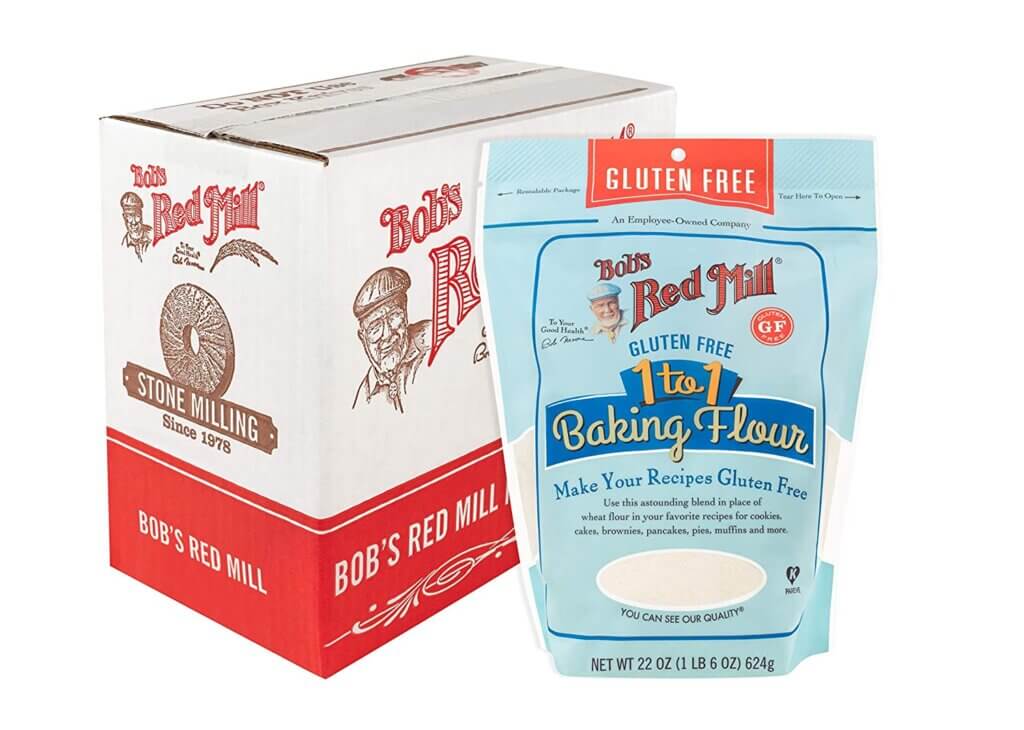 You can buy this flour at most health food stores like Whole Foods, you can buy it at this Amazon link, or you can buy it from Thrive Market.
Thrive Market is my absolute favorite place to buy organic, gluten-free and healthy groceries online. It's significantly cheaper than Whole Foods, especially if you sign up for the autoship options. For example, I receive a 10% discount on already discounted items for ordering them monthly. I order my toothpaste, gluten-free pasta (Jovial for life!), soy sauce, tampons, etc. every single month and it saves me a TON of money. Plus it's so damn convenient. So be sure to check Thrive Market out for all your healthy, gluten-free, non-toxic grocery and household items.
Tips for making the best gluten-free sugar cookies:
I like to mix all the wet ingredients before the dry ingredients, makes for better consistency.
Bake on parchment paper to ensure the cookies don't stick.
Use superfine sugar in the cookie dough. This is not the time for a thicker sugar. We want a fine grain.
To use cut out shapes with these cookies, just refrigerate the dough for 20 minutes beforehand so it holds its shape better.
Tips for making this recipe healthier:
Listen, this is a sugar cookie recipe. It's not a smoothie, steak or a salad. Let's be okay with the fact that it's healthiER and don't stress about eating a cookie!
There's a trick to eating sweets. Basically, one of my big issues with sweets is that they spike the blood sugar, which we want to avoid. So instead of eating a random cookie, it's best to eat the cookie after a meal that includes protein, fat and fiber. Consuming these beforehand will blunt a blood sugar spike. Bonus points if you have a little vinegar in your meal or drink before eating the cookie!
Let's also acknowledge that these cookies are gluten-free, made with real butter, real ingredients and real sugar. I don't fuck with fake sugars. That's a huge win in my cookie book.
Please, please, please if using food dye, don't use one with synthetic and toxic chemicals like red dye #40! Our kids do NOT need that. Especially because it negatively impacts the brain. This India Tree food coloring is a good option.
Ingredients necessary for this recipe:
Bob's Red Mill Gluten-Free 1:1 Flour (I have not experimented with any other flour for this recipe)
Super fine sugar (remember, not a thicker grain)
Eggs, preferably pasture raised
Real butter, no margarine here! I love Kerrygold
Baking soda
How to make the best gluten-free sugar cookies:
Melt the butter
Once it has cooled a bit, add the egg and vanilla and combine.
Next add the sugar, stir.
Next add the flour and baking soda.
Form a dough.
Roll into balls and flatten a bit with your hands or refrigerate the dough for 20 minutes to cut into shapes.
Bake on 350 for about 12 minutes.
FAQs