This easy steak tartare is one of the healthiest, simplest meals you can make that will support both your body and brain. Bonus – you don't have to cook it!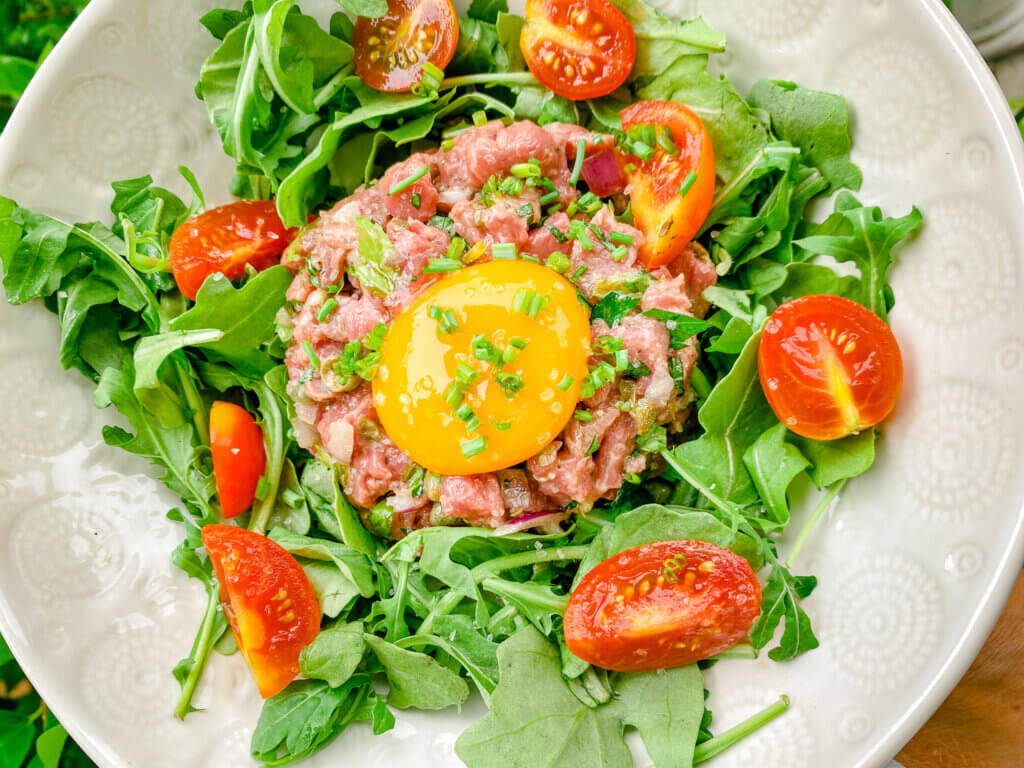 You guys. I fucking love steak tartare. If I'm ever at a French or fancy restaurant that serves it, I'm getting it. There is something so absolutely delicious about it. And if you're afraid of raw meat – DON'T BE. It is incredible! I'm telling you. Steak tartare is absolutely delicious, decadent and insanely healthy.
Health benefits of steak:
steak is high in protein that contain all bioavailable amino acids in the perfect balance (unfortunately, this cannot be said of plant proteins)
B12 is naturally high in steak
heme iron, the type of iron that is easily absorbed by the human body, is naturally present in high amounts in steak
zinc, which is essential for proper immune function and help balance mood, is found in steak
Health benefits of egg yolk:
the yolk contains majority of the nutrients in an egg
the yolk is rich in choline (essential for pregnancy!)
vitamins A, E, D and K are found in the egg yolk
the cholesterol found in egg yolk is actually quite healthy for the body, as our cells and brains are made up of it
Why steak tartare is so healthy:
steak tartare is rich in bioavailable nutrients in A, E, D, K and various B vitamins
rich in iron, zinc
has a decent amount of omega-3s (particularly in grass-fed and pasture raised beef and eggs)
capers, parsley, shallot and chives are a rich source of antioxidants
this is basically a multivitamin on a plate!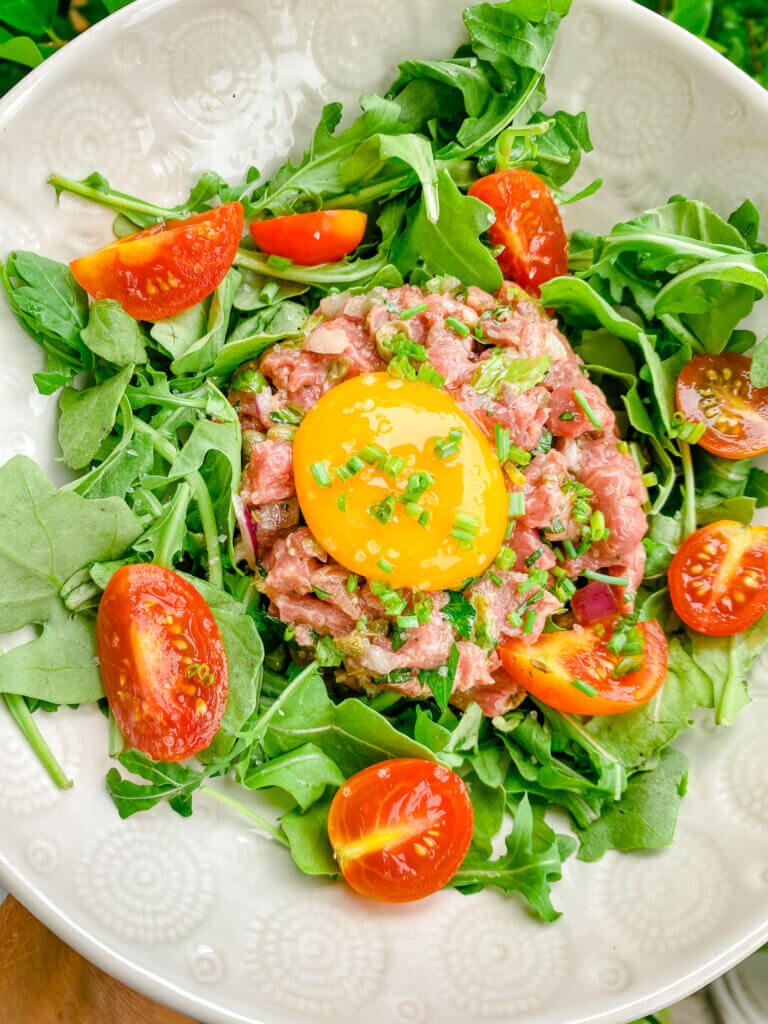 Tips for making this easy steak tartare:
chop the sirloin into tiny pieces using a sharp knife
if you're crunched for time, chop into large chunks and toss in a food processor
you can also chop the herbs and shallots in a food processor
if you don't have access to sirloin, you can use high quality ground beef
if you're missing one ingredient or another – that's okay! use what you have
What to serve it with:
Many restaurants serve steak tartare with crostini or toasted bread. Because I don't recommend consuming gluten, I suggest using something like avocado oil chips. Many restaurants will serve it with gaufrettes (a fancy name for chips), but these are usually fried in vegetable oils – which we want to avoid! I like this brand of avocado oil chips and highly recommend them!
For this particular presentation I served it with peppery arugula and cherry tomatoes which was crazy good! You could use spinach, mesclun mix, whatever ya got!
What you need:
a sharp knife (I bought this one I linked to 15 years ago for $15 and still use it to this day!)
How to make:
Chop your sirloin or blend in food processor.
Chop your parsley, shallots, chives, and capers.
Mix the olive oil and sherry vinegar.
Combine everything and put an egg yolk on top!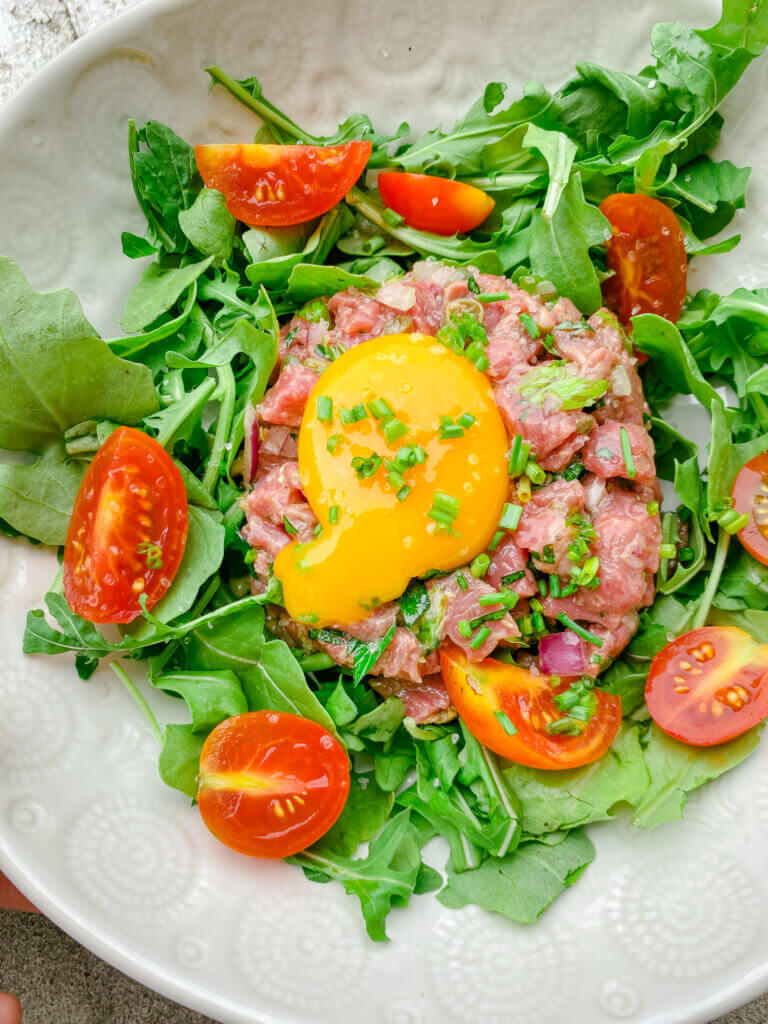 FAQs
Is it safe to consume raw meat?
As long as it's from a quality source and preferably grass-fed, raw meat is very safe to consume!
Is it safe to consume raw egg yolk?
As long as it's from a quality source and preferably pasture raised, it's very safe to consume raw egg yolk!
Is egg yolk healthy?
Raw egg yolk is extremely healthy! The majority of nutrients in an egg are contained in the yolk, including choline, protein, vitamin A, E, D and K and omega-3s.
Is steak healthy?
Steak is incredibly healthy – it contains bioavailable protein, zinc, heme iron, B12 and many more vitamins and minerals.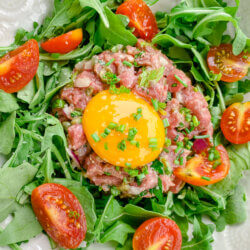 Easy Steak Tartare
This easy steak tartare is absolutely delicious, easy to make and incredibly healthy!
Equipment
1 sharp knife

1 cutting board

1 food processor

optional
Ingredients
8

oz

sirloin (1/2 lb)

1/4

cup

good olive oil

4

tbsp

chopped shallots

2

tsp

sherry vinegar

2

tbsp

chopped capers

you can use less if you like

2

tbsp

chopped parsley

2

tbsp

chopped chives

1

egg yolk

sea salt to taste
Instructions
Chop the sirloin into tiny bits or blend in a food processor until desired consistency.

Add the olive oil, sherry, capers, shallots, chives, parsley and sea salt to a bowl and combine.

Form into a round portion.

Put egg yolk on top, sprinkle with more sea salt.
Notes
If you need to substitute an ingredient, do so!
If you don't have shallots, use red onion!
Feel free to use ground beef in lieu of steak.
Nutrition
Calories:
881
kcal
Carbohydrates:
9
g
Protein:
54
g
Fat:
70
g
Saturated Fat:
13
g
Polyunsaturated Fat:
7
g
Monounsaturated Fat:
46
g
Cholesterol:
334
mg
Sodium:
592
mg
Potassium:
1002
mg
Fiber:
2
g
Sugar:
3
g
Vitamin A:
1218
IU
Vitamin C:
18
mg
Calcium:
126
mg
Iron:
6
mg