Tired of sifting through grocery store aisles looking for the best gluten free pasta? Spare yourself the worst and head straight for the best by opting for any of the gluten free pasta brands I listed below!
Disclosure: This page contains affiliate links, and at no additional cost to you, I earn a small commission if you click through and make a purchase.
Looking for a Gluten-Free Pasta Brand that actually tastes amazing? Read on!
I've been gluten-free since I was 23-years-old. Before that, I'd occasionally eat gluten and I never felt like my health was where I wanted it to be. I had a constantly stomach upset, inflammation and bloating. All over.
Seriously. My entire body was bloated. Looking back at pictures from when I ate gluten, even occasionally, I was just incredibly puffy.
Since then, I got a celiac diagnosis and have become even more strict about being gluten-free. And in doing so I've tried A LOT of gluten-free pasta brands.
I've tried them all – corn pasta, quinoa pasta, miracle noodle pasta, etc.
Gluten free Pastas I don't love:
Corn Pasta
I don't recommend eating corn because it can be difficult to digest and when eating corn pasta, you're eating a ton of corn. Much more than you'd eat if you just had a corn on the cob.
Quinoa Pasta
Quinoa pasta isn't my favorite flavor or texture-wise and I also find quinoa a bit hard to digest. But if you do well with it, by all means, try it!
Miracle Noodles (Shirataki)
Let's talk about miracle noodles, also known as Shirataki noodles. Shirataki are thin, translucent, traditional Japanese noodles made from the konjac yam. The word "shirataki" means white waterfall, referring to the appearance of these noodles.
I wanted to love them. I really did. I've tried them probably 5-10 times over the years, each time trying a different version, a different recipe, a different way to cook them – just hoping I will find a way to enjoy them.
And I never do.
I know others who love Shirataki noodles, but I'm not one of them. They have a weird gelatinous texture and even weirder flavor. I'm just not a fan.
But I am a fan of these best gluten free pasta brands below.
The Best Gluten Free Pasta Brands of 2019
I have pasta about once a week, usually on Sundays. I like to do a nicer dinner on Sundays and my husband loves pasta so we will use one of these gluten free pasta brands below.
Jovial Brown Rice Gluten-Free Pastas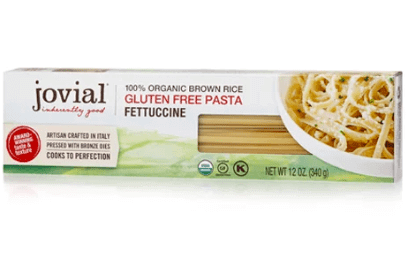 This rice pasta is my absolute favorite. The flavor is mild, much like a traditional wheat pasta. But even better, the texture is spot on. I have regularly made this pasta for tons of people – using the spaghetti, penne, bow tie, etc. and no one has had any idea it's gluten-free.
In terms of pasta, it's closest to the real thing. Hell, it IS the real thing. It's still a grain. Which means it can be harder to digest for some people and that's it's higher in carbohydrate and low in fiber and protein.
This is why we only have it once a week. It's a treat, and it's totally delicious. You can find it in most grocery stores and on Amazon HERE.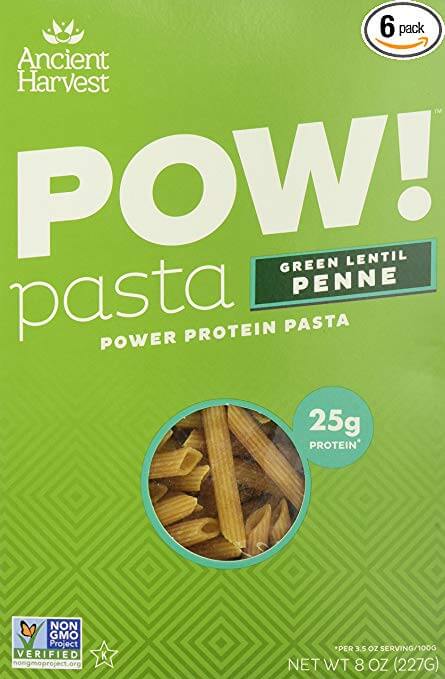 Ancient Harvest Pow Green Lentil Pasta
I don't love lentil pasta because it has a peppery taste to me, but this is one of my favorites. I find the green lentils milder in flavor. I make this pasta regularly for my sons to up their protein intake so they're not just eating straight carbohydrates.
I prefer a stronger sauce with this gluten free lentil pasta. Like a bold tomato sauce with garlic and red pepper flakes for instance. When paired with broccoli and chicken and topped with a little pecorino romano, it's a high protein, high fiber meal that's delicious and ready in under twenty minutes!
Lentil pasta is available in several grocery chains and all Whole Foods (and even Trader Joe's) across the country. You can buy it online HERE.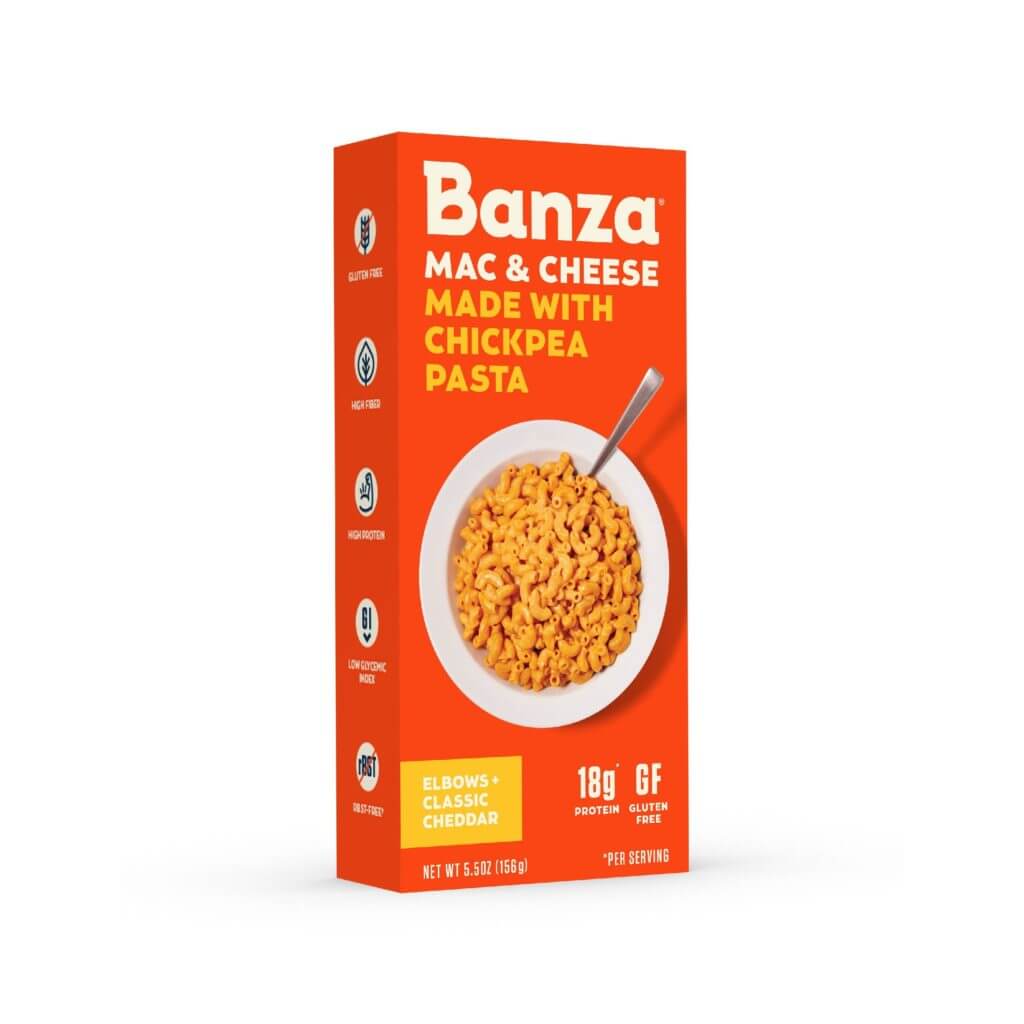 Banza Chickpea Pasta
Banza pastas are made with chickpeas! This makes them higher in fiber and protein. The chickpea pasta has a mild flavor that I enjoy. Whereas I find red lentil pasta the most offensive, I find this chickpea pasta to be lightly flavored with a firm texture. They make several different varieties of pasta shapes as well.
I love this mac and cheese for when I'm really crunched for time and have no idea what to make my kids. I add real cheese to it as well as peas. My sons love peas.
You can find chickpea pasta in several grocery chains and in all Whole Foods. You can purchase online HERE.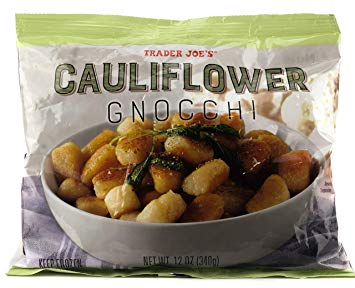 Trader Joe's Cauliflower Gnocchi
I couldn't not put Trader Joe's gluten-free gnocchi on this list! Overall I'm not the biggest fan of gnocchi but I like this in a pinch. The flavor is good and when cooked properly, the texture is great.
I let them thaw and then brown them in a pan with butter and olive oil. You can toss with vegetables, proteins, cheese, whatever you like. The flavor is mild and doesn't compete with whatever you add it to.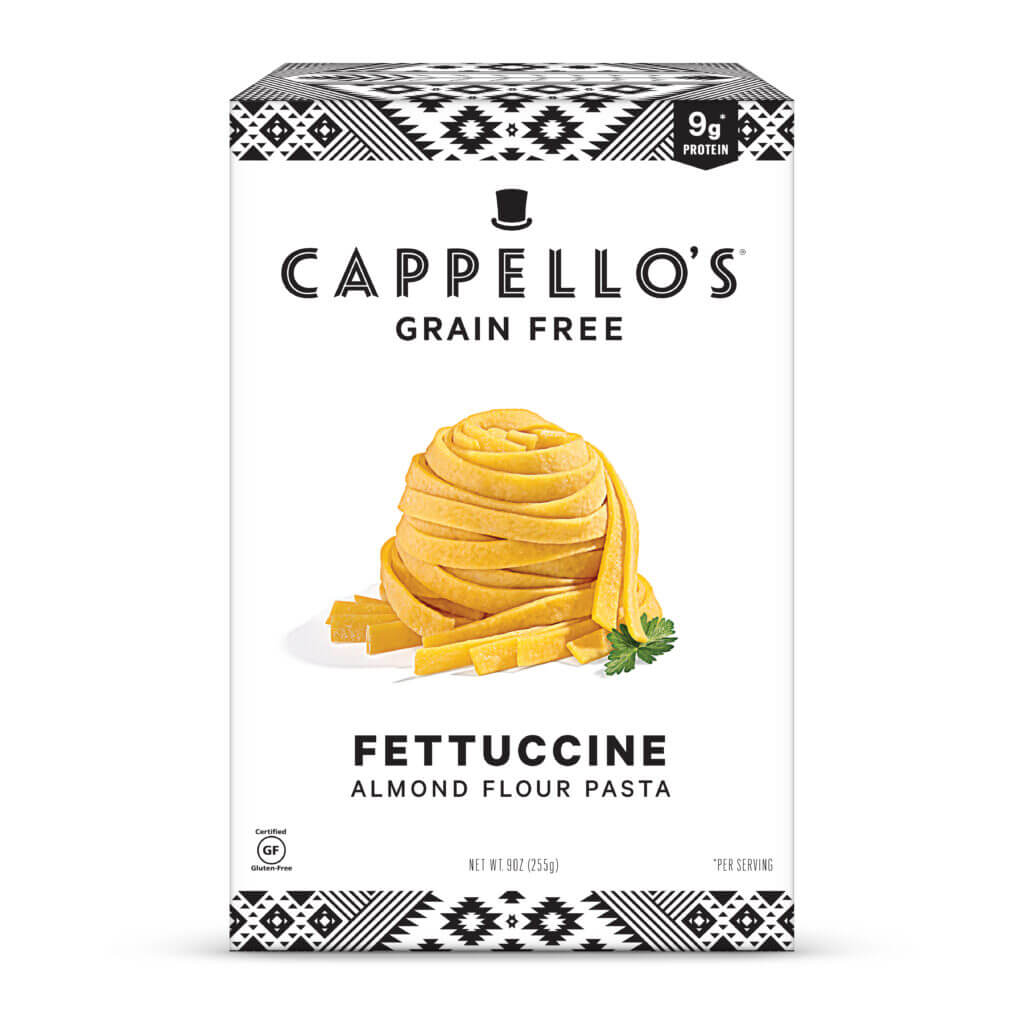 Cappello's Almond Flour Pastas
I love Cappello's for a paleo option! These are by far what I would qualify as fancy pasta. It's so fresh, it takes mere minutes (seriously, under two minutes) to cook.
While these do have a higher price point than the other pastas, it's because they're truly gourmet. I don't think anyone would every notice these were gluten-free, much less completely grain-free. They are what I would use when having a nice date night at home or having people over for a dinner party!
Best Gluten-free Pasta Recipes:
Try these best gluten-free pasta recipes with any of the aforementioned pasta brands: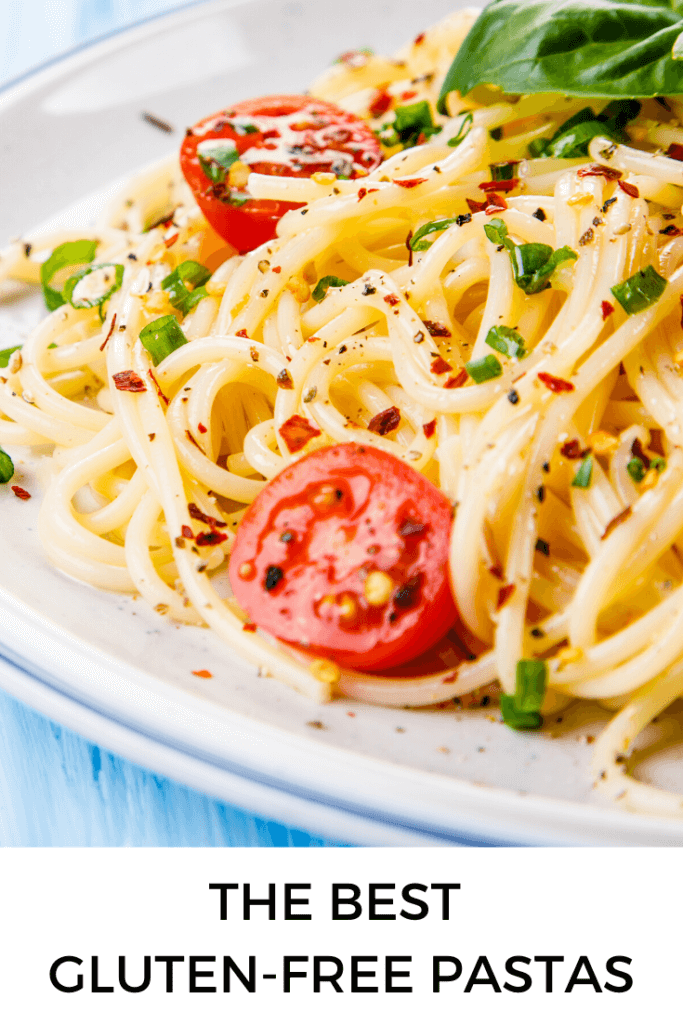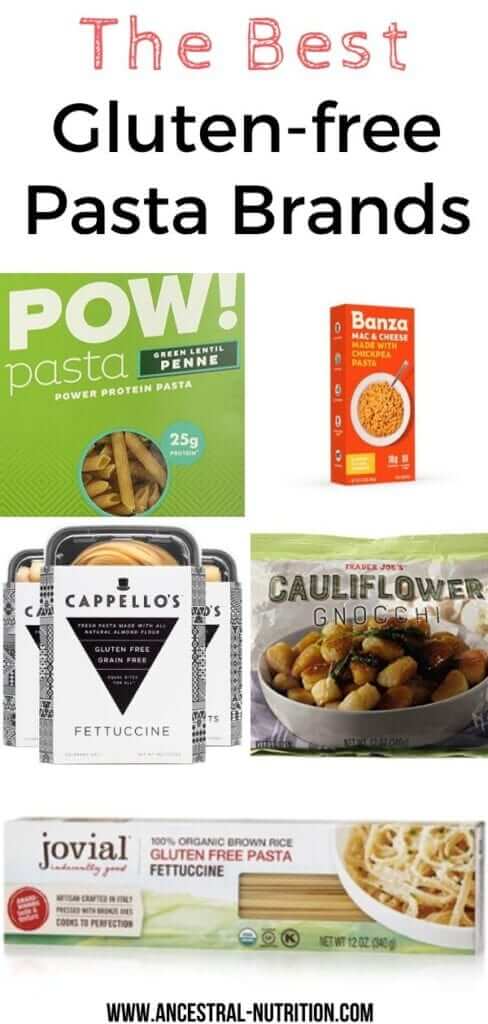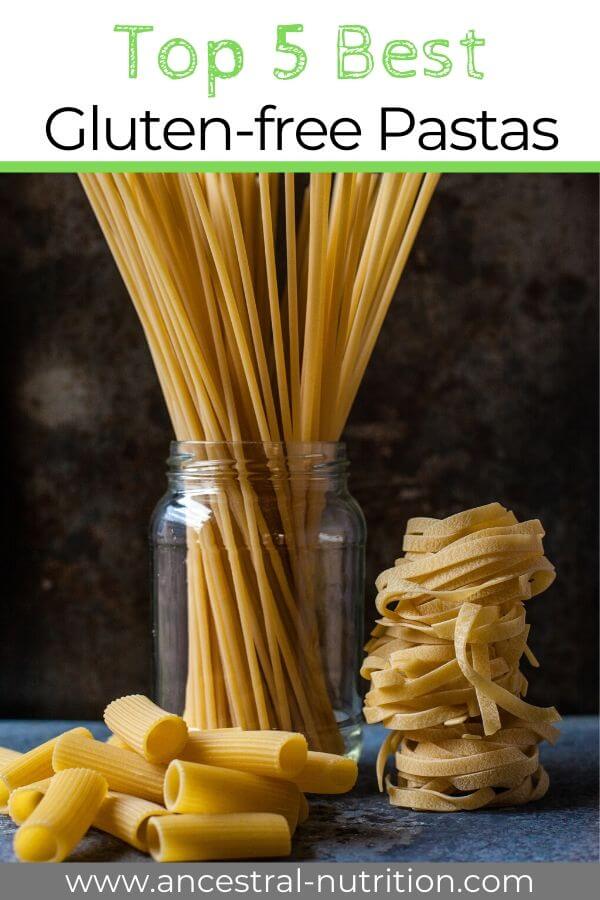 Disclosure: This page contains affiliate links, and at no additional cost to you, I earn a small commission if you click through and make a purchase.