These Asian chicken wings are only five ingredients plus they're gluten-free, keto, paleo and super healthy!
Ya'll. I hate Buffalo sauce. Like it is just NOT good. It's sour, there is no real depth of flavor, there's no garlic or onion flavor. And to be honest I'd eat garlic in my pancakes I love it so much.
I know everyone loves Buffalo sauce. But I'm not on the Buffalo sauce train. Especially after making these super easy Asian chicken wings, which are SO GOOD.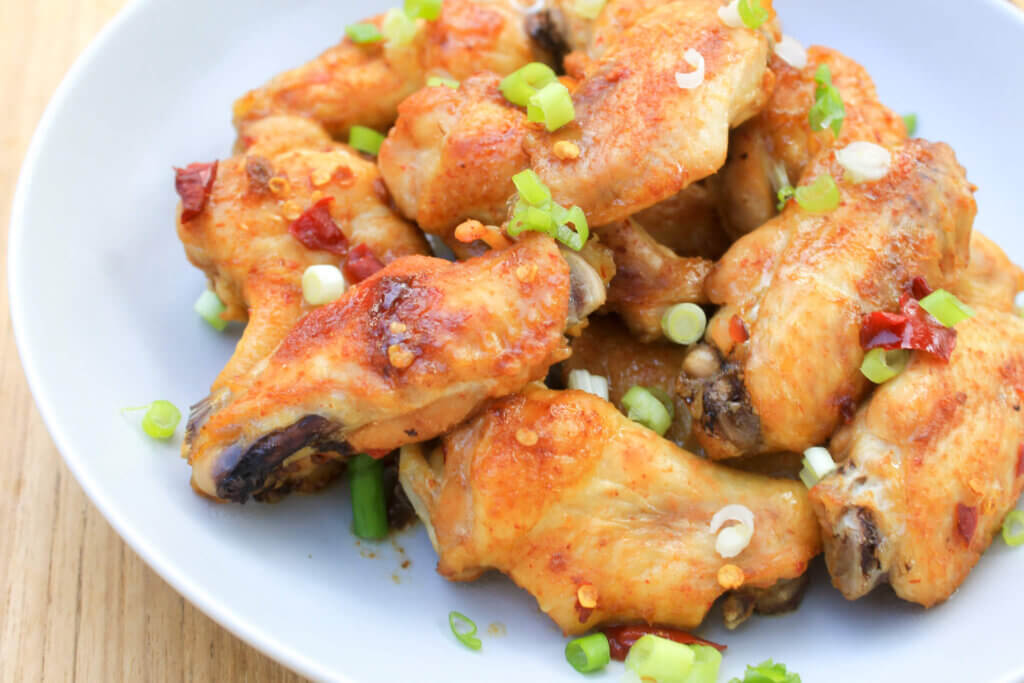 See how beautiful they are?
I served this up with some jasmine rice and a side of sautéed bok choy and shiitake mushrooms. Tons of veggies and the whole meal was packed with delicious Asian flavor. I love trying to come up with Asian dishes. They're just so damn healthy if you use the right ingredients.
Health Benefits:
This recipe is gluten-free, soy-free, dairy-free, low-carb, paleo, keto and gluten-free!
Chicken is a wonderful source of protein with a fully balanced amino acid profile.
Green onions have several health benefits including antioxidants, vitamin K and vitamin C!
The tendons in chicken wings are loaded with collagen, the most abundant protein in the body. Collagen strengthens the skin, gut lining, bones, joints, cartilage and so much more!
Tips:
This recipe is super versatile, if you don't have green onions, use garlic!
If you don't have coconut aminos, use soy sauce!
Add whatever kind of hot sauce you like.
Add no hot sauce if you hate it or if your kids don't like it.
If you want seriously crispy skin, fry up in some avocado oil before tossing them in the oven.
Other Recipes: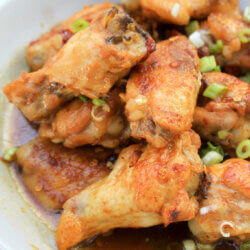 Asian Style Chicken Wings
Ingredients
1

lb

chicken wings

2

green onions, diced

1/4

cup

coconut aminos

1/4

cup

tamari (or sesame oil if you'd like more of a sesame flavor)

2

tbsp

chili sauce or Calabrian chilis
Instructions
Preheat oven to 400 and line a baking dish with parchment paper. Make sure the parchment paper is folded around the edges to catch the liquid.

Toss all the ingredients together and pour the sauce over the chicken wings.

Bake for 45 minutes or until golden and crispy.

Transfer the wings to a plate and pour the thickened sauce overtop.