This Asian Ground Chicken Bowl is easy to make, paleo, gluten-free and has a keto option. Also it's crazy good, ya'll.
The other day I was thinking of what to make for dinner. I had gotten up at 5am to go to a Yoga Sculpt class (basically yoga with cardio and weight and it kicks your ass). Then I worked until 3pm. Then I took my kids on a walk, went to the park, changed two diapers and chased my kids while they sped away from me on scooters.
It was roughly 5:13pm and I thought, "Well shit I'm tired and really don't feel like making dinner."
Then I strongly considered ordering Chipotle.
But then I remember I had ground chicken in the fridge. And ground chicken is EASY. It's versatile, it cooks up in a matter of minutes and it fully absorbs whatever sauce you add – making saucy lil' chicken bites.
I was feeling Chinese food, so I decided to give this some Asian flair.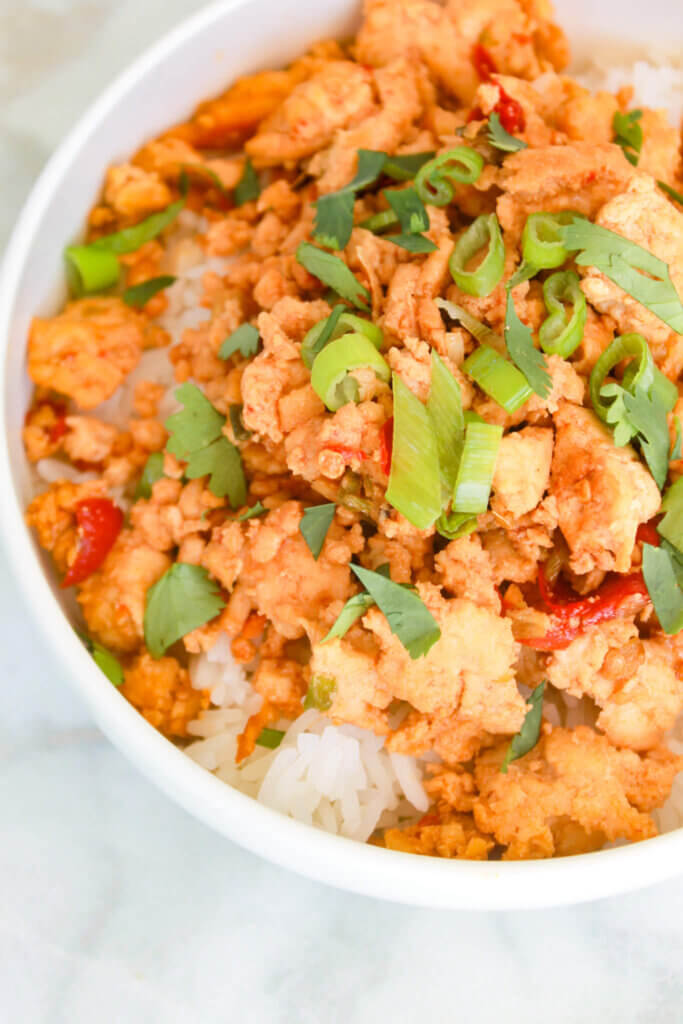 I steamed some frozen broccoli – which I literally always have on hand. And I microwaved some frozen organic rice.
YEAH, I MICROWAVED.
I buy the organic frozen Jasmine rice from Whole Foods because it's easy and convenient and delicious. And because I can't make rice that good, and certainly not in the two minutes it takes to microwave.
Don't judge me. Just buy microwave rice and thank me later.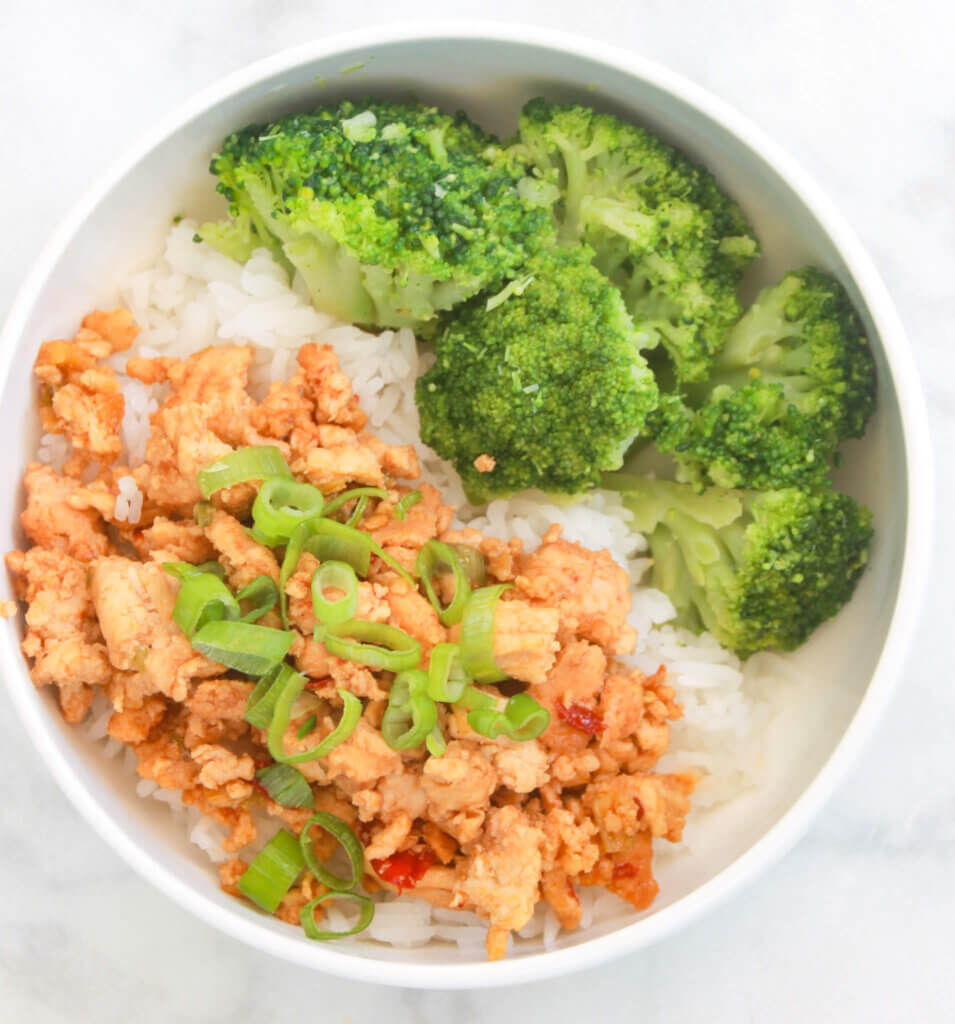 Benefits of this recipe:
it's delicious
it's ready in under 20 minutes
it's healthy
it's loaded with protein
it is rich in fiber
it's rich in folate
it's rich in B vitamins
Variations + tips:
if you're not in the mood for Asian style chicken, add some marinara sauce
meal prep this recipe
if you allow the rice to cool, it will become a resistant starch that feeds beneficial bacteria in the gut
to make this recipe keto, simply use cauliflower rice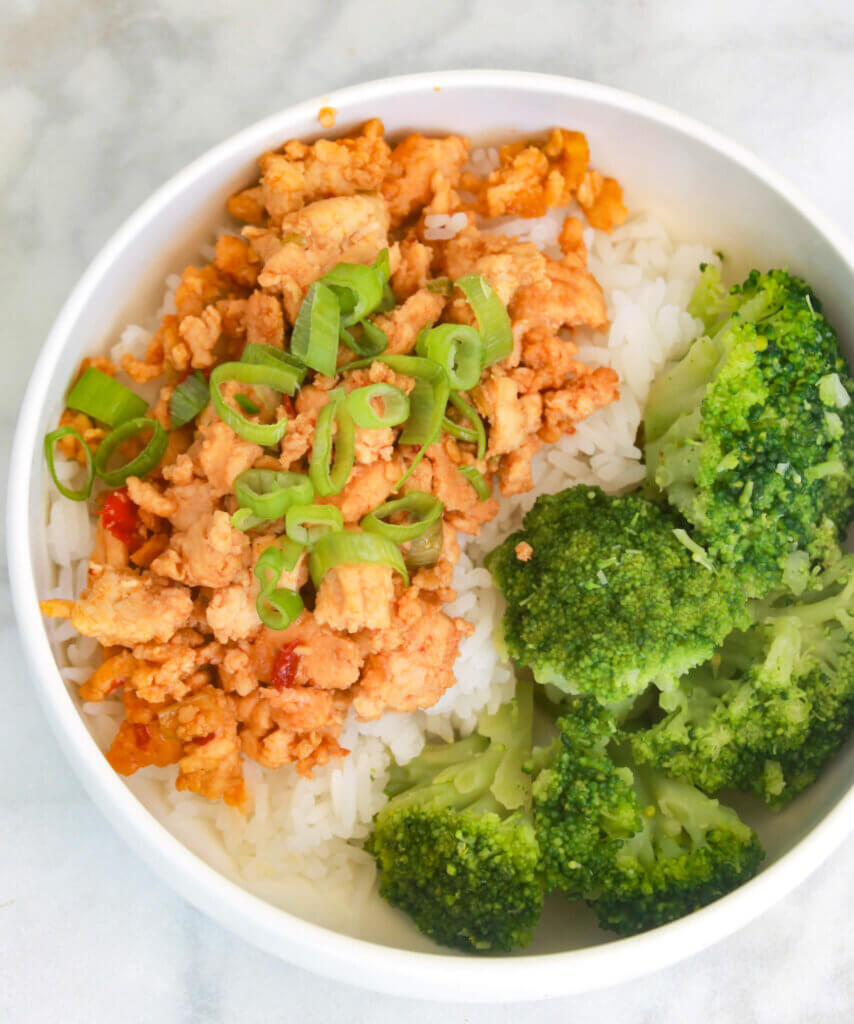 Other recipes: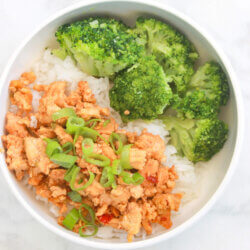 Asian Ground Chicken Bowl
Ingredients
1

lb

ground chicken

1

tbsp

olive or coconut oil

1/2

tbsp

fresh ginger, chopped finely

2

garlic cloves, minced

2

tbsp

calabrian or Asian style chilis

1

tbsp

organic ketchup

1/4

cup

coconut aminos

2

cups

cooked rice

4

cup

steamed broccoli
Instructions
Over medium high heat, add the olive oil or coconut oil to a pan.

Add the ground chicken and all of the ingredients except the rice and broccoli.

Cook until the chicken is cooked through and the sauce has thickened.

Serve in 4 bowls, each with 1/2 cup of rice and 1 cup of broccoli.