This summer pasta salad is gluten-free, dairy free, easy to throw together and insanely delicious! It's the perfect side dish for summer and goes great at a cookout or barbecue!
I think I've come up with the most perfect pasta salad. Truth be told, I make a lot of pasta salad. It's my summer staple. Anytime we're invited to a cookout or if we're hosting one, my husband inevitably says,
"What are you making? Let me guess. It is f*cking pasta salad again?!"
Don't let him fool you. We love pasta salad. And he normally eats most of it. Also don't be deterred by the f word. We think it's funny to jab each other and have been doing so for nearly ten years.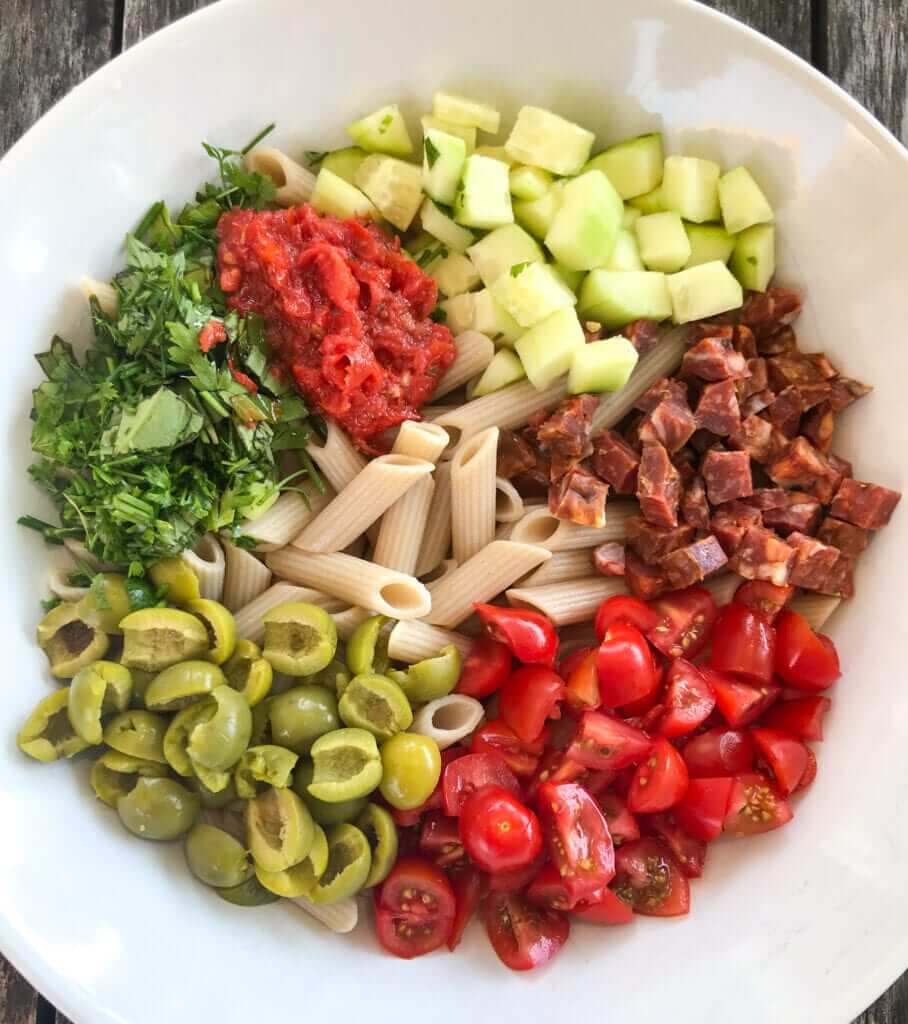 This is an Italian style pasta salad, minus the Italian dressing. Trust me, fresh herbs and good olive oil are SO MUCH BETTER.
I like to make this the day before, or at least a few hours before serving it so that the flavors all marinate together. Trust me, this is so much better after it's been sitting out a few hours.
And that's another thing, don't be afraid to not refrigerate for a couple of hours. It's not going to go bad. Pasta gets hard in the fridge, so make sure you let it come to room temp before serving.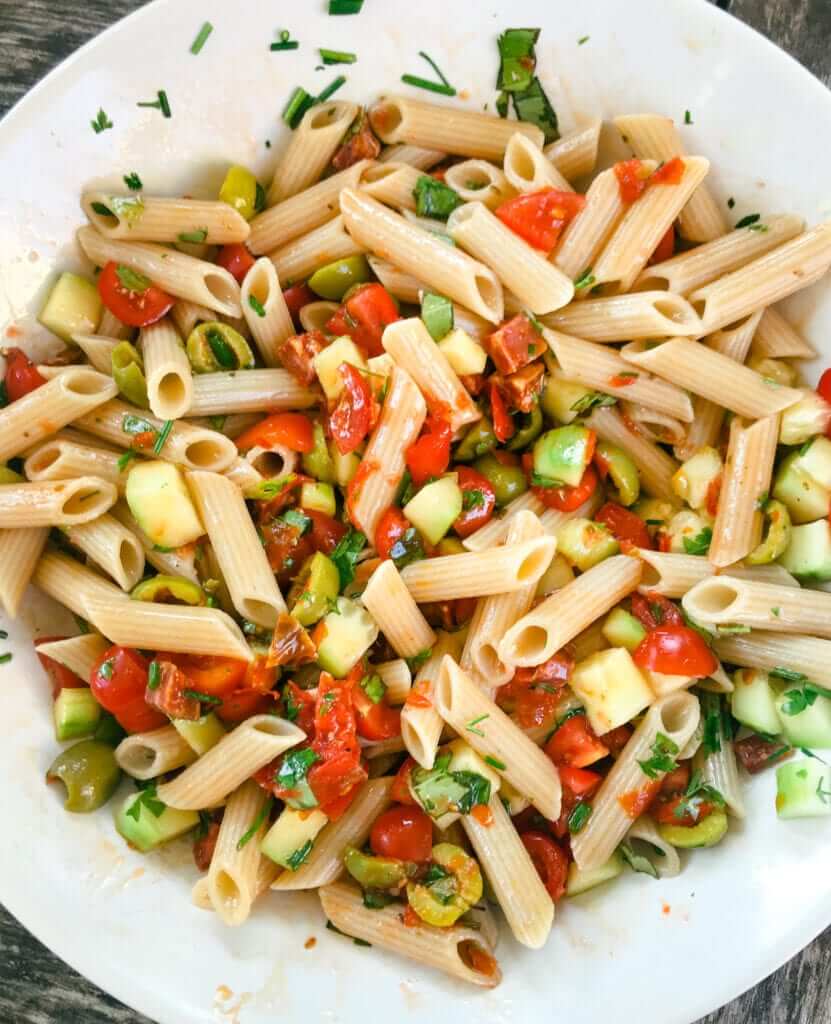 Tips for making this pasta salad:
Switch it up! If you don't have castelvatrano olives, use whatever you like!
You can use really any kind of cured meat in this, anything from salami to pepperoni to cappacolo!
If you don't have fresh herbs, use dried!
If you want more of an onion flavor, add some red onions and omit the chives.
Green pepper goes so well in this pasta salad!
Use whatever fresh summer veggies you have on hand!
Make this overnight and let all the flavors marinate.
Take out the fridge 1-2 hours before serving so it's soft and room temp! No one likes a super cold pasta salad.
Other resources: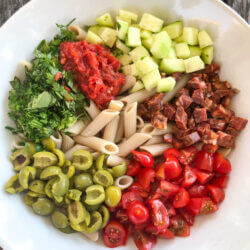 Summer Pasta Salad
Ingredients
1

box

gluten-free penne

1/2

cup

chopped castelvatrano olives

1

cup

chopped cherry tomatoes

1

medium cucumber, chopped

8

oz

sopressata, salami or chorizo, chopped

1/2

cup

brushetta (fresh Divina is my fave)

4

tbso

fresh basil, chopped

4

tbsp

fresh parsley, chopped

2

tbsp

chives, chopped

a hearty drizzle of olive oil

a sprinkle of dried oregano

salt and pepper
Instructions
Cook pasta according to package instructions.

While the pasta is cooking, chop everything up.

Add everything to a bowl and combine.