This paleo pizza crust with tapioca flour is the perfect canvas for all your favorite toppings. Try my version – a paleo breakfast pizza with pesto, prosciutto, and eggs.
This delicious Paleo Breakfast Pizza comes with the best-ever gluten-free paleo pizza crust!
Who doesn't love a breakfast pizza?
I guess I don't if we're talking typical pizza. I tend to avoid getting gluten hangovers before lunch.
But this breakfast pizza is made from tapioca flour, which is a 100% safe starch! It's easily digestible and provides good carbs to help keep you full.
I don't know about you, but I definitely feel fuller when my meal includes some carb action.
Why tapioca flour is the best choice for making paleo pizza crust:
Tapioca is a type of starch extract that's derived from a vegetable called cassava root.
Added in the right quantity, tapioca flour can add so much structure to baked goods in the absence of gluten.
It tastes mild and just slightly sweet, making it perfect for paleo pizza crust. Besides carbs, it's very low in other macronutrients. However, it's totally gluten-free, low in calories and free from sugar — so overall still useful in healthy, gluten-free cooking or baking.
For the perfect paleo pizza crust, we also add some olive oil and an egg – a combination which provides a hint of richness and gives the dough plenty of elasticity making it easy to work with.
Top your paleo pizza crust with pesto, eggs, and prosciutto for the perfect breakfast pizza!
The paleo breakfast pizza itself was delicious. I used homemade pesto as the sauce and topped it with prosciutto when it was completely cooked. It was amazing.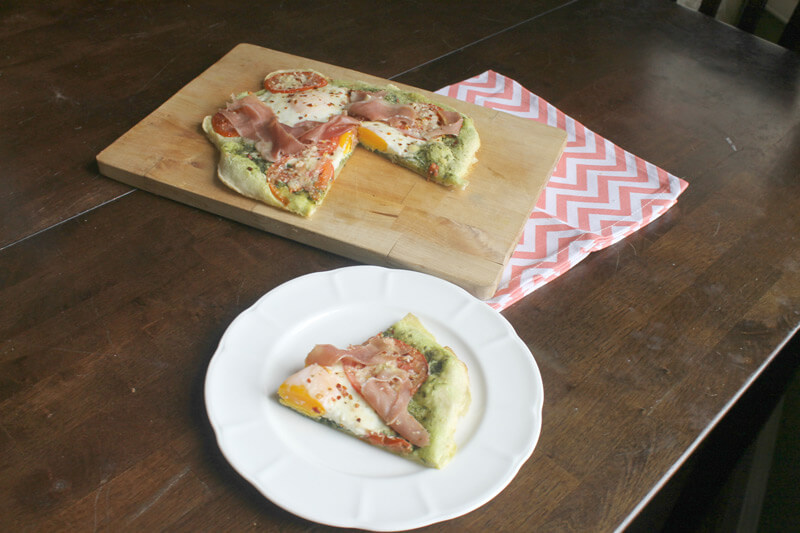 How to make Paleo Breakfast Pizza:
Paleo Pizza Crust:
1 cup tapioca flour (I use THIS brand) |125 g
1 egg
1 tbsp water (more if needed)
add any spices you like, this crust itself doesn't taste like much without any spices
Preheat oven to 375.

Combine ingredients until a wet dough forms, this does not feel like your typical dough.

Spread it out evenly and thinly on a cookie sheet or pizza pan.
Paleo Pizza Toppings :
homemade or bought pesto (just blend basil, garlic, parsley, olive oil and pine nuts until smooth)
slices of tomato
two eggs
optional: Romano cheese
Bake your paleo breakfast pizza for 15 minutes.

When the cooking is done, add prosciutto. 

Devour.
Tips for making paleo pizza crust:
You can use a blend of coconut flour and tapioca flour. Simply swap 1/4 cup tapioca flour for 1/4 cup of coconut flour.
To prevent the pizza from sticking, spray the cookie sheet with some avocado oil or place the paleo breakfast pizza on a sheet of parchment paper.
Make sure to add some salt and spices to the dough to give it some more flavor. Another great way of infusing the pizza crust with flavor is using an herb or garlic infused olive oil.