This crockpot beef & veggie greek stew is so easy, delicious and healthy. It's also keto, paleo and gluten-free!
I like crockpot meals. They make my life easier. I can throw a bunch of stuff in a pot and take my kids to the park and come home a few hours later and BAM.
Dinner is ready. Usually I "forget" a snack and my kids are so hungry they eat it.
By forget I mean I don't bring snacks so that I don't have any when my kids ask for some.
It's okay for kids to get hungry. It's good for their digestion and for the amount of food they eat, aprticularly as designated meal times.
I'm not against snacks, but I AM against snacking all damn day, which seems to be the norm with kids these days.
My son has breakfast at 8am, goes to school, has a snack at 10 and lunch at 11:30. WHY does he have a snack at 10am? I don't know. They give the kids snacks at school, because four year-olds can't go more than two hours without eating I guess?
Except they can.
Don't give your kids more than one snack a day (ours is usually around 3pm) and see how well they eat.
Anyway, now that I've ranted about snacks.
Make this Crockpot Beef & Veggie Greek Stew. It's really good. And also you can basically throw anything you have into the crockpot, which is essentially what I did.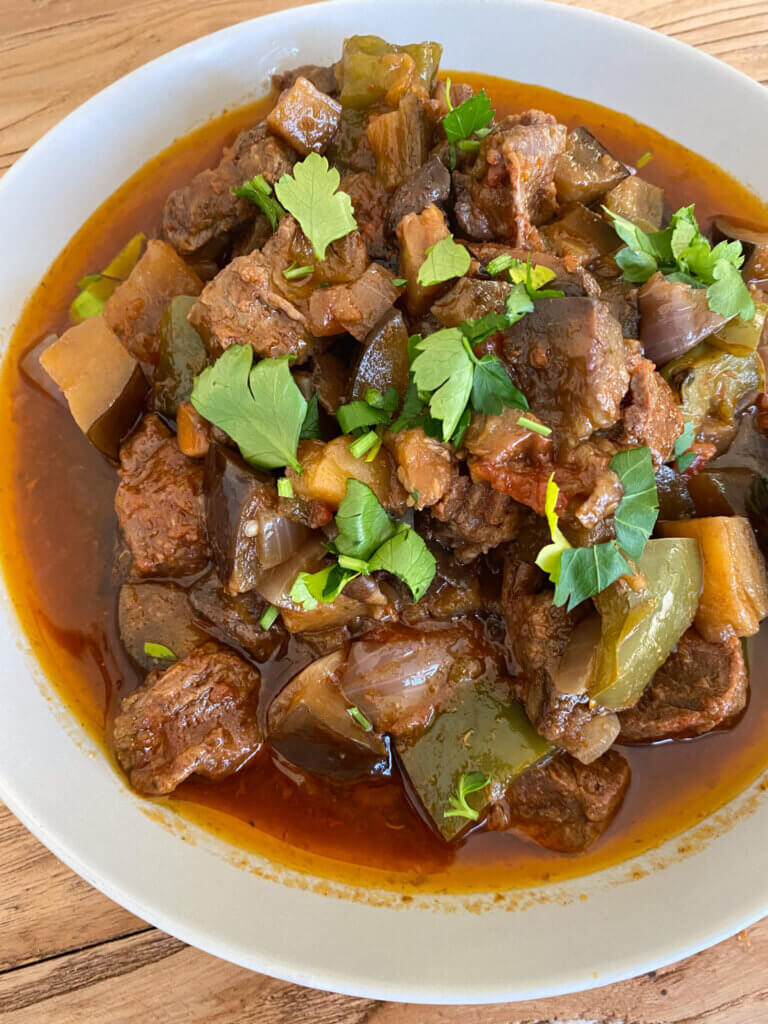 Health benefits of Crockpot Beef & Veggie Greek Stew:
high in B12, iron, zinc
rich in protein
easy to digest
full of veggies
contains lots of healthy fat (olive oil!)
Tips:
use whatever veggies you have, fresh tomatoes and zucchini would go beautifully in this
for more flavor, use Rao's marinara (or any, but Rao's is my favorite)
if you don't like the warmth of cinnamon (it does add a slightly sweet flavor), simply omit from the recipe
use a lot of good quality salt – not only does salt provide an array of minerals, a lot of salt is required for this recipe
Other recipes you'll like: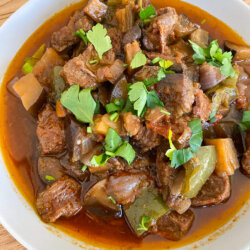 Crockpot Beef & Veggie Greek Stew
This Greek inspired stew is so easy, delicious and healthy! Tender beef simmered in tomato sauce with veggies, it's all so flavorful. Plus it's keto, paleo and gluten-free!
Ingredients
1

large eggplant, cubed

1

large green bell pepper, diced

1

medium red onion, diced

1

lb

cubed beef stew meat (preferably grass-fed)

8

oz

canned tomatoes OR 8 oz (1 cup) Rao's marinara

1/2

cup

olive oil

1/2

tsp

cinnamon

1

tsp

oregano

1

tsp

garlic powder
Instructions
Throw everything in a crockpot and stir.

Cook on high for 4.5 hours.

Serve alone, with potatoes or over rice.