Planning on starting the Isagenix diet? Read this unbiased Isagenix review, in which I take a close look at the Isagenix diet, its side effects and ingredients, and learn whether it's a safe way to lose weight or just another fad diet.
This Isagenix Review was UPDATED IN DECEMBER 2017 – and it's even worse than I previously thought
After my post on Herbalife and how unhealthy their products are, I got a lot of questions about Isagenix and whether I could write an Isagenix review. So here we go.
Before it's asked, this is the protein I use and recommend. I couldn't find one good enough on the market, so I made my own. Grass-fed collagen with six organic superfoods: kale, spirulina, wheatgrass, broccoli, spinach and turmeric. I drink it in my daily smoothies and it gives me LIFE. Aka a healthy gut, glowing skin, strong digestion and energy for DAYS. Use code 10OFF for 10% off!
What is Isagenix and what does it promise?
The Isagenix diet is a popular weight loss program based on meal replacements. It's used by dieters worldwide who are looking to drop pounds quickly.
Isagenix's products promise to help you achieve a healthy weight, be able to train harder and recover faster, age more gracefully and boost overall wellness.
What are the ingredients of Isagenix?
Below are common ingredients found in Isagenix products:
rancid vegetable oils
gluten
soy
agave syrup
isolated fructose
additives
corn
synthetic vitamins linked to cancer
Below is the ingredient list for the Peanut butter FiberSnack:

Below is the ingredient list for the Slim Cake: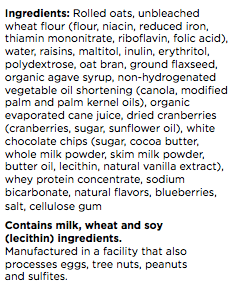 The ingredients in the Isalean chocolate bar: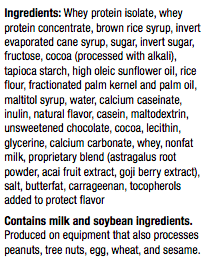 The ingredients in the Isalean shake: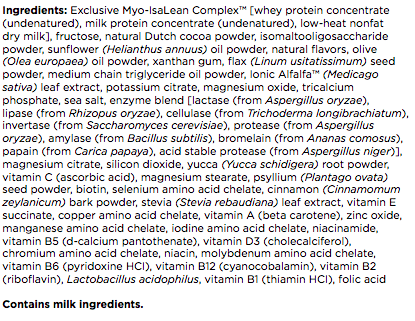 SYNTHETIC VITAMINS
There are numerous synthetic vitamins in these Isagenix products but the most disturbing is the use of folic acid. I reached out to Isagenix directly and was told,
"Isagenix uses folic acid when it is a supplement or fortified food. When it is a whole food, you will see it listed as folate. Both are derived from natural processes. Please note that we use folic acid, not methylfolate in our products."
This is false. Folic acid is made in a lab while folate is naturally occurring and found in food. There is a significant and dangerous difference between the two.
Folic acid is incredibly dangerous, especially for those who carry the MTHFR gene mutation – which estimates have shown 50% of the popular carry. People who carry this mutation are entirely unable to convert folic acid to folate (whereas the rest of us are just mostly unable to make this conversion).
In the Journal of the American Medical Association — suggesting that all the extra folic acid might increase your odds of developing cancer. "The more we learn about folic acid, the more it's clear that giving it to everyone has very real risks," says folic acid researcher David Smith, Ph.D., a professor of pharmacology at the University of Oxford in England.
Another study out of Chile linked folic acid supplementation with an increased risk of colon cancer.
And yet another study out of Norway linked folic acid supplementation with a 21% increase in lung cancer.
Folic acid and B12 supplementation was associated with a 21% increased risk for cancer, a 38% increased risk for dying from the disease, and an 18% increase in deaths from all causes.
While folate is a necessary part of a balanced diet, folic acid has actually been linked to increased rates of cancer (another source for ya).
CANOLA OIL
Canola oil is one of the most damaging oils on the market today. It is found in most junk foods and is normally used as a frying oil due to its high smoke point. Not only is the majority of canola in the US genetically modified, it is extremely high in omega-6 fatty acids. This causes severe inflammation, especially if ingested regularly.
Here is a video about how this rancid oil is made. This video is ridiculous in so many ways. It starts out by saying that canola oil is the healthiest oil because it contains the lowest amount of saturated fat and has omega-3s, which is wildly untrue.
Then goes on to show how it's processed – which is absolutely disgusting. I will never be able to understand how anyone thinks that a product (not a food) undergoes this amount of processing and is healthy.
To summarize the video:
The rapeseeds are firstly highly pressurized, forcing out the oil. To extract the remainder of the oil, the canola cakes undergo a 70-minute wash with a "chemical solvent." This chemical solvent, my friends, is hexane. A neurotoxin.
Then the oil enters the refining phase, in which the oil is washed with sodium hydroxide, aka lye. After this, the oil is clearer but still contains waxes. Then the oil is cooled to 41 degrees to filter out the wax – which is used for vegetable shortening.
After this, the oil is bleached to remove the color, then "sue a steam injection heating process to remove the odor." It's heated to extremely high temperatures because the oil is literally rank and smells terrible.
This is a highly refined, rancid product that causes rampant inflammation in the body. You can read more about canola oil from my post on the subject HERE.
SOYBEAN OIL
This study from Harvard found that men consuming the equivalent of one cup of soy milk per day had 50% lower sperm count than men who did not consume soy (even accounting for other factors like age, caffeine and alcohol intake, etc.).
From the study,
There was an inverse association between soy food intake and sperm concentration that remained significant after accounting for age, abstinence time, body mass index, caffeine and alcohol intake and smoking. In the multivariate-adjusted analyses, men in the highest category of soy food intake had 41 million sperm/ml less than men who did not consume soy foods.
Several studies have also linked soy to cancer.
…this pilot study indicates that prolonged consumption of soy protein isolate has a stimulatory effect on the premenopausal female breast, characterized by increased secretion of breast fluid, the appearance of hyperplastic epithelial cells, and elevated levels of plasma estradiol. Source
as well as,
We have demonstrated that the isoflavone, genistein, stimulates growth of estrogen-dependent human breast cancer (MCF-7) cells in vivo…Here we present new information that soy protein isolates containing increasing concentrations of genistein stimulate the growth of estrogen-dependent breast cancer cells in vivo in a dose-dependent manner. Source
LOW HEAT NONFAT DRY MILK
From Butter Believer's article on skim milk,
Before processing, skim milk has a very unappetizing blueish color, a chalky taste, and watery texture that doesn't resemble natural milk at all. So, to whiten, thicken, and make it taste a little more normal, powdered milk solids are often mixed into the milk.

What's so bad about powdered milk? Well, in the manufacturing process, liquid milk is forced through tiny holes at very high pressure, which causes the cholesterol in the milk to oxidize, and toxic nitrates to form.

Oxidized cholesterol contributes to the buildup of plaque in the arteries, while unoxidized cholesterol from unprocessed foods is actually an antioxidant to help fight inflammation in the body. The proteins found in powdered milk are so denatured that they are unrecognizable by the body and contribute to inflammation.
NATURAL FLAVORS
I take issue with anything listed as "natural flavors." Because chances are, it's not all that natural. Hell, even monosodium glutamate (MSG) can be masquerading as a natural flavor. The labelling is loosely regulated. In Food Rules: A Doctor's Guide To Healthy Eating, Dr. Shanahan discusses a study in which 95% of ingredients listed as "natural flavor" contained MSG.
As for "natural" flavor, it could even be secretions from a beaver's butt. Beavers secrete castoreum, which smells and tastes remarkably similar to vanilla.
Castoreum is a chemical compound that mostly comes from a beaver's castor sacs, which are located between the pelvis and the base of the tail. Because of its close proximity to the anal glands, castoreum is often a combination of castor gland secretions, anal gland secretions, and urine…Still concerned you're chowing down on beaver-bum goop? Because of its FDA label, in some cases, manufacturers don't have to list castoreum on the ingredient list and may instead refer to it as "natural flavoring." Yum. Source
FRUCTOSE
I am not a fan of fructose. I don't eat or recommend eating an excess of fruit, and therefore fructose isn't problematic. Only the liver metabolizes fructose.
Too much fructose is toxic to the liver, and there is generally an abundance of fructose in most diets (especially the Standard American Diet). An excess of fructose raises triglycerides and increases fat production.
From Dr. Mercola,
When you consume fructose, 100 percent of it goes directly to your liver to be metabolized; this is why it can be extremely hepatotoxic when it overloads your liver, just like alcohol.
SUNFLOWER OIL
Keeping a balanced omega-3 to omega-6 ratio is extremely important. An abundance of omega-6 fatty acids cause inflammation and wreak havoc on the body. Unfortunately, sunflower oil is extremely high in polyunsaturated fat and per one cup has 436 mg of omega-3 fatty acids and 86776 mg of omega-6 fatty acids. This is a highly inflammatory oil.
MALTODEXTRIN
Maltodextrin is a processed food additive, generally derived from corn. Isagenix will not say whether they do or do not use genetically modified corn.
In conclusion:
Let's sum up my Isagenix review: While not as bad as Herbalife, Isagenix still uses several ingredients that I find highly questionable. Lasting health and healthy weight loss do not come from a shake, a bar, or a "SlimCake."
Like Herbalife, Isagenix may be an effective weight loss tool. So is anorexia. Does that make Isagenix products healthy? Does that mean a person should use them to lose weight? No.
We need to stop looking for health in a pill, in a shake, or in any other quick fix. The only way to truly be healthy is to eat well, to eat real, whole, unprocessed food. I will teach you exactly how to do this in my 21 Day Lifestyle Transformation.
I wrote this Isagenix review because I do not want you to fall for meal replacement shakes, for protein bars, or otherwise gimmicky foods. These companies produce cheap, toxic products and push them off on people as healthy alternatives (to what exactly I'm not sure). Instead, watch my video on how to make a protein shake that is not only unprocessed but actually good for you.
As of November 2014, there are over 800 comments on this Isagenix review.
I will now automatically delete comments that include or are similar to the following:
comments that are offensive in any way
name calling (this tells me you have no better argument against me by the way)
calling me a liar – scroll down, I linked to my sources as well as directly to the ingredients on the Isagenix website
commenters that try to argue by providing "research" directly from Isagenix
commenters that accuse me of downing an MLM company just for being MLM, I never did this
and in general, uneducated comments that do not promote the discussion surrounding Isagenix and the ingredients found in Isagenix products
*It's come to my attention that an external website that sells Isagenix says the whey they use is from grass-fed cows and that they do not use GMOs. I am suspicious of this for several reasons.
The first being that this information is from a website whose intention is to sell this very product. They are no GMO-free verified and nowhere do they label their products as GMO-free.
But even if all of the products in Isagenix were 100% organic, the ingredients are still toxic. Soybean oil, gluten, fructose, non-fat dry milk, corn bran, etc. are not healthy.
**While Isagenix is not verified GMO-free in the US, it is in Australia and New Zealand. They do say they do not use any GMO products. Though considering they do use soy, corn, and canola, which are over 90% genetically modified, I am suspicious. Consider that there isn't even approval for GM wheat and it was found growing in Oregon, then consider that over 90% of these crops are GM and often cross-contaminated with non-GM crops.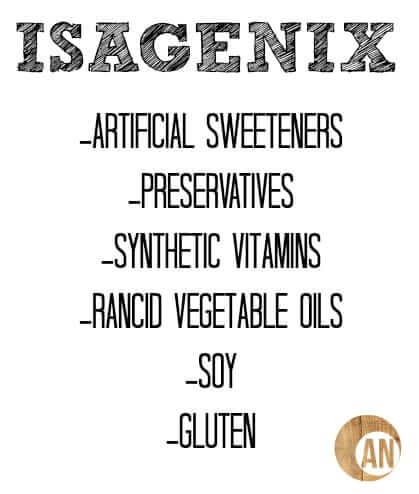 Additional Sources
http://www.health.harvard.edu/blog/is-fructose-bad-for-you-201104262425
http://articles.mercola.com/sites/articles/archive/2012/09/09/ethanol-alcohol-and-fructose.aspx
http://nutritiondata.self.com/facts/fats-and-oils/512/2
https://www.epa.gov/sites/production/files/2016-09/documents/hexane.pdf