I used to not eat pork very often, not because it's unhealthy or I have any weird hang-ups about eating pork, I just didn't really know how to cook it. Obviously I could have just cooked it in some BBQ sauce, but I hate BBQ sauce. One time Scott accidentally put BBQ sauce on our French fries at a hockey game instead of ketchup (yeah, I know, fries at a game aren't healthy, but 80/20) and I almost beat him (is this inappropriate? Scott and I share a really strange/awesome sense of humor). He almost beat himself because he loves ketchup so much. I think he would drink it if he could. It's really gross. Anyway, a couple of months ago I started ordering pork ribs from my farmer and I discovered that tossing them in the crock pot over night or while I was at work all day with a bunch of random ingredients turned out really well, and enlisted very little work from me. Which I loved. But last night pork was the only thawed protein I had, and I couldn't wait all night to eat dinner. So I did the usual: tossed a bunch of random ingredients together but this time I put it on the stove. And it was amazing.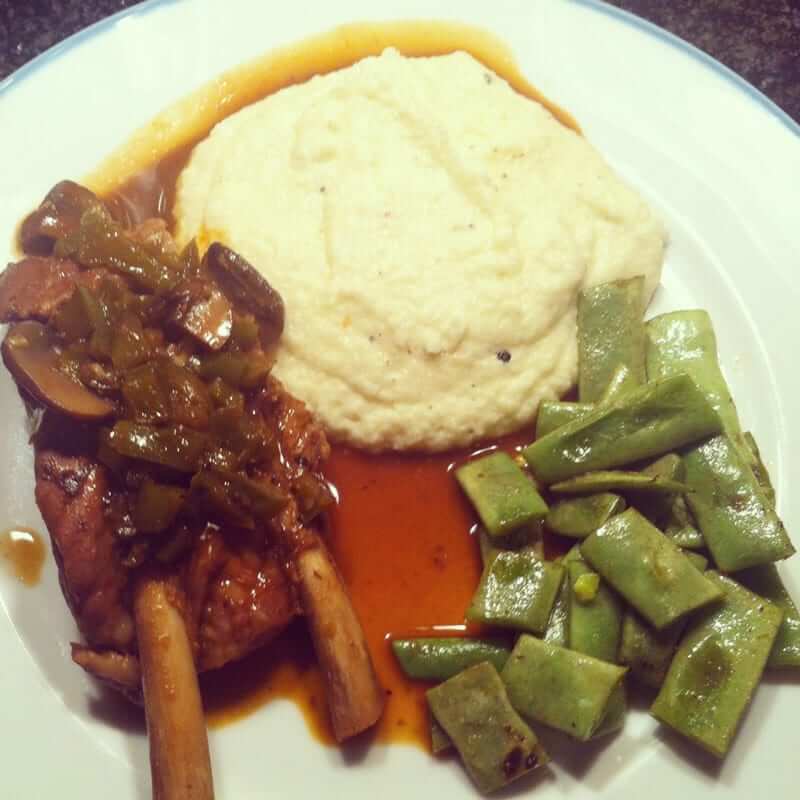 On the side I had cauliflower mashed potatoes and snap peas cooked in a lot of butter.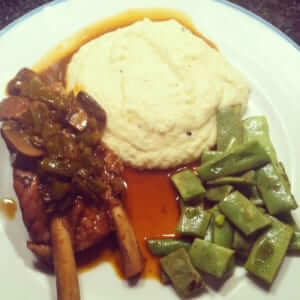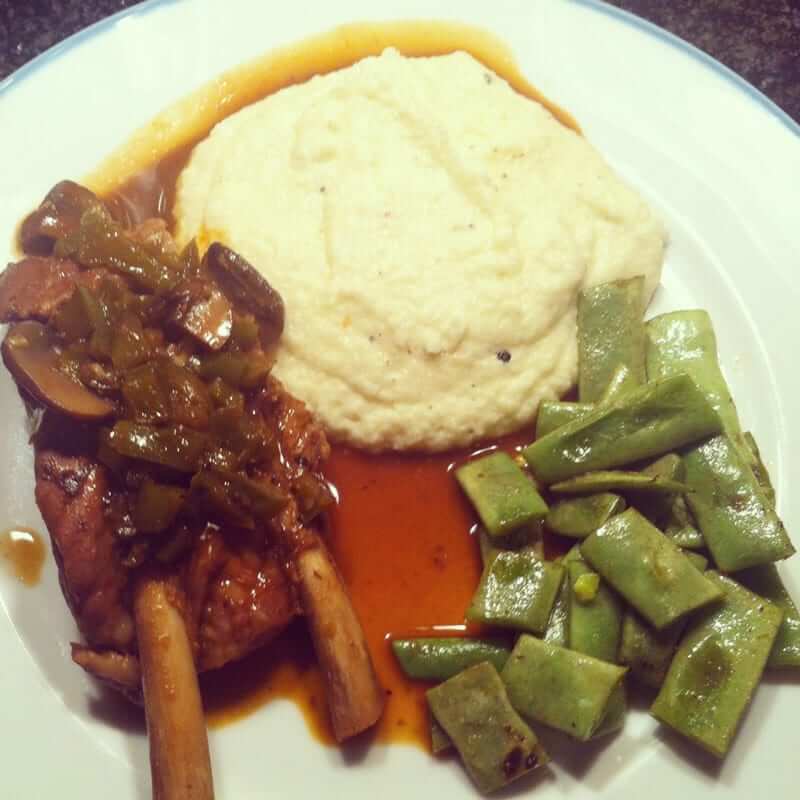 The best stove-top slow-cooked pork ribs ever
Try this easy recipe for stovetop slow-cooked pork ribs!
Ingredients
1

lb

pork ribs

1.5

cups

bone broth

you can use water, I just needed to get rid of it

6

cups

water

2

large garlic cloves

2

tablespoons

ketchup

I used sugar-free

2

tablespoons

coconut aminos or tamari

1

teaspoon

chipotle powder

I like it spicy, so I used almost a tablespoon

2

tablespoons

Worcestershire1 tablespoon or organic rooster sauce

optional

1/4

large green pepper

4

big bella mushrooms
Instructions
Dice mushrooms and green pepper and add to a large pot with all other ingredients.

Cook on high for roughly two hours. Add water as needed, it will evaporate.

In the last ten minutes, after the pork has softened, remove the lid and allow the majority of the water to evaporate until a sauce forms
Notes
Feel free to add more veggies to the pot.
Nutrition
Serving:
1
serving
Calories:
556
kcal
Carbohydrates:
18
g
Protein:
35
g
Fat:
37
g
Saturated Fat:
12
g
Cholesterol:
127
mg
Sodium:
907
mg
Potassium:
1224
mg
Fiber:
2
g
Sugar:
9
g
Vitamin A:
430
IU
Vitamin C:
15.8
mg
Calcium:
75
mg
Iron:
3
mg