This gluten-free sea bass with herbs, tomatoes & capers is easy to make, incredibly healthy and fancy enough to fool anyone into thinking you're a brilliant chef. Plus it takes all of 15 minutes from start to finish.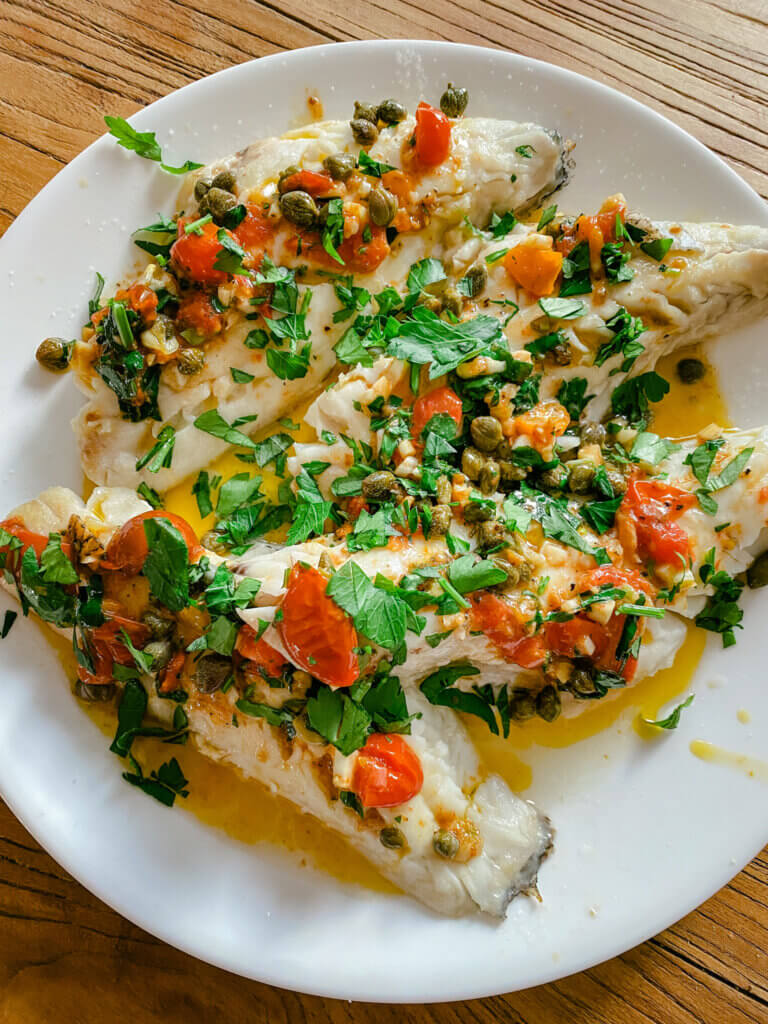 I am a lucky person. We moved from DC to Charleston, South Carolina in June of 2020. No one thought we'd do it. My mother in law thought we were insane. But now, it's 70 degrees on March 1st and I golf carted to the docks in my neighborhood to pick up fresh sea bass.
Life is good.
Fresh seafood is probably my most favorite category of food. Give me some oysters, a whole grilled fish, a crisp glass of white wine and I am GOOD. Not to mention that seafood is one of the absolute healthiest foods available to us as humans. Pair it with herbs, tomatoes and capers and you've got REAL superfoods on a plate.
The health benefits of sea bass:
great source of protein, just 3 ounces has 20 grams of protein
rich in omega-3 fatty acids DHA and EPA, which quell inflammation and support brain and heart health
rich in vitamin B6
a great source of selenium
The health benefits of capers, tomatoes, herbs and garlic:
tomatoes are rich in the antioxidant lycopene
capers and parsley are rich in various antioxidants
capers have shown to improve the health of the liver
garlic is good for the gut and fights off unfriendly gut bacteria
all of these foods boost the immune system
all of these foods are anti-inflammatory
Tips for making Gluten-Free Sea Bass with Herbs, Tomatoes & Capers:
listen, you don't have to use sea bass. any white fish will do. cod, flounder, use whatever ya got!
opt for wild fish, especially if you're using tilapia. tilapia is one of the worst farmed fish.
get creative! you don't have to follow the recipe to a T, use olives instead of capers, use chives instead of parsley, use green onions instead of garlic. do you!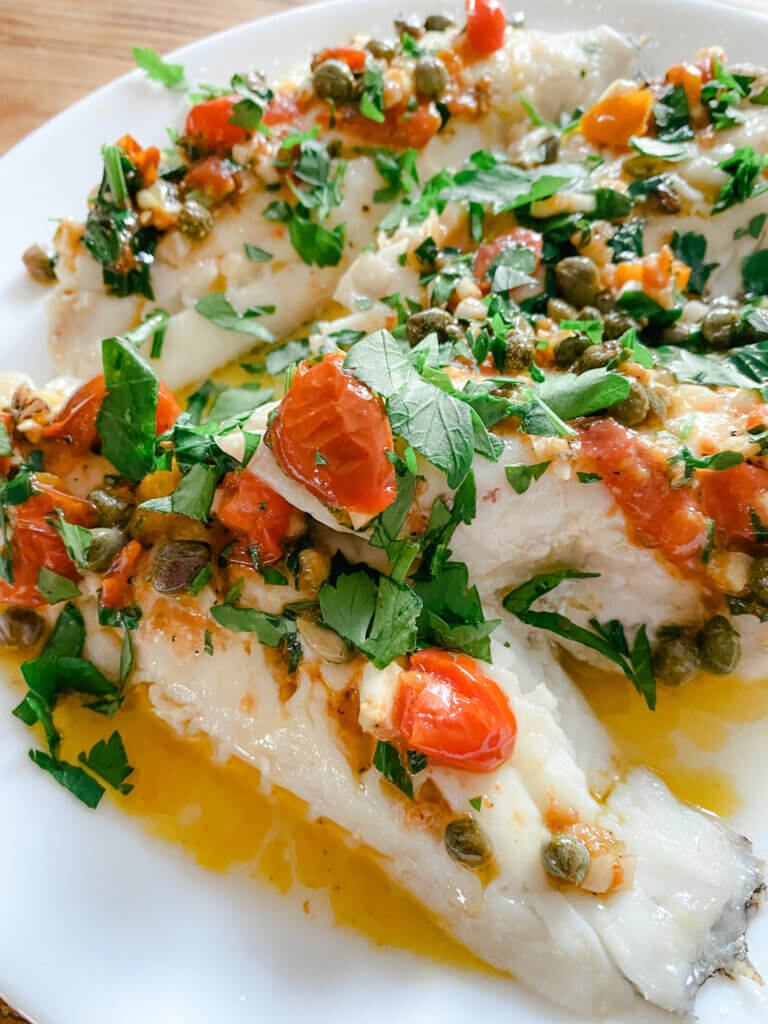 Now here's how to make it.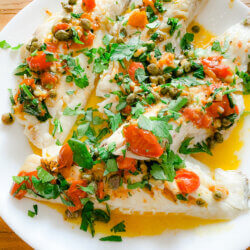 Sea Bass with Herbs, Tomatoes & Capers
This is a healthy, easy recipe that's absolutely delicious for dinner and ready in under 20 minutes!
Ingredients
1

lb

sea bass (about four filets)

1

tbsp

olive oil

10

cherry tomatoes, chopped

2

tbsp

capers

1

tbsp

garlic

2

tbsp

parsley

squeeze of lemon, optional
Instructions
Heat olive oil over medium high heat.

Salt and pepper the filets, then add them skin side down in the pan. Cook for about 2-3 minutes per side.

Remove the fish from the pan.

Add more olive oil if you need, then add the tomatoes and capers.

Cook until the the tomatoes have softened, then add the garlic and parsley.

Pour the sauce over the fish and enjoy!
Nutrition
Calories:
224
kcal
Carbohydrates:
3
g
Protein:
14
g
Fat:
18
g
Saturated Fat:
4
g
Polyunsaturated Fat:
1
g
Monounsaturated Fat:
3
g
Cholesterol:
50
mg
Sodium:
173
mg
Potassium:
113
mg
Fiber:
1
g
Sugar:
1
g
Vitamin A:
609
IU
Vitamin C:
13
mg
Calcium:
13
mg
Iron:
1
mg