Sometimes I get an overwhelming desire for chicken tacos. It's all consuming and they become all I can think about until I stuff my face with them.
Case in point: last Friday I was doing my usual grocery shopping. Everett was asleep in his stroller and I was leisurely browsing in Whole Foods…because I love Whole Foods. I'm checking out a cheese melter thingy that I'll never use and never buy because it's thirty-seven dollars and I can melt my own cheese and…the taco craving hit. Hard.
I quickly gathered the rest of the items on my grocery list and headed home. Except when I got there, the baby woke up. Which is okay, because he's really cute and sometimes I think my heart will explode because I love him so much.
So I fed him, impatiently. Silently imploring my kid to hurry the hell up so I could make some chicken tacos. I'm like, a really good mom. I promise I love my kid more than tacos. But they're in my top five for sure.
So my point is – by the time I'm done feeding my son I am RAVENOUS for tacos. I can think of nothing else. Thank God these take less than fifteen minutes to make.
Some key points about these amazing tacos, other than the fact that they're insanely delicious:
organic chicken is a great source of protein (bonus if you get pastured chicken from a local farm!)
healthy fats and fiber from the avocado
low-carb, paleo, gluten-free using Siete tortillas (my absolute favorite)
Lots of antioxidants and nutrients from the tomatoes, cilantro, onions, romaine, and avocados
another healthy dose of fat from grass-fed cheddar
made from real, whole foods – the kind that fills you up with no additives, sketchy ingredients or otherwise processed garbage so common in food these days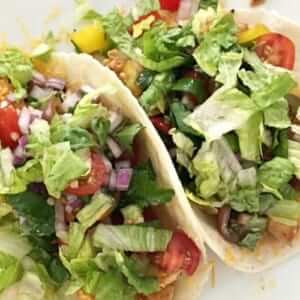 Quick + Healthy Chicken Tacos
These healthy chicken tacos are low-carb, paleo, gluten-free but taste even better than restaurant-style tacos! You get protein from organic chicken l

ots of antioxidants and nutrients from the tomatoes, cilantro, onions, romaine, and avocados

another healthy dose of fat from grass-fed cheddar!
Ingredients
2

Siete almond flour tortillas

see notes

1/2

chicken breast

1

tbsp

avocado oil

find here

tsp

garlic powder

tsp

cumin

tsp

chipotle powder

1/2

cup

pico de gallo

1

avocado

shredded lettuce

grass-fed cheddar to grate overtop
Instructions
Heat the avocado oil over medium heat.

Dice the chicken and toss it in the garlic, cumin and chipotle powders. Add salt too.

Cook until browned.

Add chicken to two Siete tortillas.

Grate some grass-fed cheddar overtop.

Then add pico de gallo (I already had some made - always).

Then add lettuce.

Then top with avocado.

DEVOUR.
Notes
You get those cheap at Whole Foods or you can order them online.
Nutrition
Calories:
807
kcal
Carbohydrates:
63
g
Protein:
32
g
Fat:
50
g
Saturated Fat:
7
g
Cholesterol:
72
mg
Sodium:
1354
mg
Potassium:
1484
mg
Fiber:
14
g
Sugar:
14
g
Vitamin A:
825
IU
Vitamin C:
27.9
mg
Calcium:
88
mg
Iron:
3.5
mg