The other day I had leftover pork belly that I wasn't sure what to do with. I bought a big piece of it at the farmers market and was honestly tired of eating it on its own. And then this happened. Gluten free and primal pork belly egg rolls.
These were so good. Like, insanely good. I've used the rice paper wraps to make summer rolls before so I wasn't sure how they'd hold up if I fried them since they're kind of delicate, but it worked out perfectly. The rice paper became crispy and was totally resilient.
Also, if you're wondering about white rice and why it's better than brown and how it's considered primal or even paleo at all – read this article.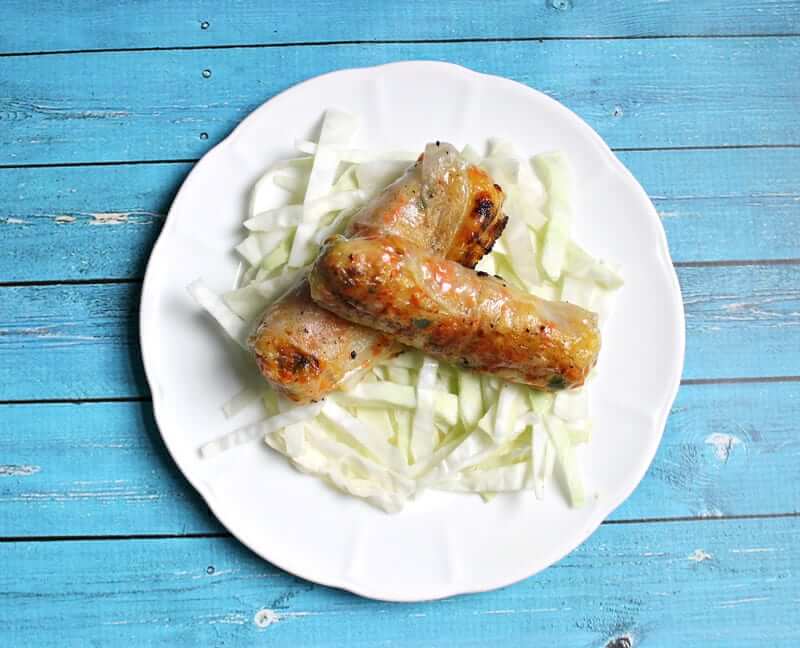 Can you see how crispy they are?
The combination of cabbage and carrot worked out perfectly with the pork belly. I also added a jalapeño because I love the flavor and the spice, but you can omit this if you aren't as big of a fan as I am.
Ingredients:
about 1/4 lb pork belly, already cooked and cut into strips
2 small carrots
1/2 head of cabbage
1 jalapeño, diced
2 cloves of garlic, minced
1 tbsp sesame oil
1 tbsp of butter
about 8 rice wraps, THESE are similar to what I used
about 4 tbsp of lard, tallow or coconut oil
Directions:
Shred the carrot and cabbage in a food processor.
Sautee it in the butter.
One it's soft, add the jalapeño, sesame oil and garlic.
Set aside.
To soften the rice wraps, dip them in warm water and wait a few seconds (maybe 15-20).
Once softened, add the pork belly, then the veggie mixture.
Fold the bottom up, then the left side, then the top, and finally fold the right side.
While you're folding, you can let another rice wrap soak to save time (so you don't have to wait each time for it to soften).
When you have all the of it rolled up into egg rolls, heat a pan over medium to medium high heat.
Melt 2 tbsp of whatever fat you're using, adding more as you need it.
Fry the egg rolls on each side until crispy, but DO NOT CROWD THE PAN. These suckers will stick together. Rice is sticky!
Once it's crispy on all sides, remove and serve!