I'm one of those people that LOVE mayo. Back in the day when I'd actually eat mayo in restaurants, I'd always ask for extra. If I got a BLT, I wanted to bite into and have the mayo drip out. That kinda mayo lover. The sort of gross kind.
But I've never found a fully healthy store bought mayo without GMOs or refined oils or oils that are super high in omega-6 fatty acids (which leads to inflammation – we want to avoid that).
This mayo is full of healthy fats. Egg yolks are rich in vitamins and minerals (especially if you're pregnant), coconut oil is rich in lauric acid and great for the gut (the expeller presser coconut oil has no coconut flavor), and olive oil is full of vitamin E, antioxidants and a great HDL booster. Even store bought "olive oil mayo" actually contains either soy or canola oils (both of which are garbage).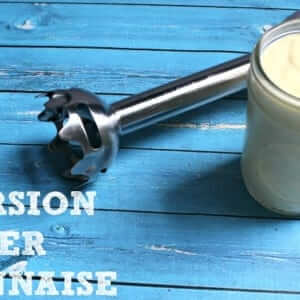 Paleo Immersion Blender Mayonnaise
I cannot tell you how easy it is to make this paleo immersion blender mayonnaise, it's literally ready in under a minute. How amazing is that? Super healthy, cleanup is easy and it's cheap.
Ingredients
2

egg yolks

1

egg

1

garlic clove

1

tsp

apple cider vinegar

I use THIS brand

1

cup

expeller pressed coconut oil

found HERE - it has no coconut taste

1/3

cup

olive oil
Instructions
Whip out your immersion blender. I use this one and it RULES.

Add the two egg yolks and the whole egg to the mixing glass that came with the immersion blender (or any tall, large-mouthed glass).

Add the garlic and ACV.

Don't melt the coconut oil over heat, but mix it rigorously so it's warm and liquid. A few lumps are fine.

Add the coconut oil to the eggs.

Place the blender fully in the mixture so it's touching the bottom of the glass and turn it on for 60 seconds.

At this point for me, it didn't solidify, which is fine.

Turn the blender off, add the olive oil.

Turn it back on and it should thicken immediately.
Notes
I add a clove of garlic to make this extra delicious, and it's not over garlicky.
Nutrition
Serving:
1
tbsp
Calories:
168
kcal
Protein:
1
g
Fat:
17
g
Saturated Fat:
5
g
Cholesterol:
92
mg
Sodium:
13
mg
Potassium:
16
mg
Vitamin A:
125
IU
Vitamin C:
0.2
mg
Calcium:
12
mg
Iron:
0.4
mg