Nearly every morning my boys ask for a smoothie. This smoothie in fact. My issue with the vast majority of smoothies is that they are pure sugar – fruit on fruit on fruit. This one is packed with protein, fiber, healthy fats and antioxidants – without spiking their blood sugar. Try my low sugar smoothie for kids!
Why Most Smoothies Suck + Spike Blood Sugar
Listen, I love a smoothie. They make a great snack or breakfast. They're easy. They're the perfect wait to load up a ton of nutrients into one neat little package. But most smoothies aren't a ton of nutrients. Most smoothies are just fruit.
Listen, I'm not a fruit hater. I'm down with fruits. But we have to eat them properly. Eating a ton of fruit in one sitting is NOT a good idea. Why? Because as great as fruit it, fruit still contains sugar and not a ton of nutrients.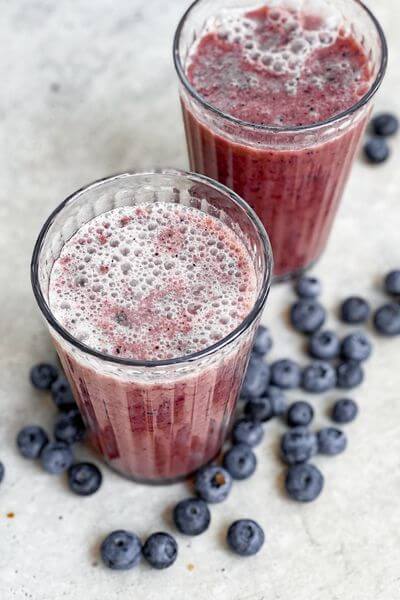 So when you consume a big glass of blended up fruit, you're getting some antioxidants and a bit of fiber, but you're completely missing fat and protein. This means after drinking a fruit smoothie, your blood sugar is going to spike, your body is going to release insulin to control it and then you're going to crash. This is why it's so important to make a low sugar smoothie for kids (and for yourself!).
How To Blunt A Blood Sugar Spike
It's totally fine to add fruit to a smoothie, I always do. But it's important to add fat, fiber and protein to blunt any blood sugar spike. Remember, we don't want to eat our fruit (aka carbohydrates) naked. We want to eat them with fat, fiber and protein because not only is it a more balanced meal, it ensures that we're not consuming a sugar bomb.
Proteins to Add to a Smoothie:
*I do not prefer vegan proteins as they are not as bioavailable and lack complete amino acids profiles but included one for those who may be plant based.
Fiber Options to Add to a Smoothie:
flax (I prefer ground)
avocado
berries – particularly raspberries
white beans (again, you can't taste them!)
Healthy Fats to Add to a Smoothie:
olive oil (you can't taste it and I prefer Greek for the high polyphenol content!)
walnuts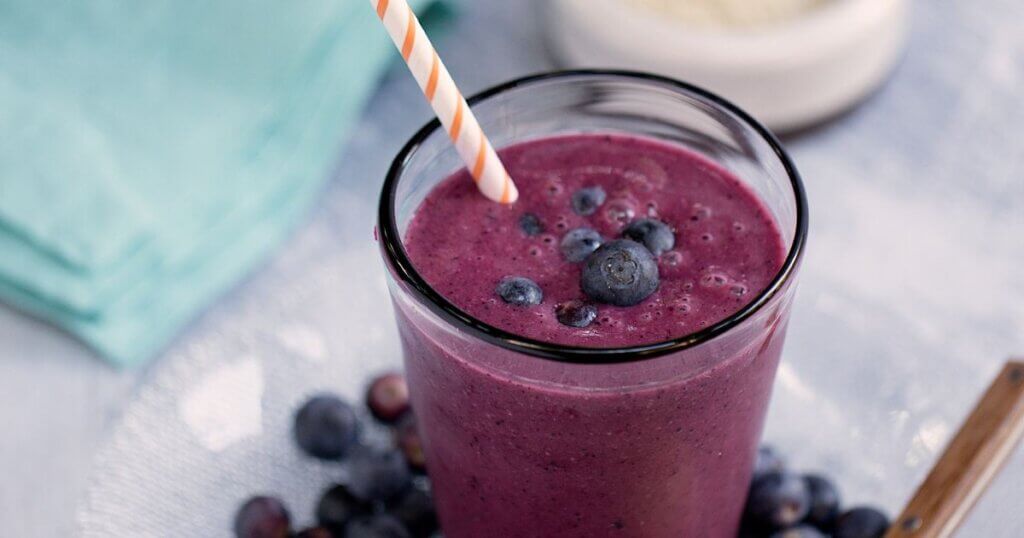 How To Make a Low Sugar Smoothie For Kids
Makes one smoothie for an adult or two for kids.
Start with your liquid based – water, coconut milk, grass-fed milk, etc. Add one cup.
Next add your fruit of choice. I prefer berries. Add 1/2 cup.
Next add your probiotic – either kefir or yogurt. Add 1/3 cup.
Add your green of choice, I use frozen kale. About 1/3 cup.
Add your fat of choice – 1 to 2 tbsp.
Add 1-2 tbsp of fiber (I use one flax and one chia).
Add your protein – at least 20 grams.
If you like, add cocoa powder, vanilla extract, peppermint extract, etc for flavor! We always add cocoa.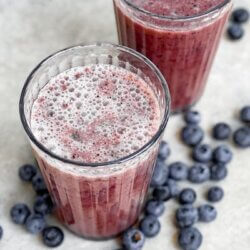 Low Sugar Kid Smoothie
This smoothie is healthy, won't spike blood sugar and is delicious so kids will actually drink it!
Ingredients
1

cup

water or milk of choice

1/2

cup

berries

1/3

cup

kefir or yogurt

1/3

cup

kale or spinach

1

tbsp

flaxseed

1

tbsp

chia seeds

2

tbsp

cocoa powder

1

tbso

olive oil

1

scoop

protein powder
Instructions
Add everything to blender and blend until smooth!
Nutrition
Calories:
233
kcal
Carbohydrates:
15
g
Protein:
24
g
Fat:
14
g
Saturated Fat:
3
g
Polyunsaturated Fat:
3
g
Monounsaturated Fat:
6
g
Trans Fat:
0.01
g
Cholesterol:
30
mg
Sodium:
59
mg
Potassium:
234
mg
Fiber:
6
g
Sugar:
7
g
Vitamin A:
1259
IU
Vitamin C:
12
mg
Calcium:
187
mg
Iron:
3
mg