If you trust hospitals, you may not after reading the ingredients in a common drink they give out.
My grandma is 88 and has spent most of her life heeding the advice of doctors. When they told her to stop eating eggs, she did. When they told her to make grains the basis of her diet, she did.
And she's suffering because of it.
The woman that grew up eating fresh food from her backyard has slowly deteriorated. Over time, she lost over 50 lbs and six inches from her height. She had blood clots, surgeries—you name it. And every single time I've visited her in the hospital, they've given her Ensure.
Right now she's in a rehab facility recovering from knee surgery. What do they give her every morning?
Ensure (with a side of toast, oatmeal or fake eggs – gotta keep that cholesterol down and the blood sugar up after all!).
When I've inquired about why they so freely hand out Ensure, they say it's because she needs the calories. Except Ensure isn't calorically dense. It's also full of toxins and fake ingredients.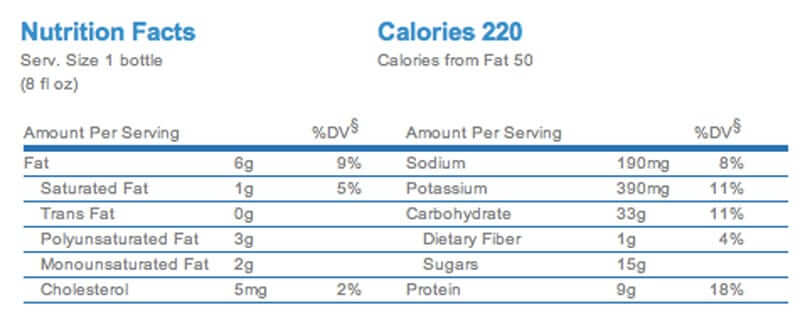 Take a look:
Water, Corn Maltodextrin, Sugar, Milk Protein Concentrate, Soy Oil, Soy Protein Isolate, Sucromalt, Cocoa Powder (Processed with Alkali), Canola Oil. Less than 0.5% of the Following: Corn Oil, Magnesium Phosphate, Potassium Citrate, Cellulose Gel, Natural & Artificial Flavor, Potassium Chloride, Sodium Citrate, Calcium Phosphate, Calcium Carbonate, Salt, Choline Chloride, Ascorbic Acid, Cellulose Gum, Monoglycerides, Soy Lecithin, Carrageenan, Potassium Hydroxide, Liquid Sucralose, Ferric Orthophosphate, dl-Alpha-Tocopheryl Acetate, Acesulfame Potassium, Zinc Sulfate, Niacinamide, Manganese Sulfate, Calcium Pantothenate, Cupric Sulfate, Vitamin A Palmitate, Thiamine Chloride Hydrochloride, Pyridoxine Hydrochloride, Riboflavin, Folic Acid, Chromium Chloride, Biotin, Sodium Molybdate, Sodium Selenate, Potassium Iodide, Cyanocobalamin, Phylloquinone, and Vitamin D3.
Corn Maltodextrin – Usually made from genetically modified corn.
Sugar – This is the third ingredient and likely comes from genetically modified sugar beets.
Milk Protein Concentrate – another processed food, from cows that are fed genetically modified corn and soy, as well as pumped full of hormones and antibiotics.
Soy Oil and Soy Protein Isolate – soy oil is what's left over after chemically separating the protein from the oil of the soybean. This is usually done using hexane, a neurotoxin. When the protein is removed, one of the worst oils for your body is created. 95% of soy genetically modified and highly processed. It's also extremely high in omega-6 fatty acid. This means it's also highly inflammatory, which can lead to arthritis, Alzheimer's, depression, even cancer.
Sucromalt – an artificial sweetener. Cargill, one of the worst "food" corporations, manufactures it.
Carrageenan – Carcinogenic and tied to the gut lining damage.
Synthetic Vitamins – How much can your body absorb? It's questionable.
What's shocking is that these toxic foods are not only available but touted as healthy. Yet raw milk is against the law.
Things like this only affirm my belief that food policy in this country isn't just ass-backward, but corrupt. Maybe if small farmers had their own millions of dollars to throw at politicians, things would be different.
You need to take your health into your own hands. You cannot rely on hospitals, schools, even most doctors to help you. Diet, sleep, exercise, low stress and reducing your toxic load is what will fix your health. We need to stop relying on institutions to guide us. Ditch the toxic food, ditch the toxic drugs. They cause more harm than good; especially when you can use essential oils to protect and promote your health.
In the meantime, support your local farmers.
Buy organic food, go to farmers markets. Buy raw milk if you can. Eat whole, organic foods for optimal health; not shakes, not meal replacements, not fake food.