I have a confession. I used to get drunk and go to Taco Bell as a teenager. The Mexican Pizza was my JAM. My friend Ali (still one of my closest friends) and I would blast Notorious B.I.G. and giggle and stuff our faces with Taco Bell. You see? This is why I needed to eventually become a nutritionist! I definitely needed a lifestyle change. Which leads to my new favorite recipe: Gluten-Free Mexican Pizza.
Taco Bell is kind of notoriously bad food. They use horrible quality meat. In fact, their beef is only 88% beef. Curious what's in the other 12%? You should be. Because it's gross.
maltodextrin (from GMO corn)
tortula yeast (a processed yeast-like fungus)
modified corn starch (more GMOs)
soy lecithin (from GMO soy)
sodium phosphate
lactic acid
caramel color (a carcinogen)
trehalose (a preservative)
Yes, Taco Bell beef has not one ingredient, but nine. Nine unhealthy ingredients.
This is why ya'll need to make your own gluten-free Mexican pizza and tacos (see all my taco recipes HERE) and whatever else you'd order from Taco Bell. It's so easy to make these foods at home.
I use Siete almond flour tortillas, you can find them at most organic grocery stores. I use grass-fed ground beef and cheese, organic refried beans and organic tomatoes. This is how I eat whatever I want. I just make healthier versions.
This recipe is so easy to make, you only have to cook the ground beef and assemble the pizza, then bake. Super simple. Insanely delicious.
Gluten-Free Mexican Pizza
Ingredients
1/3 cup organic refried beans
1/2 cup grass-fed ground beef (cook with 1/2 tsp each of garlic powder, cumin and chili powder)
1/2 cup salsa
1/3 cup organic shredded cheddar
1/4 cup chopped tomatoes
cilantro
Instructions
Thaw the tortillas.
Spread the refried beans onto one tortilla.
Add the beef on top of that.
Top that with the second tortilla.
Spread the salsa overtop.
Sprinkle the cheese and tomatoes on top of the salsa.
Bake at 350 for 10-15 minutes, until the cheese is nice and melty.
Top with cilantro.
https://ancestral-nutrition.com/gluten-free-mexican-pizza/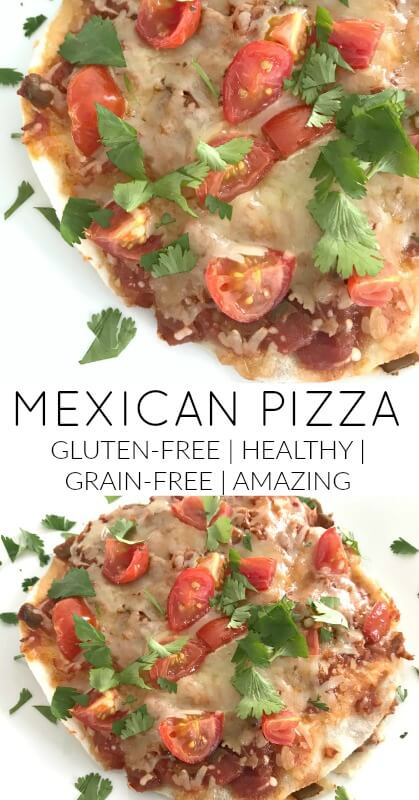 Source:
http://abcnews.go.com/Business/taco-bell-reveals-mystery-beef-ingredients/story?id=23514878