When the holidays hit, I'm overcome with the compulsion to bake. And you guys – I'll be honest, baking is NOT my strong suit. Although these cookies may change that. Because these suckers are REALLY good. As soon as that Friday after Thanksgiving hits, I'm obsessed with making frosted sugar cookies. They scream Christmas to me (although I used natural/non-toxic food coloring for these so they look a little more Easter-y).
My husband said they actually kind of looked like the pies in the movie Hook, when Robin Williams and all the kids sit down to have a feast. You know, when he schools Rufio?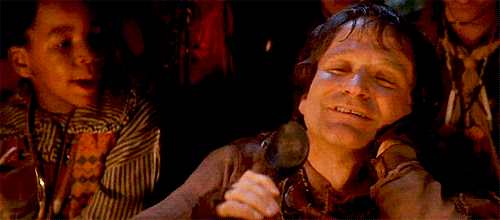 Two years ago I really started experimented with gluten-free frosted sugar cookies. They were terrible. Again – I'm not a baker! I love to cook and I'm pretty good at it, but baking? Literally only during the holidays.
Last year I tried some more recipes. They were okay. Not too bad.
And this year I think I'm getting close to perfect. These cookies remind me of those cookies you see in the grocery store, those really soft white ones with a thick layer of really cute frosting on top. Do you know what I'm talking about? Those soft, chewy sugar cookies with hot pink frosting and sprinkles?
These remind me of those. Except they're gluten-free, dairy-free and sweetened with honey. Because ya know, I'm trying to avoid diabetes and would like to keep my gut lining in tip top shape. These are way easier on digestion and won't cause such a severe spike in blood sugar when compared to traditional sugar cookies.
I think the secret to these cookies is the flour I used – Bob's Red Mill 1 to 1. While I prefer to use paleo flours because they're healthier and easier to digest, like almond flour, coconut flour, etc. – this 1 to 1 flour is the best gluten-free flour I've ever tried. And this post isn't even sponsored! This is just my honest opinion. This flour blend works really well for every recipe I've tried. You can use it instead of wheat flour in any recipe without having to guess how much to use. You just can't do that with almond or coconut flour! It's super convenient and you can't even tell it's gluten-free!
Gluten-Free Frosted Sugar Cookies
Ingredients
Instructions
Preheat oven to 350.
I know you're supposed to combine dry and wet ingredients separately, but to be quite honest I just combine everything in one big bowl and mix it up.
Form a dough.
Roll out about ten balls and flat them a bit with your palm.
Bake for 10-12 minutes.
https://ancestral-nutrition.com/gluten-free-frosted-sugar-cookies/