These easy green chicken enchiladas are gluten-free, paleo and low carb too! They come together quickly thanks to rotisserie chicken and a paleo enchilada sauce!
Tuesdays are always a bit busy for me. I work until 3, then I entertain my kids, then around 4:30 we go to the farmers market, then I rush home to make dinner.
The exception being last Tuesday. Because I prepped these enchiladas like a BOSS.
You guys, this is not a from scratch meal. It is quick, it is healthy, but it is not involved. You mostly assemble.
Because I'm a freaking mom and even if you're not a mom I know you get busy and you want to make healthy meals that don't require 13 ingredients and four hours.
So make this. It's healthy. It's low-carb and gluten-free. It's paleo (ish, we'll talk about that later). I served it with a quick side salad I tossed up and my children and husband all stuffed their faces.
Also for a second can we talk about how much better verde enchiladas are? I have a recipe for regular rojo enchiladas, but verde is BY FAR my favorite.
So first, get you an organic rotisserie chicken. Or cook up 3-4 chicken breasts in a crockpot and shred. Your choice.
Then, if you so desire, add veggies. I added some cooked red bell pepper; I meant to also add spinach but honestly I forgot. You can add lots of veggies. You can add no veggies. Do what you like.
Add half a jar of your favorite green salsa (or just use some of the enchilada verde sauce). This one is by far the best.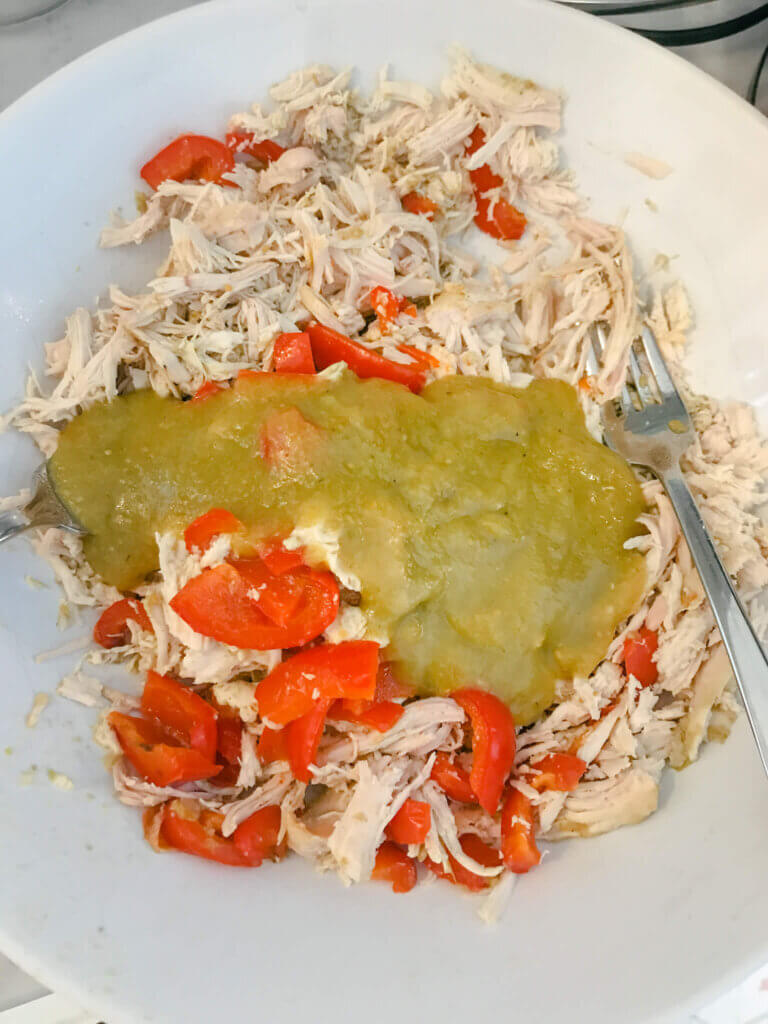 Mix it all up and whip out your grain-free tortillas. No, I do not make these either. I get the cassava or almond flour tortillas.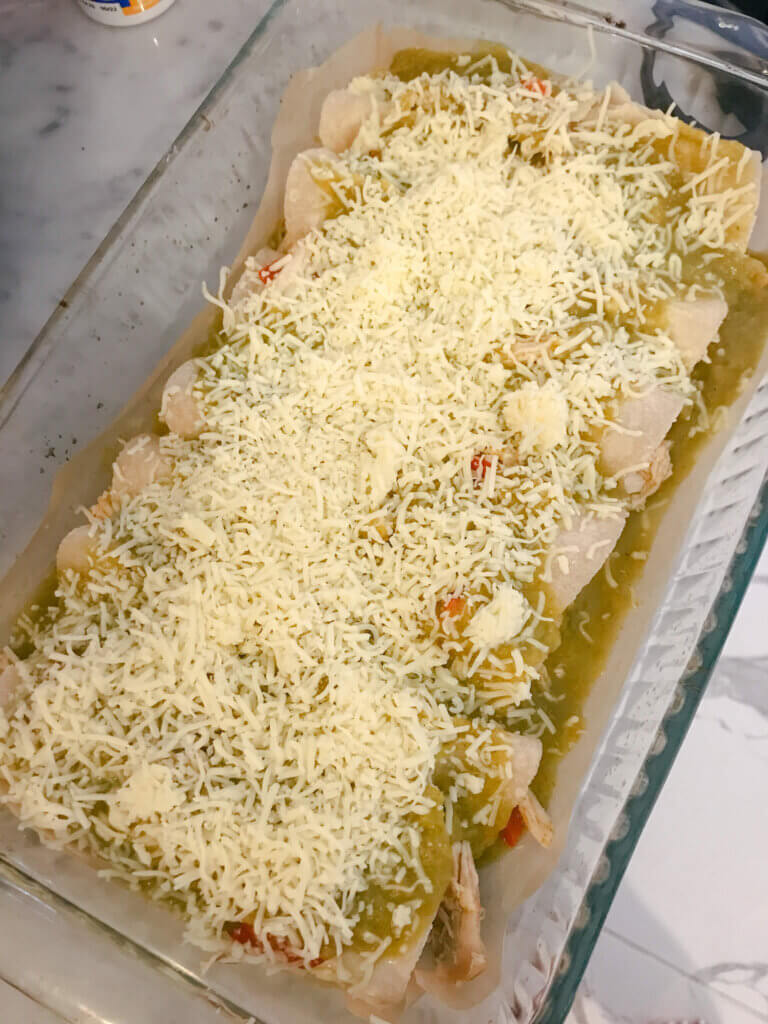 Okay so I topped with some grass-fed cheddar. No, cheese is not technically paleo. But you shouldn't not eat something just because it doesn't fall into one specific dietetic category.
If cheese doesn't agree with you, if it upsets your digestion or gives you acne or makes you tired – by all means, do not eat cheese.
But for most paleo peeps like myself, we can do a moderate amount of high quality, grass-fed cheese. And ain't nothing wrong with that.
So add the chicken mixture to the tortillas, roll those little suckers up, dump the jar of enchilada sauce overtop, top with cheese and cover with foil. Then bake on 400 for about 35 minutes.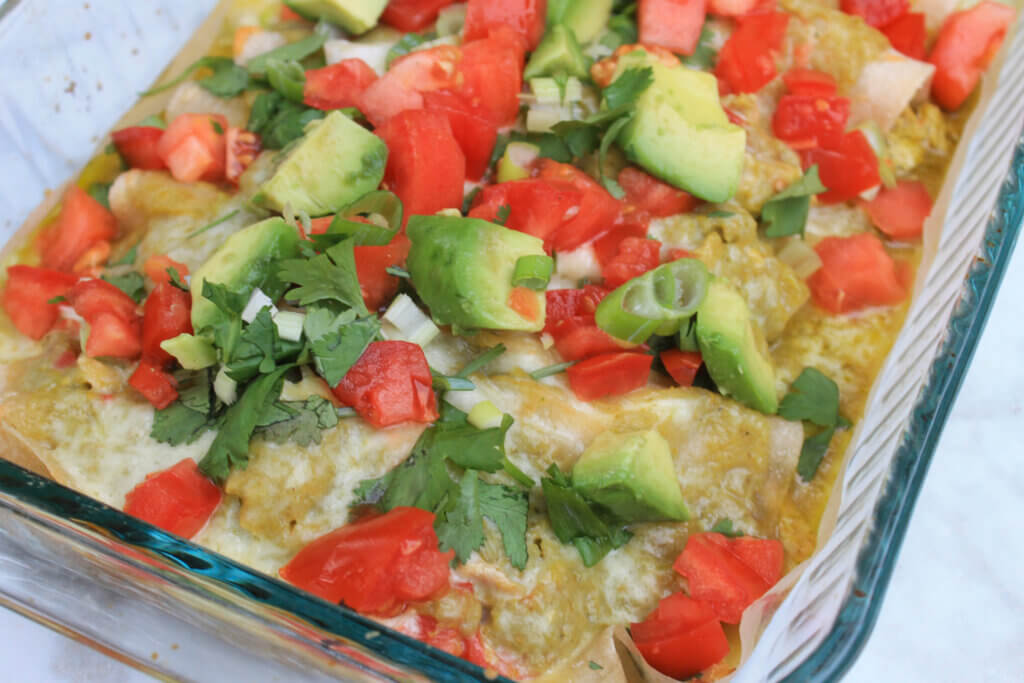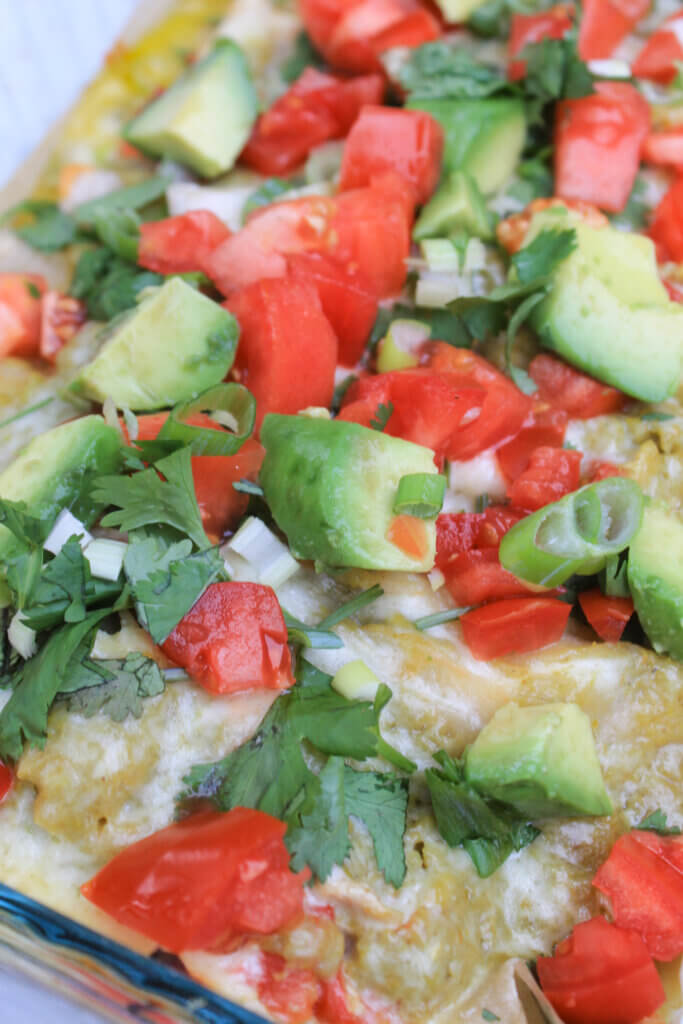 When it's done baking, top with your favorite toppings.
I chose fresh farmers market tomatoes (I live in Charleston now, we have beautiful tomatoes in October and it's glorious). As well as avocado, cilantro and green onion.
Red onion, olives, jalapenos and sour cream all would be great too.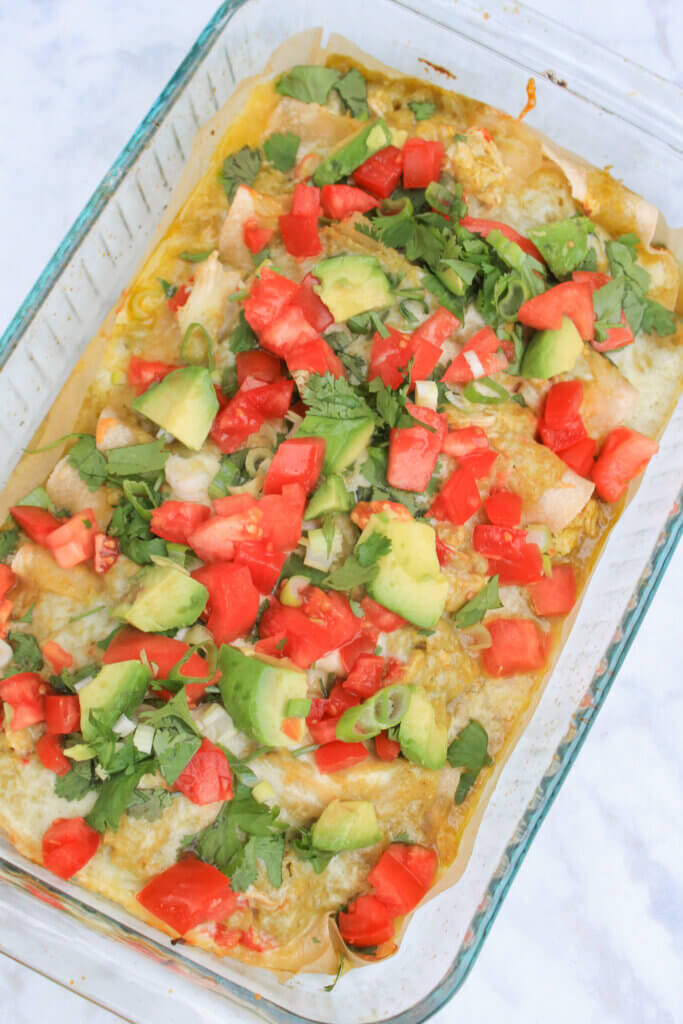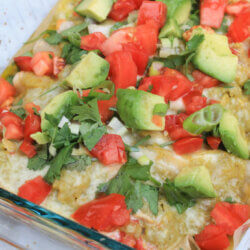 Easy Green Chicken Enchiladas (Paleo & Gluten-Free)
Ingredients
1

rotisserie chicken, shredded

1

jar

Siete green enchilada sauce

1

pack

Siete tortillas

1

bell pepper, chopped and cooked (omit if you don't have it)

1.5

cups

shredded organic/grass-fed cheddar

1

large tomato, diced

1

avocado, diced

1/4

cup

cilantro, diced

1/4

cup

red or green onion, diced
Instructions
Shred the rotisserie chicken and toss with a little green enchilada sauce. Feel free to add any veggies here you like, I chose bell peppers and spinach.

Add a little enchilada sauce to the bottom of a pan. For easier cleanup, line the pan with parchment paper.

Add the chicken mixture to the tortillas and roll them up, then place them in the baking dish seam side down.

Once all the tortillas are stuffed, if you have leftover chicken you can just sprinkle it on top.

Add the whole jar of green enchilada sauce on top.

Sprinkle the cheddar all over.

Cover with foil and bake for about 35 minutes.

Remove from over, let it cool for 5-10, the add chopped tomatoes, onion, avocado and cilantro!