This bok choy + shiitake stirfy is a healthy side dish that's paleo, keto and gluten-free!
I love a good side dish. Poor side dishes are often overlooked for the main course, the protein. Listen, side dishes may be the supporting actors but they MAKE the meal.
Not only is this side dish healthy and keto and paleo and gluten-free and all that – it's insanely good. It would go well with rice, fish, cauliflower rice and any Asian inspired meal.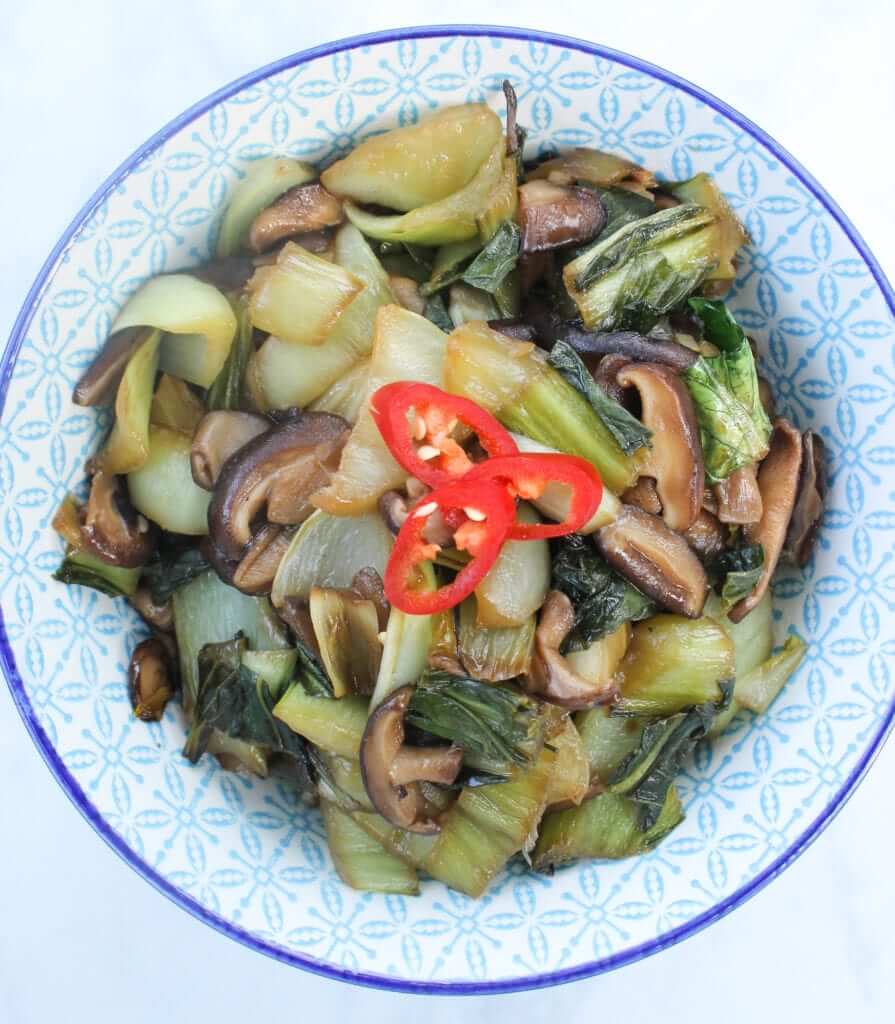 Mushrooms are good for gut health and a source of prebiotic fiber. Plus the boost the immune system. They've also been shown to have cholesterol lowering and anti-carcinogenic effects. Plus they taste amazing. They add a nice umami flavor to this dish, as well as a nice bite from the meaty texture.
I would've added more chilis and actually put them into this but my kids were eating it, so I added some on top. And then I diced the rest of the red chili and added it allll to my plate. I love spice.
I served this with roasted chicken and some broth cooked white rice. I have been eating more broth cooked white rice and it's really agreeing with me. Plus hello – have you had white rice? It's so delicious.
Read my article on why white rice is healthier than brown rice here.
Bok choy is a cruciferous veggie that is rich in folate. Cruciferous vegetables have show to be anti-carcinogenic and are rich in vitamins and minerals. In addition to folate, bok choy is rich in vitamin K, vitamin C and B6.
And while it's not super popular to cook with like say, broccoli, it's SO easy and delicious. Seriously, it has such a mild taste that lends itself well to any flavorings. With coconut aminos and garlic it's just insanely good.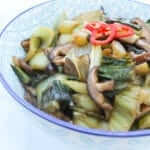 Print Recipe
Bok Choy + Shiitake Stirfry
Ingredients
3

heads

bok choy

1

box

sliced shiitake mushrooms (about 8 oz)

1

tsp

minced garlic

1/4

cup

coconut aminos

1

tbsp

refined coconut oil

1

red chili (optional)
Instructions
Melt the coconut oil over medium high heat. I use refined because it has no flavor.

Add the mushrooms and cook until browned.

While cooking, chop the bok choy.

Add the bok choy and the coconut aminos.

Cook until the bok choy has wilted.

Add chili if you like!