Yesterday, I found myself searching for meal plans that nutritionists, bloggers, medical organizations and doctors shared for pregnant women and women trying to become pregnant. For whatever reason, I love seeing meal plans and getting an idea of what others are eating.
Unfortunately, for the most part the meal plans were pretty terrible. They recommended oatmeal instead of eggs because of the fat content (um yeah, the omega-3s along with choline and vitamins A, E, D and K are kind of the point of eating eggs during pregnancy!), low-fat dairy products and a ton of fiber from "healthy whole grains." Overall, the plans were very low in fat which is exactly the food a woman needs for optimal fertility.
In fact, a study from Harvard found that women who ate two or more servings of low-fat dairy per day had an 85% higher risk of infertility than women who ate full-fat dairy. Ladies, eat your full-fat yogurt, kefir and milk! Just make sure it's grass-fed and if possible, raw.
You will also see that I included another foods that's severely lacking in pregnancy and preconception diets: fermented foods. Fermented foods help us digest and absorb what we eat. They full of beneficial enzymes and probiotics, which are incredibly important for getting your gut in shape for an upcoming pregnancy.
I put an emphasis on a few different things. One – healthy fats like butter, olive oil and coconut oil. These are incredibly nutrient dense foods that are packed with vitamins and minerals. Two – fermented foods like kefir, kombucha, pickles and sauerkraut. Three – eggs, which are an amazing fertility food. Four – a ton of veggies and organic/pastured raised animals products. Five – whole foods. No processed foods, refined or artificial sugar, no vegetable oils, no GMOs and no grains. This is largely paleo and the plan that I am following, it may not be the best meal plan for you so please do not take this as advice for your particular situation.
I do include some grains in my diet, but not very often. On days I workout, I sometimes eat white rice. This is just a three day meal plan and a snapshot of the way I've been eating to prepare for pregnancy. I think of pregnancy like a marathon. It's something that needs to be prepared for mentally and physically. It's necessary to eat well and take care of yourself the best you can. And that starts with a healthy diet.
Day 1
Breakfast: pastured eggs with smoked salmon, spinach and tomatoes scrambled in butter with a side of sauerkraut. One tablespoon of coconut oil (I take this on the side and chase it with kombucha).
Lunch: veggie packed chicken soup with homemade bone broth.
Snack: Smoothie made with raspberries, spinach, raw kefir, chia seeds, cucumber, romaine and bentonite clay.
Dinner: grass-fed steak with broccoli and mashed potatoes – all cooked with butter. Plus a pickle for probiotics.
Day 2
Breakfast: pastured bacon and eggs with a side of sauteed spinach. One tablespoon of coconut oil.
Lunch: baked salmon with sautéed onions, zucchini and carrots.
Snack: bowl of berries with raw, grass-fed yogurt and a lil' raw honey.
Dinner: mussels made with tomato, basil, onion, garlic and bone broth with a side of roasted potatoes and half or whole avocado. Washed down with kefir.
Day 3
Breakfast: mixed greens tossed in olive oil and sea salt, topped with smoked salmon. Side of fried eggs and a pickle. One tablespoon of coconut oil.
Lunch: a big ol' salad with greens, chicken, tomatoes, onions, avocado cucumber, radish, nuts, seeds and raw cheddar. All tossed in olive oil, apple cider vinegar and sea salt.
Snack: chicken liver patè with carrot and apple slices for dipping.
Dinner: bunless burger topped with onions, tomato, avocado and a side salad with a side of sweet potatoes fries. Plus a pickle.
Other/Supplements:
You can check out all the supplements and specialty foods I take daily for preconception HERE. In addition, I'm taking Aquatic Greens daily and am using Rosita cod liver oil (whom I'm not affiliated with but love).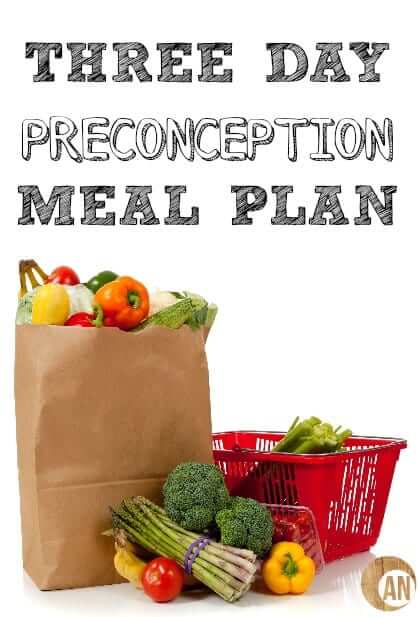 Photo via credit: Mike Flippo.
© Mikeaubry | Dreamstime.com – Preparing The Ingredients. Photo