Earlier this month we NEEDED a getaway and decided to take Ev on his first plane ride to Charleston, South Carolina.
DC has been so rainy and I'm so beyond over it – this trip really couldn't have come at a better time because all of me was craving some freakin' sunshine.
Vacation is one place people often go nuts – sugar, lack of sleep, booze and a whole lot of unhealthy food. And that's mostly okay! It's totally fine to indulge on vacation. I had at least one drink every day we were there. But it's important to balance out your vacation with a lot of water, healthy food and hydration. It's also great to catch up on sleep.
While I did indulge about 3-4 times, which I'll share, it honestly was not worth it because eating gluten really aggravated my anxiety. So for me, I will not be partaking in gluten on future vacations. I will, however, still enjoy my cocktails, because they're delicious and I love them. The key is BALANCE, my friends. Let me show you.
Snoozin' on the way to the airport.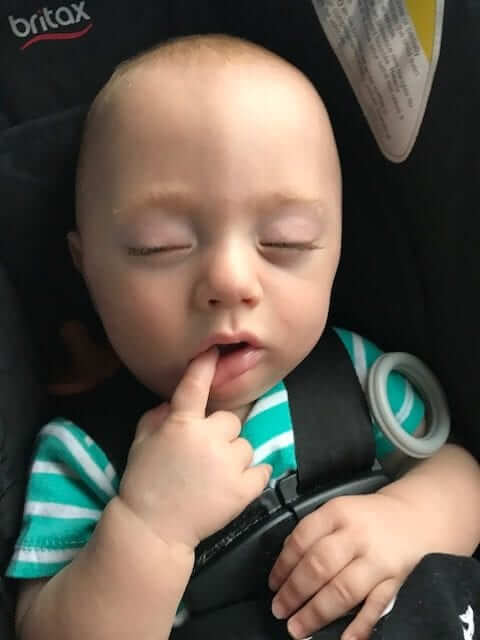 Strapped baby to me once we got there, which made everything a lot easier. Also, despite the fact that we brought about 150 ounces of breastmilk, TSA was a breeze! I'll do a post on how to travel with a baby.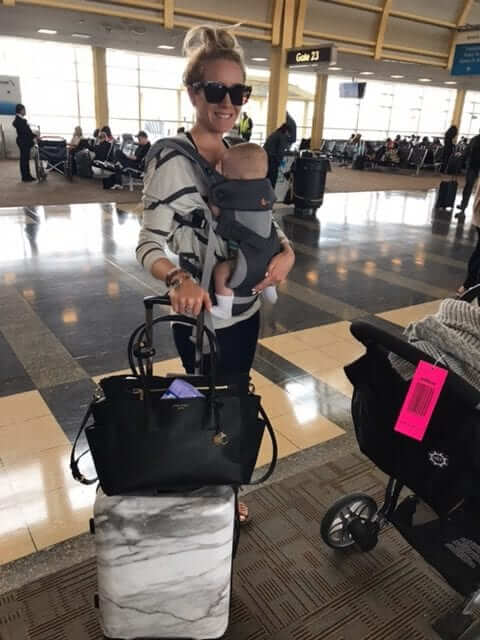 After checking into our hotel (our homeaway.com rental wasn't available the first night) our first stop was 167 Raw, a seafood restaurant everyone raves about. So many people told me we had to check it out and Yelp seemed to love it too.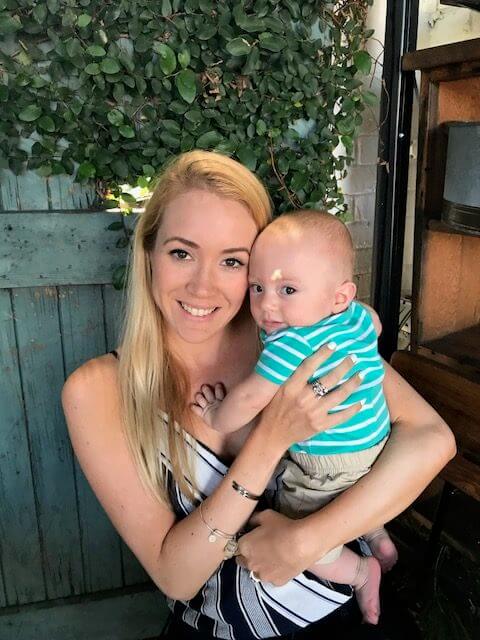 I started out with a glass of sauvignon blanc (my favorite) and oysters. Both were delicious and oysters are incredibly nutrient dense.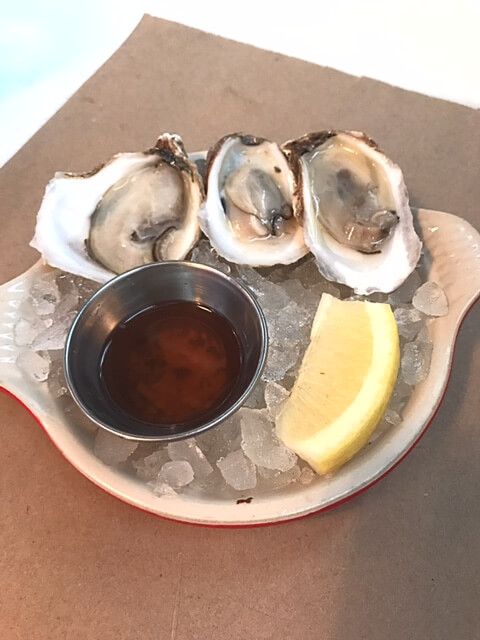 I also ordered the shrimp taco. Few things annoy me more than ordering something on the menu and having it served breaded and fried when that description was nowhere on the menu. I also feel like it's a crime to take a beautiful, presumably locally caught piece of shrimp, bread it, deep fry it in some crappy oil and toss it in a sauce that really just tastes like simple syrup. So that was a bummer.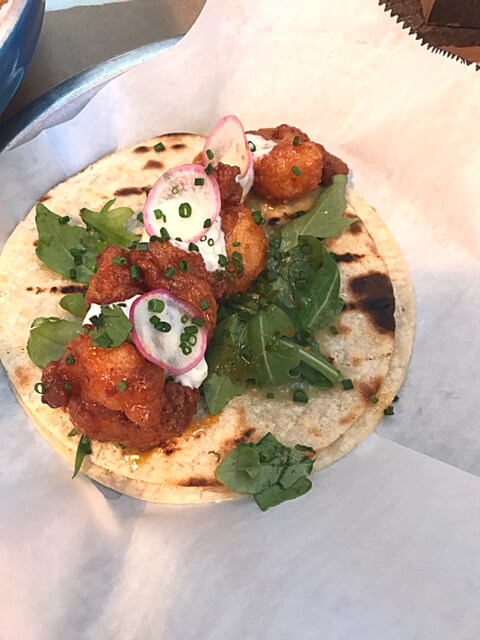 I also got the tuna tartar, which was tasty but a little bland. I skipped the tortilla chips and just ate the tuna.
Scott and I went to New Orleans a couple years ago and tried about 5-6 different po' boys in our four days there. They were all pretty amazing. He asked what 167 Raw's po' boy was like, and they admittedly told us it was nothing like a traditional po' boy. The shrimp were also breaded and fried in that sweet sauce and it was more like a fried shrimp sandwich. He was a bit disappointed with it.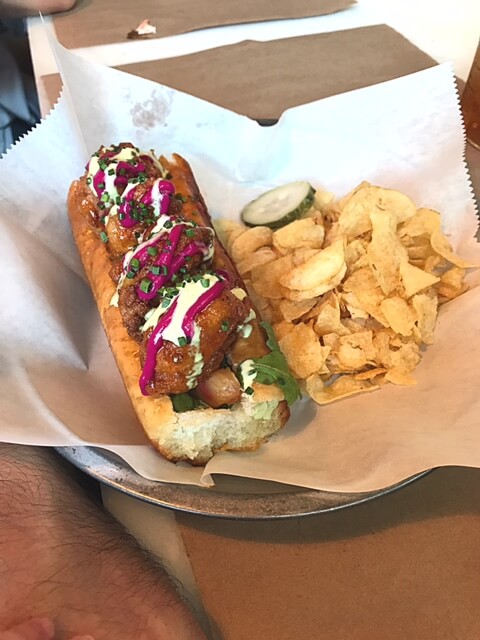 Scott has trouble resisting anything sweet, especially an ice cream sandwich. Which he loved. He said it was the best thing he had at 167 Raw, for me it was the oysters. The dudes who worked at 167 Raw were SO nice and very cute; I wanted to like it more. I think if you don't mind fried seafood – this place is great.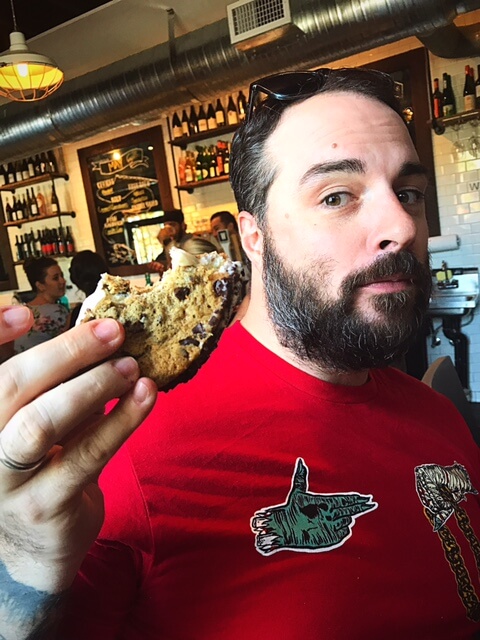 We headed back to our hotel, Harbourview Inn after walking around some more and went straight to the rooftop.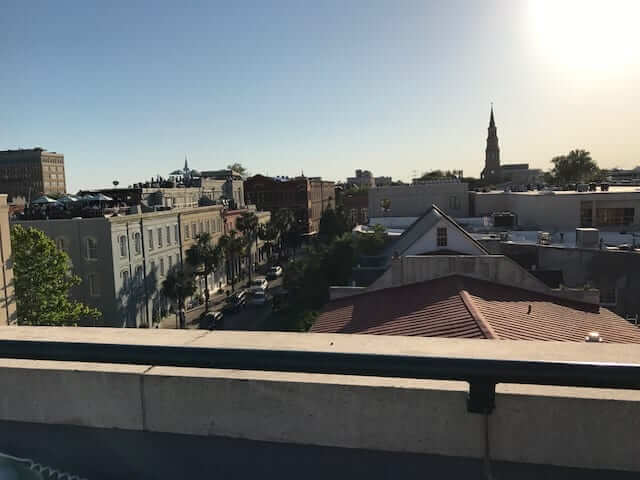 How gorgeous is this city? It's truly amazing. One of my favorite things was just walking around, exploring the old houses and churches. Almost everything in Charleston was built roughly two hundred years ago, which makes the architecture of the city just beautiful.
All the hotel-dwellers on the rooftop loved Everett. So much so that a super nice (and attractive- is that weird? they were so good looking!) slightly older couple gave us a bottle of champagne! The people in the south really ARE nicer.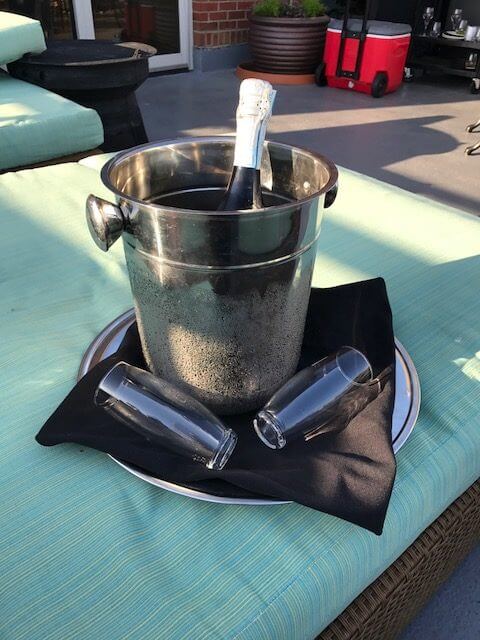 After having some champagne (well, I did, because Scott doesn't drink) we put the baby to bed, packed him in his car seat, attached him to the stroller and headed to Slightly North of Broad, aka SNOB. We spent a day in Charleston last summer and this was the restaurant we went to and we both absolutely loved it. We put a cover on E's car seat, turned on the shusher and went out!
I had another glass of sauvignon blanc and requested their gluten-free menu. I adore that this is even an option! They're great about gluten-free food which I really appreciate. I started out with the clams, which were so, so delicious. Creamy and with freshness from the herbs.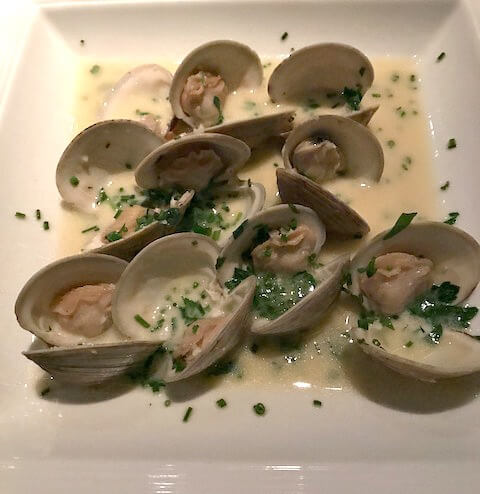 Scott got the crab soup. Because I grew up with Maryland crabs, I'm a snob about crab soup. I don't think anyone does crab soup better than Maryland, but SNOB takes second place.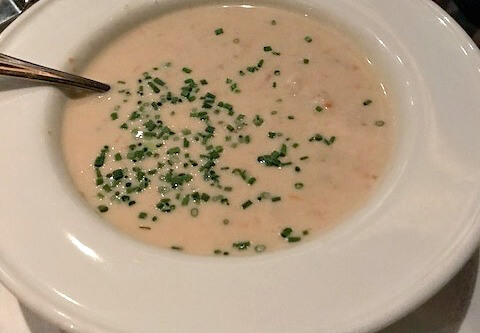 For dinner, I got the duck, which was cooked perfectly but a bit on the sweet side. I got the duck last time I was here and really wish I had branched out. It wasn't bad by any means, but a little boring served with mashed potatoes.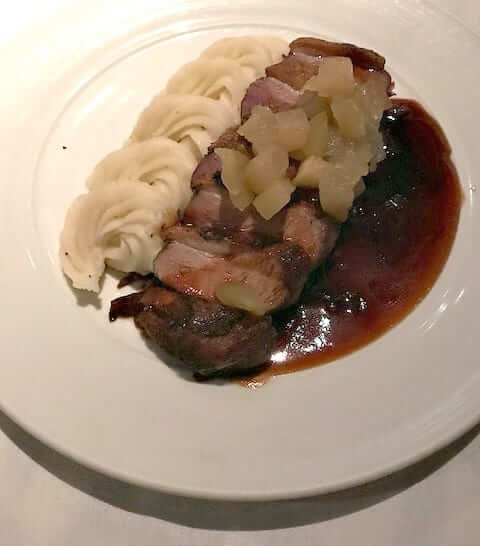 Scott got the shrimp and grits. I am so NOT a shrimp and grits person but you guys – this was delicious. I normally find shrimp and grits heavy, with little flavor or too much flavor that just doesn't go together. This was perfectly balanced and the raw tomatoes and green onions added such fresh flavor. It was amazing.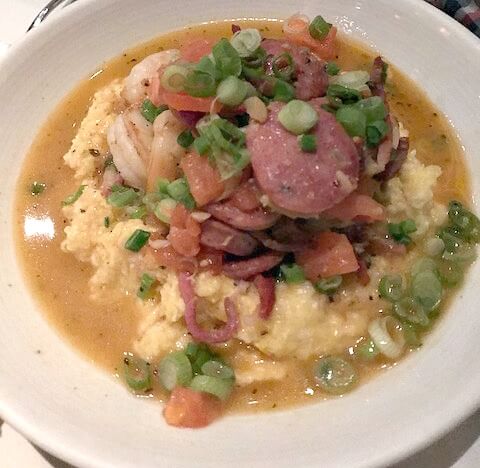 In conclusion for this part, I'd definitely book a place through Home Away, Airbnb or VRBO.
It's much cheaper and if you're traveling with a baby, it's so much easier (hello, breast milk). Harbourview Inn was very nice and the rooftop was beautiful, but it was just so expensive.
I really, truly wanted to like 167 Raw.
But we gave it another try at the end of our trip and it just wasn't that good. But I hate to say that because they are SO NICE. Again, if you like fried seafood or if you are from a place that is landlocked and you don't normally have access to a lot of seafood, you might love it. In Maryland, we have tons of seafood all the time, on every menu and we grow up eating it. I prefer fresh, local seafood, prepared simply with fresh herbs and veggies. I got the salad here thinking I'd get just that, and it just wasn't very good.
SNOB is a must-try, especially if you're gluten-free. They have a great menu with an emphasis on local, South Carolina purveyors. The shrimp and grits are delicious, the clams are wonderful and one of my favorites here is their charcuterie plate (I got it last summer). I really don't think you can go wrong on their menu.
Stay tuned for part II!