It's officially been over three months since the procedure and here are the my breast fat transfer results – finally!
In February, I decided to have fat transferred to my breasts. You can read about that more in depth here, but basically after nursing two kids – my boobs were pretty wrecked. They just had no shape and very little tissue. I researched breast implants, but after doing a deep dive, I decided they were completely unsafe and just not for me. So I ended up getting a fat transfer!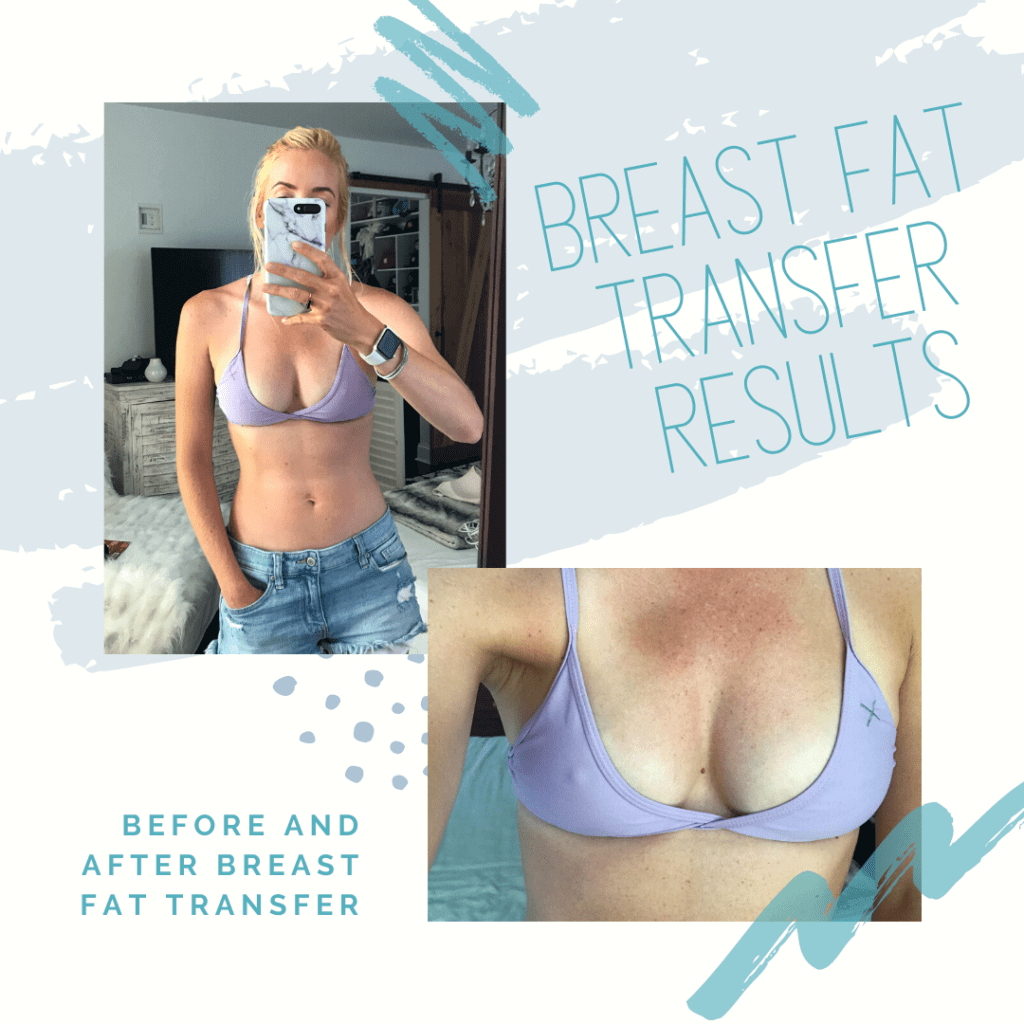 How much was transferred and my cup size increase
I saw Dr. Bednar, THE preeminent breast fat transfer doctor in the country. Dr. Bednar is known for his ability to create shape, increase retention rates and harvest fat off of very thin women. At the time of my surgery, I was an athletic 5'6 and 122 pounds. And a very, very small A cup.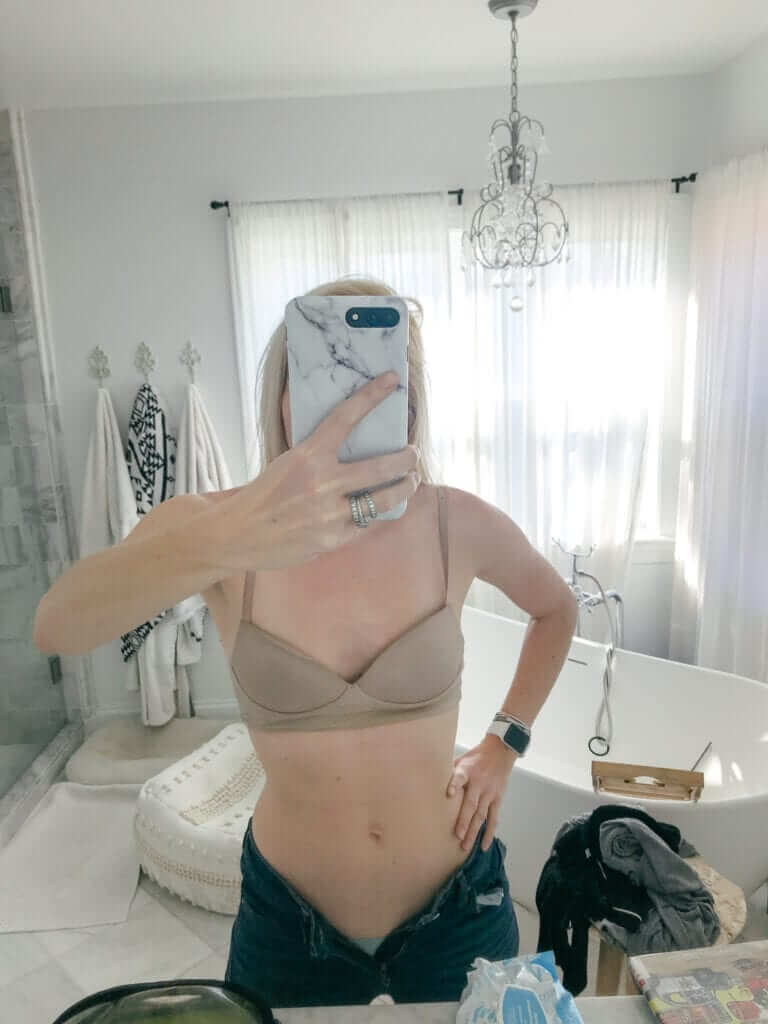 Dr. Bednar was able to transfer 500 cc's to each breast. Most of the fat was harvested from my love handles. Immediately after surgery, I was a D cup. And to be quite honest, I would have retained a lot more had quarantine not happened.
Four weeks after my surgery, we were quarantined with zero help. My husband was still working full time from home and I was left chasing and entertaining two toddlers all. day. long. And I have boys. They're not gentle.
My boobs really took a beating; they give giant hugs, "tickle tackles" (in which they tackle me to the ground and hug me), they hit and kick inadvertently. And I was running after them non-stop. If I had our regular nanny or at least my mother in law, I think my retention would've been greater. But what can ya do when a pandemic hits?
So I'm now a full C cup, which is still great!
The first three months
The first three months after surgery are the most crucial. Dr. Bednar has quite a strict protocol for a full three months after surgery and that's one of the reasons his retention rates are so good.
The surgery itself was pretty painful because I didn't take any painkillers and the majority of fat was harvested from my low back. I of course was laying on my low back quite a bit after surgery and just could not get comfortable. At one point my back had swollen up like a water balloon just waiting to pop.
But week by week, the pain decreased. There is a lot of odd nerve sensation where the doctor performed the liposuction, and these areas were quite tender for months.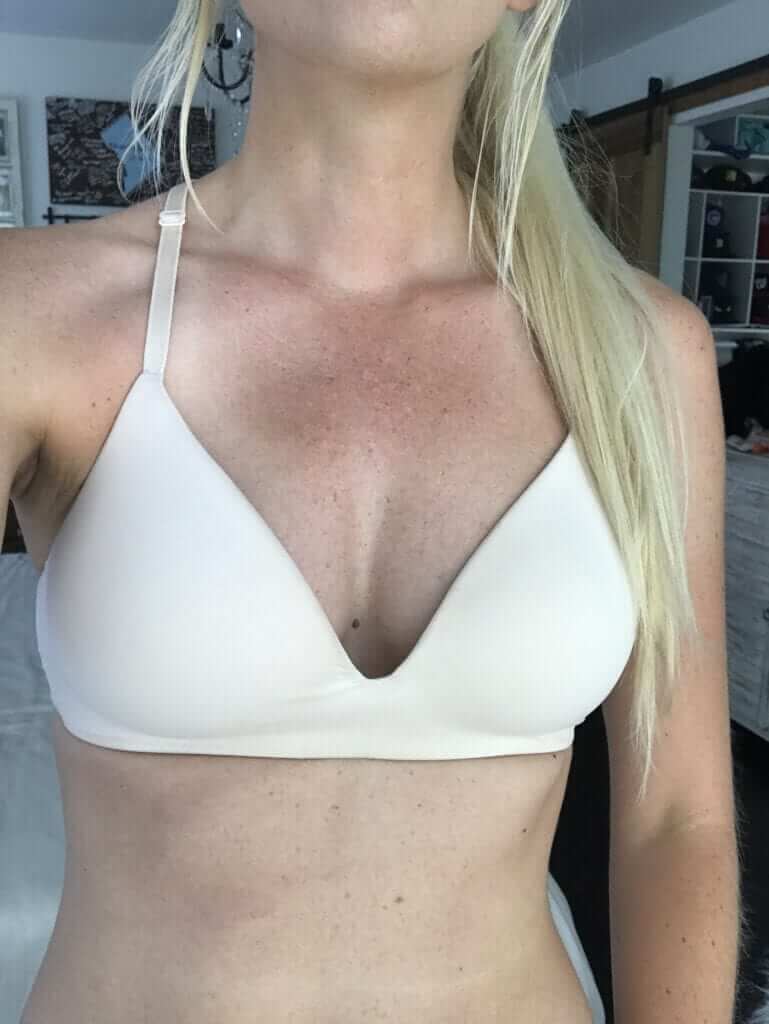 Now, five months post surgery, I feel probably 95% back to normal in those areas. They are still tender sometimes, and I often have shooting nerve pain, though it passes quickly.
Dr. Bednar forbids rigorous exercise and alcohol consumptin in the first three months. By the second month, I was already one month into quarantine and quite stressed out.
Because of this, I did start to do some more exercise and drink small amount of wine. I didn't go overboard, but from everything I know about the human body – there really was no valid reason to exclude a glass of wine every now and then 8+ weeks after surgery.
Post surgery diet
One thing I took almost daily that I know helped my retention was my collagen protein powder. While there is no research to support the idea that collagen promotes breast fat transfer retention, it's supportive of the body as a whole.
Collagen is the most abundant protein in the body and is absolutely crucial for tissue connection and the structural integrity of the skin. Because of this, I made daily smoothies with healthy fats like MCT oil, coconut oil and avocado.
I ate as I normally do – lower carb, great quality proteins, lots of veggies, grass-fed cheese and tons of healthy fats (avocado, olive oil, grass-fed butter, etc.). If you need ideas for healthy meals, check out my 21 Day Lifestyle Transformation.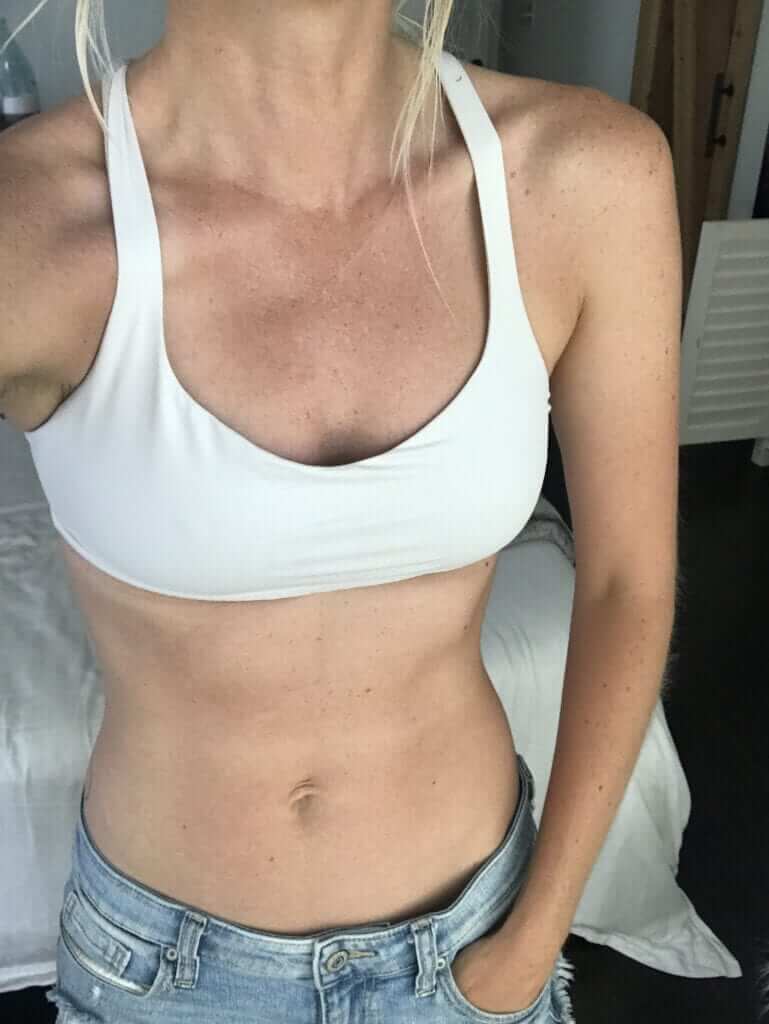 Natural remedies
Dr. Bednar's office is great in their approach to both supporting the body and healing. They sent me a pre-surgery package which included multivitamins, essential oils and homeopathic remedies.
What kind of conventional doctor sends you doTERRA's frankincense roll on and homeopathic arnica gel? I was really impressed.
Believe it or not, I have totally forgotten to use my Scar + Wrinkle Serum on my incision sites, which are very small. Between quarantine and my youngest only allowing me 4-5 hours of sleep a night, I honestly just forgot.
I'll be using my Scar + Wrinkle Serum morning and night moving forward. It works so well, I know it will help erase the small scars.
Post surgery, I also used a higher dose of the homeopathic arnica, 200ck instead of 30ck, which I also did after having my kiddos.
Would I do it again?
In terms of going back in time and deciding on whetehr or not to do this – yes, I would absolutely have this done. Will I go back for another round to get even bigger boobs?
I'm really not sure.
Before I did this, so many women told me about "boob greed." Basically, no matter your size, you want bigger boobs. And honestly, that's pretty accurate. I really like my new boobs and they look great in many tops, but I do kind of wish the were bigger.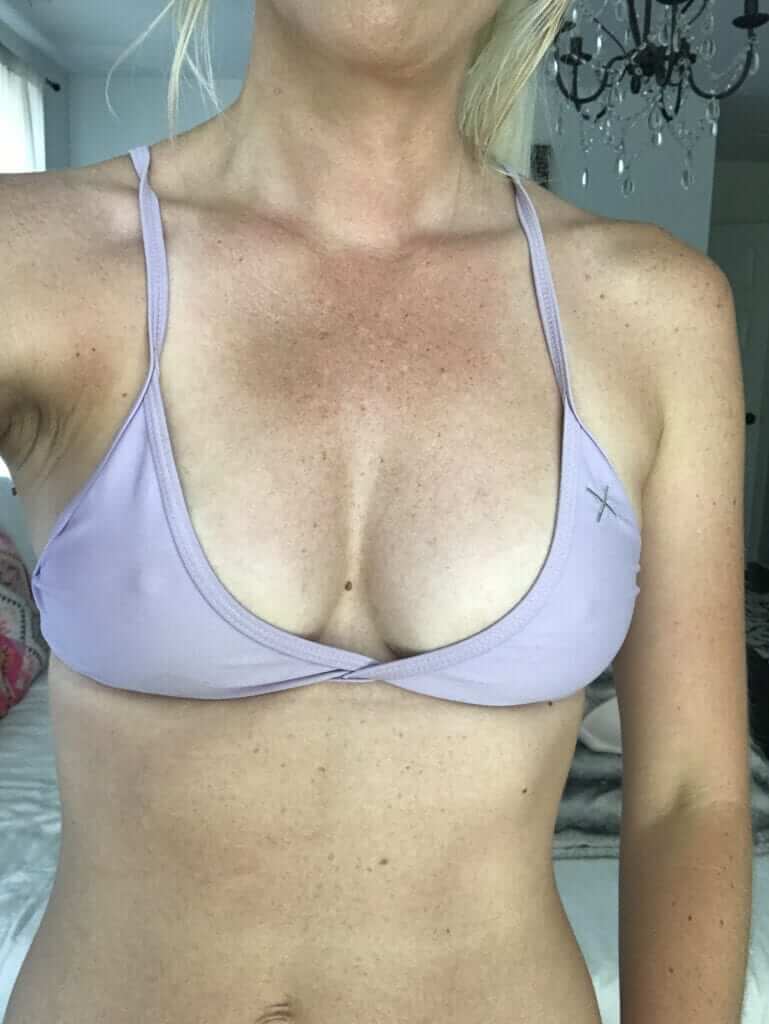 Liposuction Sites
I was concerned about getting liposuction. I'd heard a lot of horror stories and that many lipo sites are left looking rippled and riddled with cellulite. Dr. Bednar recommends lymphatic massage post procedure.
Unfortunately, due to Covid this wasn't really an option for me. I used a Tiger Tail massage stick over my thighs – admittedly not as much as I should have.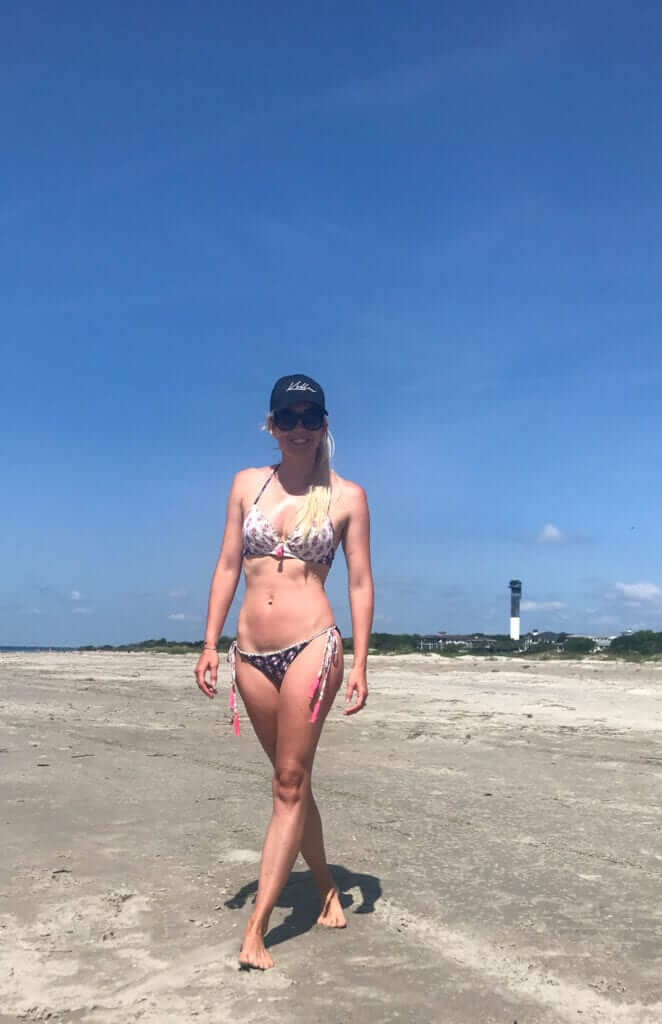 The cost
This is one of the questions I get asked most often. It was quite expensive but they do offer financing options. It was $11,395 – it could have changed since I had the procedure done.
And honestly, that is so much less than many of the women have spent on breast procedures. I am in the Bednar Facebook group and so many women got implants, had revisions, gotten sick, had them removed, etc. They have spent upward of $20,000 just dealing with the repercussions from implants alone.
Please consider a procedure like this over implants. There are so many complications with breast implants and a surgery like this is much safer.
Let me know if you have any other questions!