This week's meal plan is paleo, gluten-free and low-carb. Well, mostly low-carb. I am going to incorporate a bit more carbs since I lost weight in January.
If you don't follow me on Instagram, which you should (HERE, click here!), you don't know that I gave up booze, grains, dairy and sugar for the month of January. I already rarely eat sugar, almost never have dairy except for butter, only have rice for grains but I do love a good margarita or glass of wine.
I gave it all up (mostly, like 95%) for January – and I unintentionally lost weight. I got down to 120, which at 5'7 and fairly athletic is just lower than I'd like to be. And I want my ass back. I'm sure my husband does too.
So this week I'm incorporating some more carbs from white rice that I will cook in bone broth and cool. Doing this makes the rice more digestible, and cooling it makes it a resistant starch when eaten. Aka prebiotic fiber. Aka good for beneficial gut bacteria. And gut bacteria basically runs our lives. Seriously.
I'm also including some paleo pasta from Cappello's. I really like their pasta and it's completely grain-free, which is nice. Much easier to digest and much less inflammatory than a wheat pasta.
Also Sunday is the Super Bowl. And while I don't care about sports, I am a fan of anything that encourages day drinking, lots of eating and yelling loudly. These are some of my favorite things.
Of course, I make healthier drinks like organic wine or an organic and sugar free margarita, and paleo and organic food options. This Super Bowl, I'm making nachos using Siete tortilla chips, grass-fed ground beef, Siete cashew cheese, pico de gallo and guacamole.
I'm also making ribs, using organic pasture raised pork and a good paleo BBQ sauce from Primal Kitchen.
I still eat and drink whatever I want, I just make healthier options!
Save the image below and print. Take it to the grocery store, pin it to your fridge. Take some time on Saturday or Sunday to meal prep. Prepare your food ahead!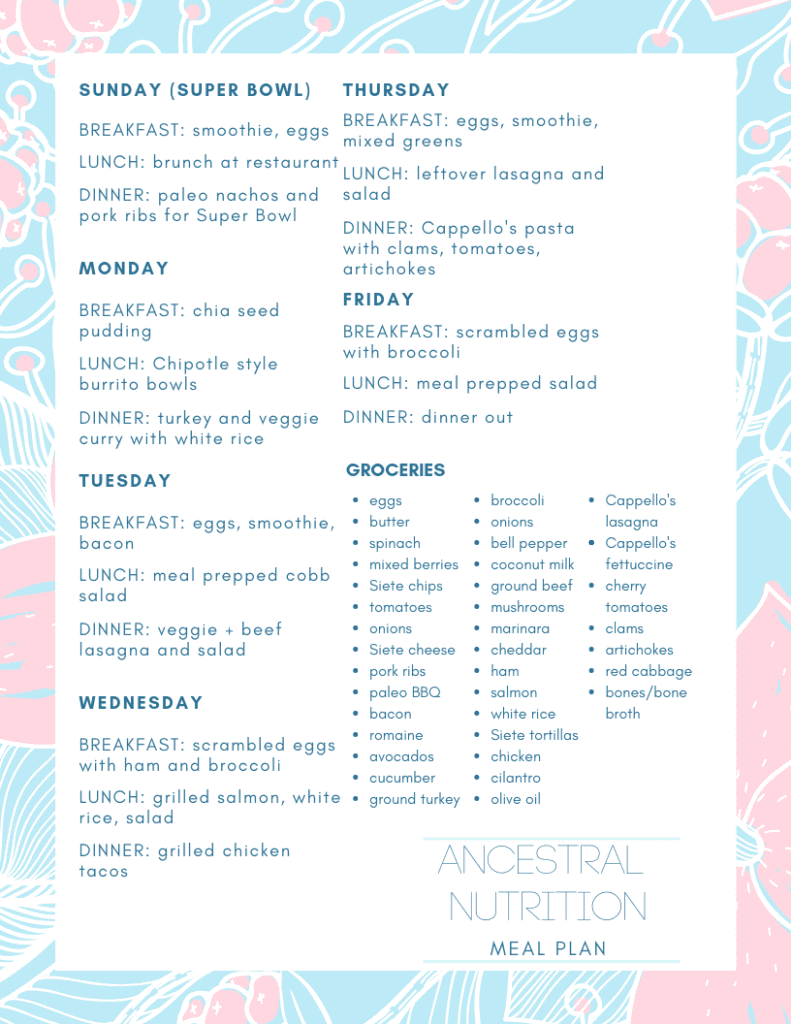 To meal prep:
veggie and beef lasagna
cobb salads
hard boiled eggs
grilled chicken
broth cooked white rice
What else do you meal prep?