On Friday night Scott and I had our friends Nick and Tasha over for dinner. I made brushetta with grain-free bread, asparagus, stuffed mushrooms, mashed potatoes and salmon. I made sure to make extra salmon and mashed potatoes because I knew we would eat it throughout the next week (aka this week). On Saturday we went tubing with friends and had a cookout afterward. For the cookout I made potato salad and pasta salad (using rice pasta
). I did the same thing, I made a ton of it so we'd have leftovers to eat throughout the week.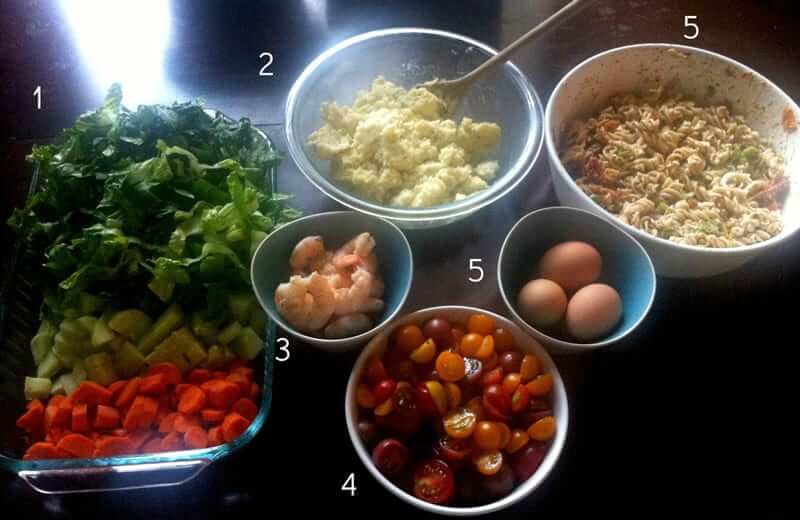 Salad ingredients. Last week I saw three small heads of romaine for $4.99 versus the normal $3 I spend on one. I then realized that three small heads, while it may look like a deal, produced a lot less lettuce than my one giant head. I stuck with the giant head this week.
Mashed potatoes. This really simplifies things. At least two nights this week (or one dinner, one lunch) we'll have mashed taters with some sauteed veggies and either chicken or beef. Since the potatoes are already cooked, the meal will take fifteen minutes at most.
Shrimps were on sale at Whole Foods. After I boiled #5, I tossed the shrimps in the boiling water for about two minutes. Easy to eat with cocktail sauce or on salads.
Tomatoes were on sale at the farmers market. They are so sweet and delicious.
We went to the Dupon Circle farmers market this week instead of the one outside of our apartment. I got 3 dozen eggs for $4 each. So cheap.
Or rather, #5×2 because I messed up this picture, which I think is funny so I'm leaving it. A bowl of pasta salad. I used brown rice pasta, feta, roasted tomatoes, green pepper, red onion, dill, oregano, olive oil and balsamic.
This week should be a breeze.