Every Thursday I sit down and write out a meal plan for the following week. This saves me so much time and money. And with a hungry toddler, it's necessary. I've decided I'm going to start sharing my weekly meal plan and grocery list. It's also paleo, gluten-free, dairy-free (use ghee instead of butter), grain-free and can be keto too!
So every Thursday I make the list.
Every Friday I grocery shop. I go to Trader Joe's, Whole Foods and the farmers market. You don't have to do this. I love to grocery shop. Most people hate it.
On Sunday I meal prep. Seriously – you need to meal prep. It's a game changer. Here is a helpful post on how to meal prep with lots of tips.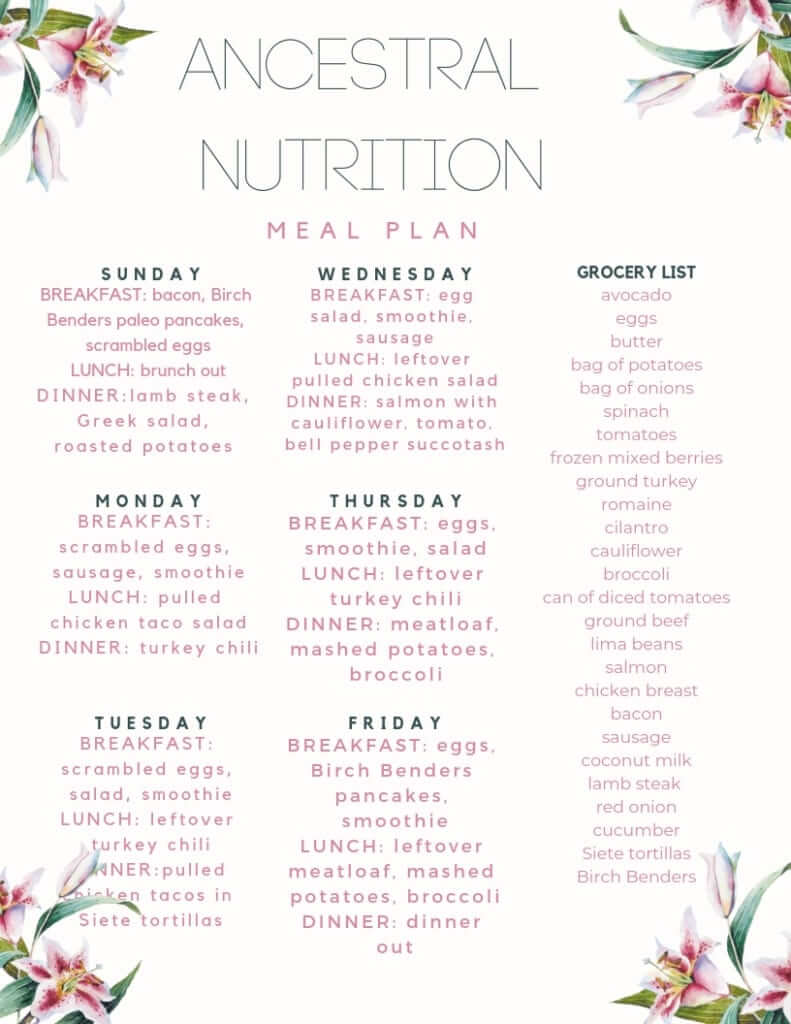 Here's what I'm going to meal prep on Sunday:
turkey chili
pulled chicken in the crockpot
mashed potatoes
Greek salad
succotash
This way, I can easily throw dinner and lunch together throughout the week.
Make sure you're using glass tupperware because plastic will leach BPA into your food. I recommend these.
If you'd like to make this meal plan keto, simply omit the potatoes and use cauliflower mash instead. You may be able to fit the Birch Bender's pancakes and Siete tortillas into your day depending on your macros, that's up to you. I use this sugar-free maple syrup alternative. I like to serve the pancakes on Sunday morning and Friday morning. It's a nice lil' breakfast treat.
I'm pretty consistent with my breakfast each morning and utilize a lot of leftovers and meal prepping throughout the week.
ALSO – our nanny can just go in the fridge when she gives Everett lunch and easily pull out a healthy option. This week he'll be eating turkey chili, pulled chicken, bananas, succotash, etc. throughout the week just like us. For the most part, Everett eats what we eat.
Hope this gives you some inspiration for your week of healthy eats!