Learn how to prevent stretch marks by optimizing your nutrition and focusing on nutrient-dense and supportive foods like collagen.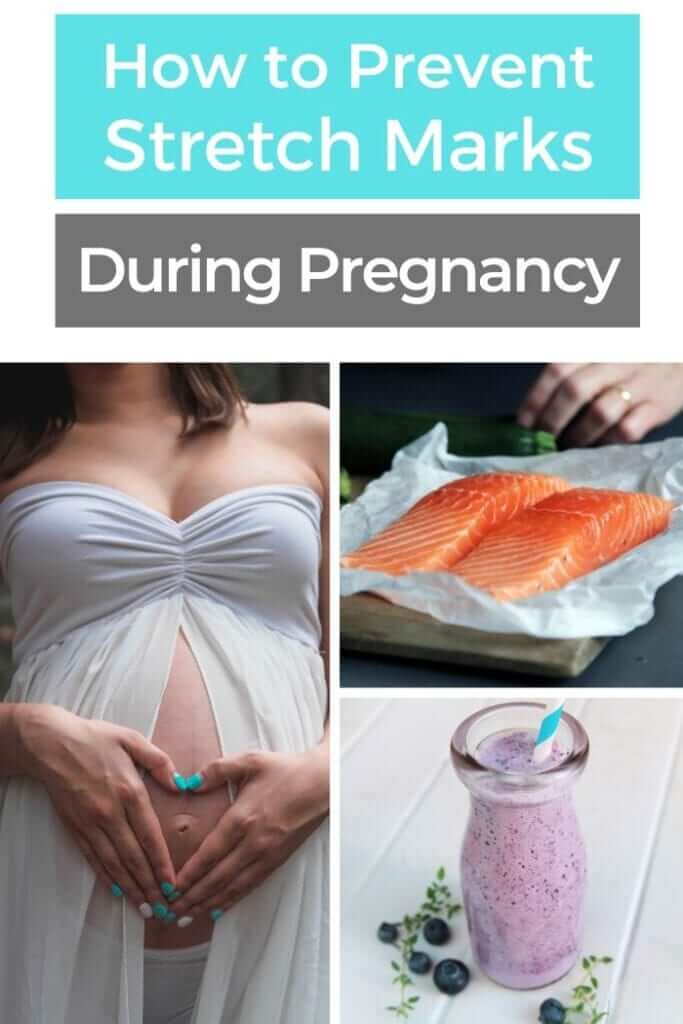 Here is how I prevented stretch marks while pregnant:
Before I got pregnant, something in the back of my mind worried about my body changing. I think most women are like this, but I was particularly concerned.
When my mother was pregnant with my little brother, she routinely told me how disgusting she felt.
"I feel fat."
"My body is so gross right now."
I heard this constantly. Even at five years-old, I remember her saying these things about her pregnant body. They always stuck with me.
Additionally, my mother had some of the worst stretch marks I'd ever seen. I didn't mind them, they were just a part of her body. But she hated them. And to be honest, if I put myself in her shoes, I wouldn't like them either. Her stretch marks were deep, long and covered her entire back and stomach. They never went away.
Like I did, you may have heard that stretch marks are genetic and there is nothing you can do about them.
And honestly, stretch marks aren't that big of a deal. They're part of our lives and growing our babies. It is what it is.
But knowing how bad my mother's stretch marks were and wanting to avoid them if I could, I decided to support my growing skin via nutrition.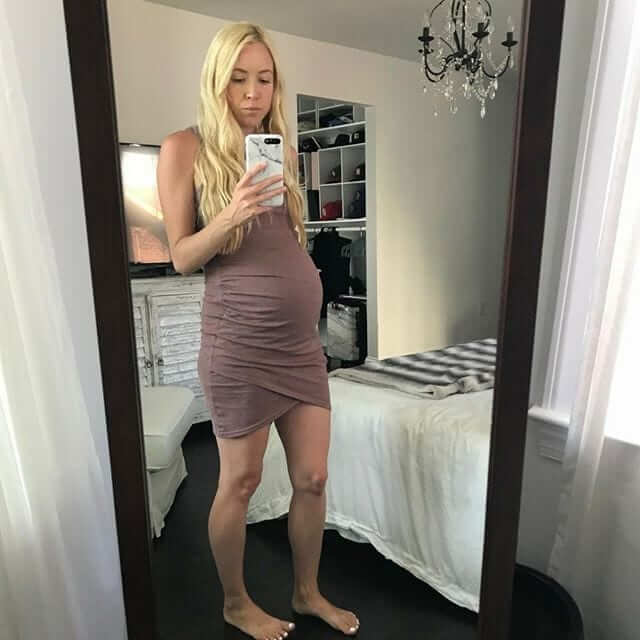 Good nutrition makes the most difference when it comes to preventing stretch marks.
So how to prevent stretch marks effectively? Many women apply creams and lotions, and while I did this too, it's much more important to support yourself internally via diet.
Which diet is best for preventing stretch marks?
I followed a mostly paleo diet with a moderate amount of carbohydrates. I'm normally low carb, but increased my carb intake during pregnancy to assist with growing a tiny human, balancing my hormones and simply because I wanted more carbs!
Of course, I also focused on healthy fats: olive oil, butter, salmon, avocados, coconut oil, etc.
The role of protein in the prevention of stretch marks:
One of the most crucial parts of pregnancy is protein. Protein is absolutely essential for growing a healthy baby. I aimed for at least 30 grams per meal and protein-rich snacks.
I focused on:
grass-fed beef,
pasture-raised chicken,
pastured eggs,
salmon,
oysters,
sardines and
turkey.
These are all excellent sources of protein with full amino acid profiles to support both mama and baby.
But the biggest thing I did to support my body during pregnancy and prevent stretch marks was to take collagen daily.
How to prevent stretch marks by taking collagen: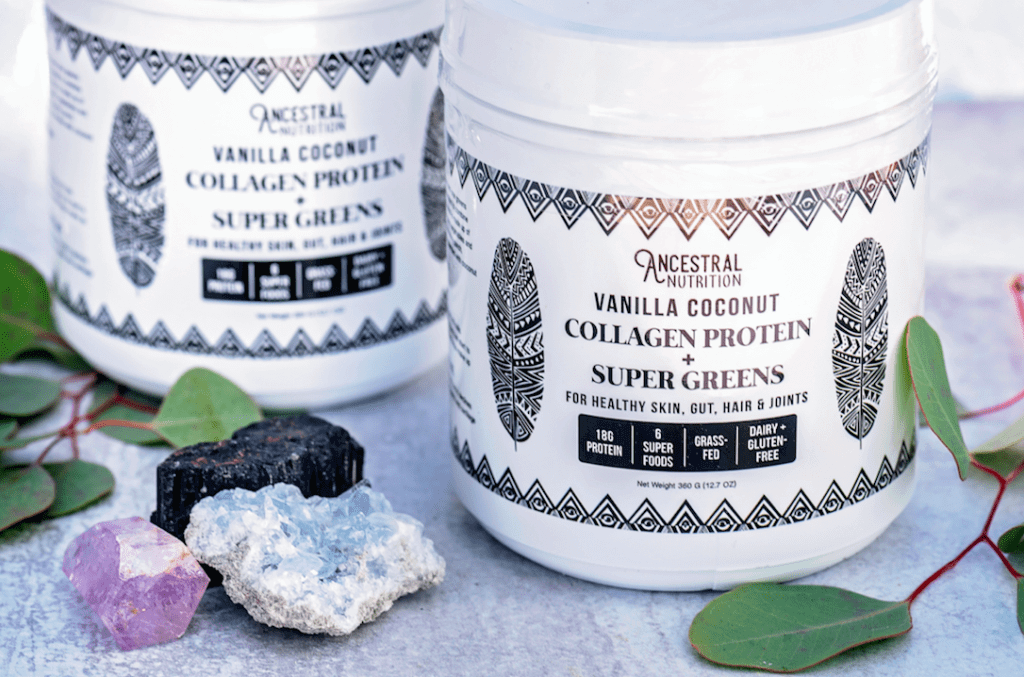 Collagen makes up roughly 75% of the skin. Less collagen means more stretch marks.
Our bodies do produce collagen, but by the age of 25, we produce less and less. This is why we see signs of aging like wrinkles, fine lines, sallow skin and less hair growth as we age.
Furthermore, our bodies need more collagen when pregnant to support our growing, stretching skin. Collagen is the most abundant protein in the body. And if you're over 25 while pregnant (like I was), chances are you could use some more of it!
Collagen supports skin elasticity.
Because our skin is made up of collagen, when we lack this critical nutrient we see more signs of skin degradation like stretch marks, scarring, wrinkles, and cellulite.
Collagen helps the cells of the skin adhere to one another and promotes skin elasticity.
When our bodies are growing tiny humans, our skin will pull and stretch more than ever before. It is critical to support skin health from the inside out.
I created my own high quality, grass-fed collagen mixed with six organic greens and honestly, it's amazing.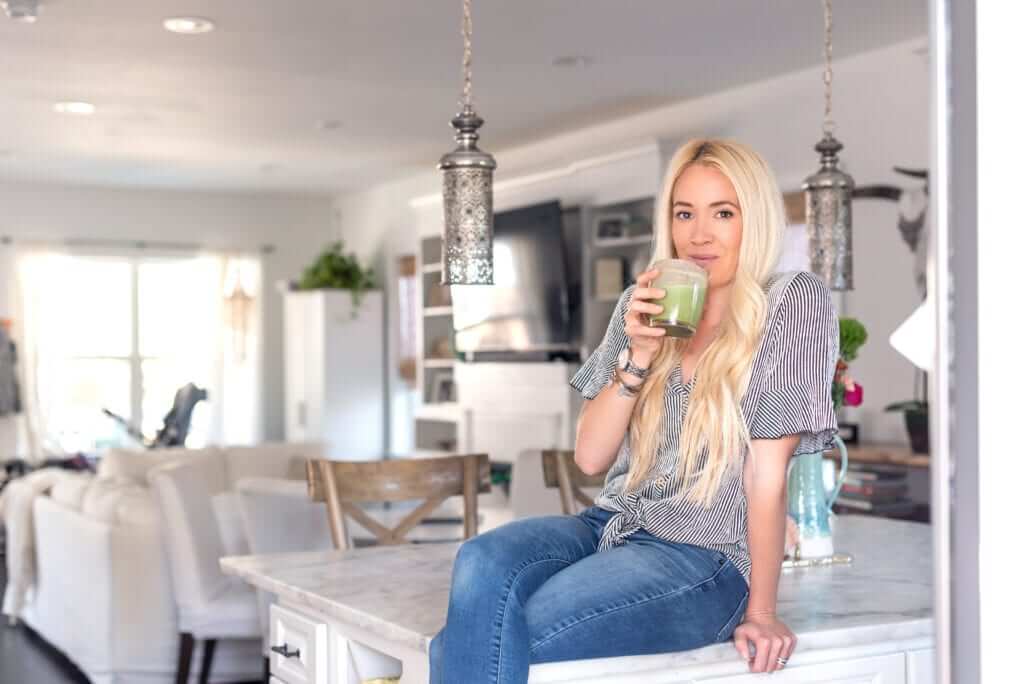 For years I made collagen smoothies mixed with a ton of different veggies or various green powders. Then it dawned on me to make my own! I searched for the highest quality grass-fed collagen and sourced six organic veggies to pair it with: broccoli, kale, spirulina, wheatgrass, spinach, and turmeric.
The result is high-quality protein mixed with anti-oxidant rich veggies. This supports the body from the inside out.
The Ancestral Nutrition Collagen Protein + Super Greens is great for stretch marks, gut health, wrinkle prevention/reduction, hair growth, stronger bones, joints, cartilage and so much more.
This is such a great product – whether you're pregnant or not. It also tastes amazing and is sweetened naturally with stevia! Stevia is a sweet leaf and zero-calorie sweetener. It is not a sugar alcohol (which is popular for keto folks) and it is not a synthetic sweetener. But it won't spike your blood sugar like regular, which is crucial for pregnant women. No one wants gestational diabetes!
How to take collagen to prevent stretch marks!
I made myself an anti-stretch mark smoothie with collagen every morning when I was pregnant. And sometimes as a snack, particularly if I wanted a cookie. It's perfect to quell a sugar craving.
Here's my anti-stretch mark smoothie recipe:
This smoothie is so nutrient-dense and full of so much goodness for you and your baby. It's also packed full of fiber which helps keep things moving – which can be tough when you're pregnant!
*Notes: When I'm not pregnant, I often just use 1/2 a scoop for a smoothie unless I'm trying to increase my protein. This protein is so delicious, healthy and supports your body, brain, and gut!
More info on healthy pregnancy: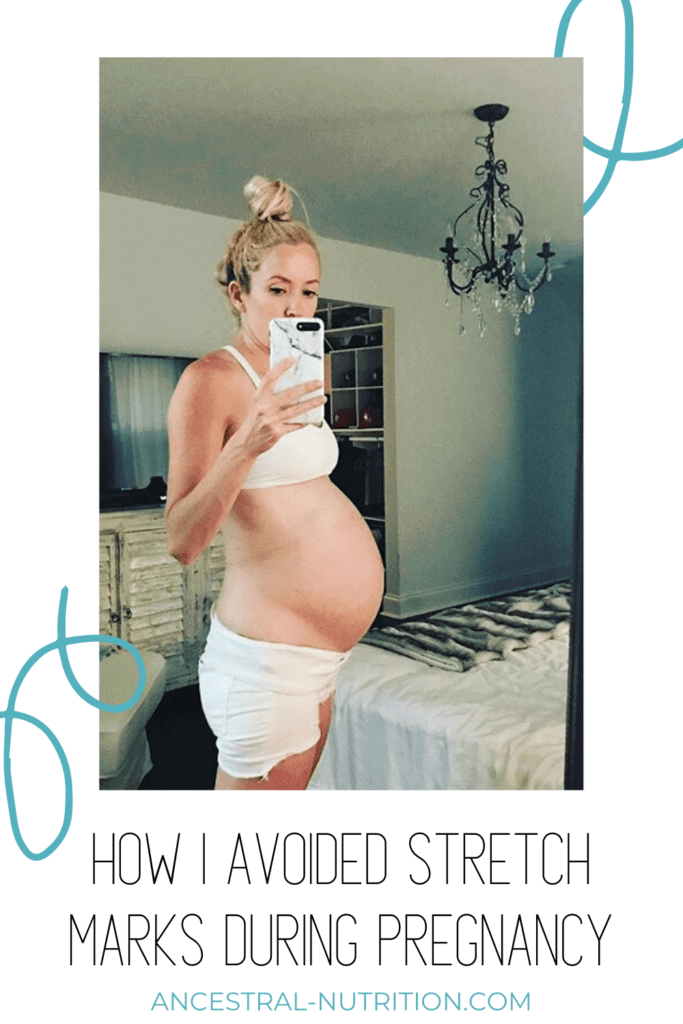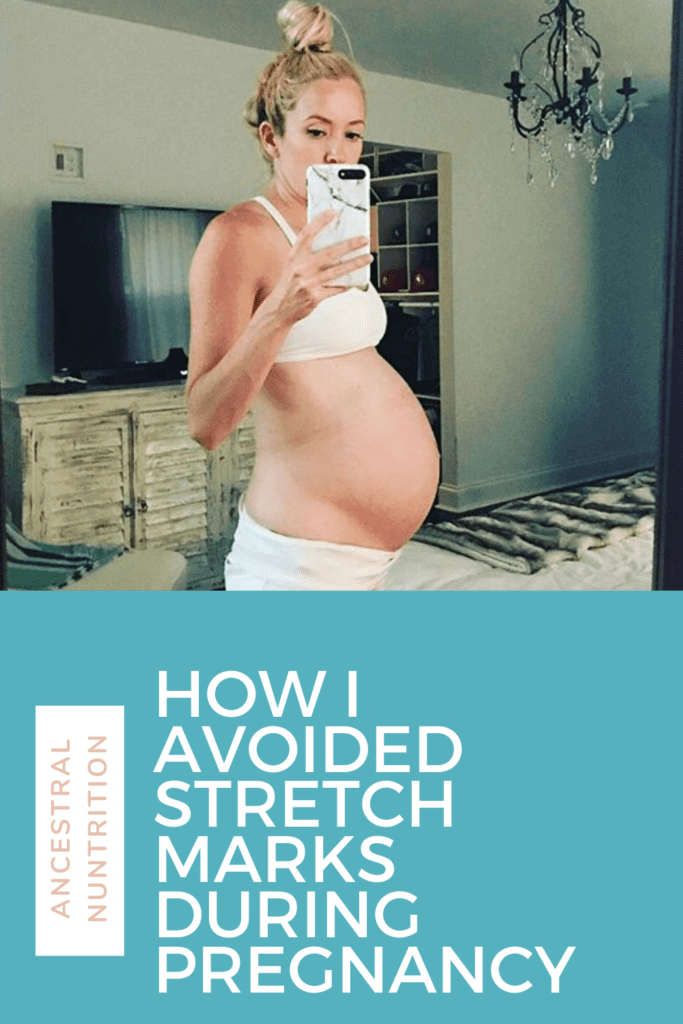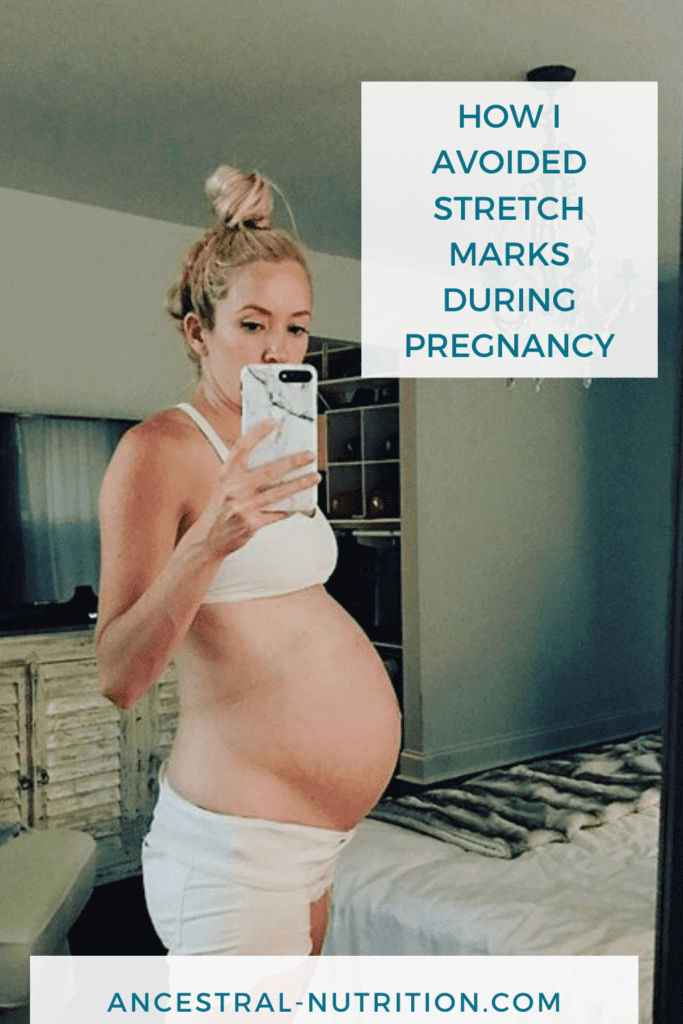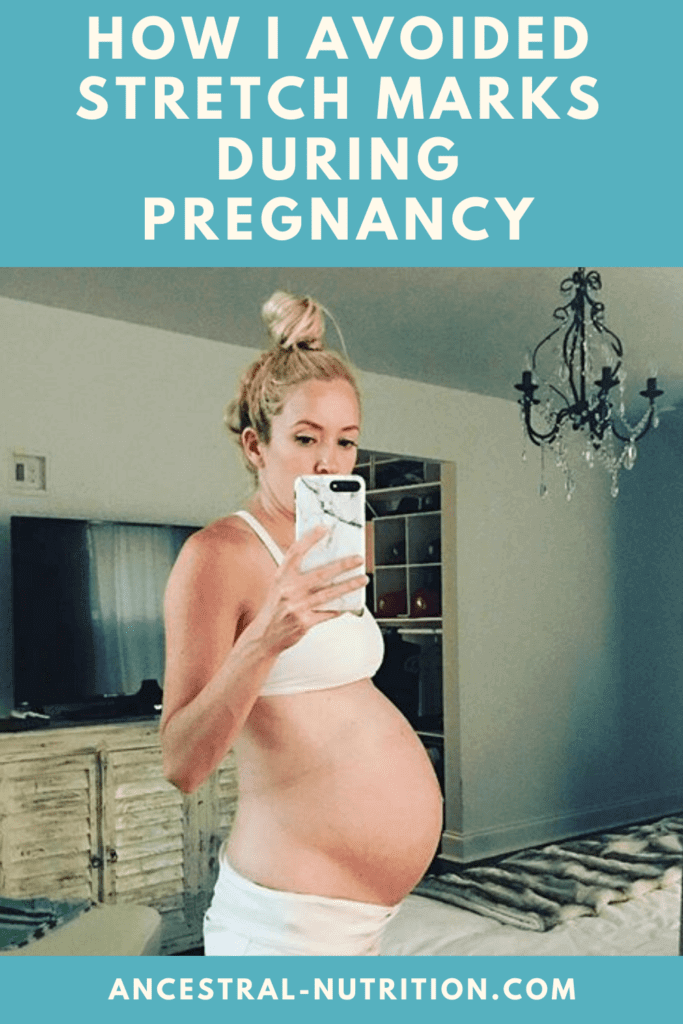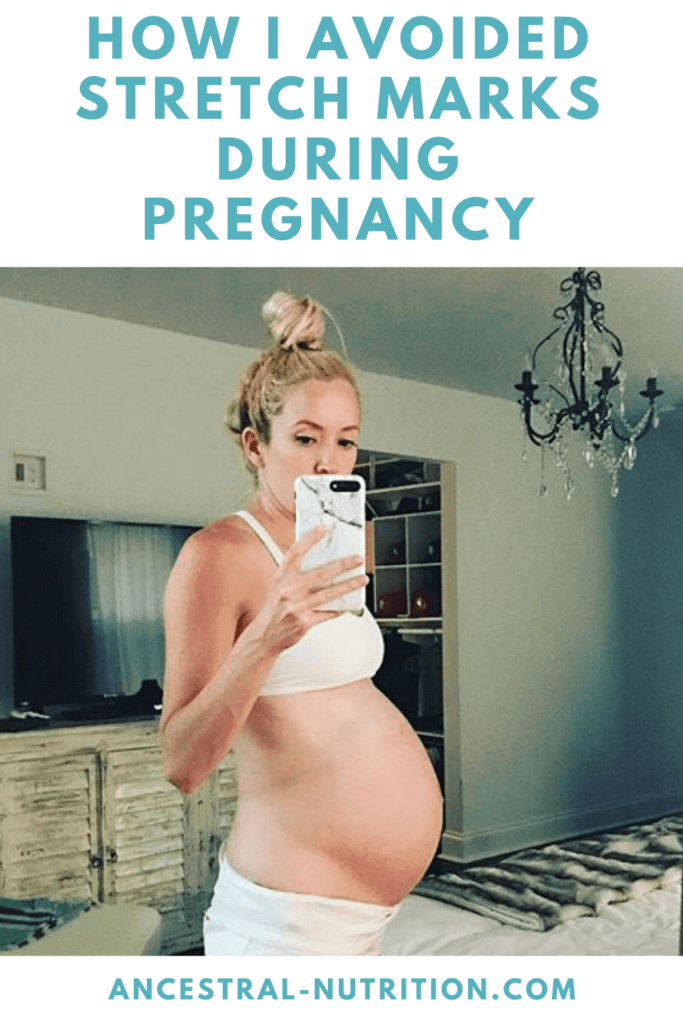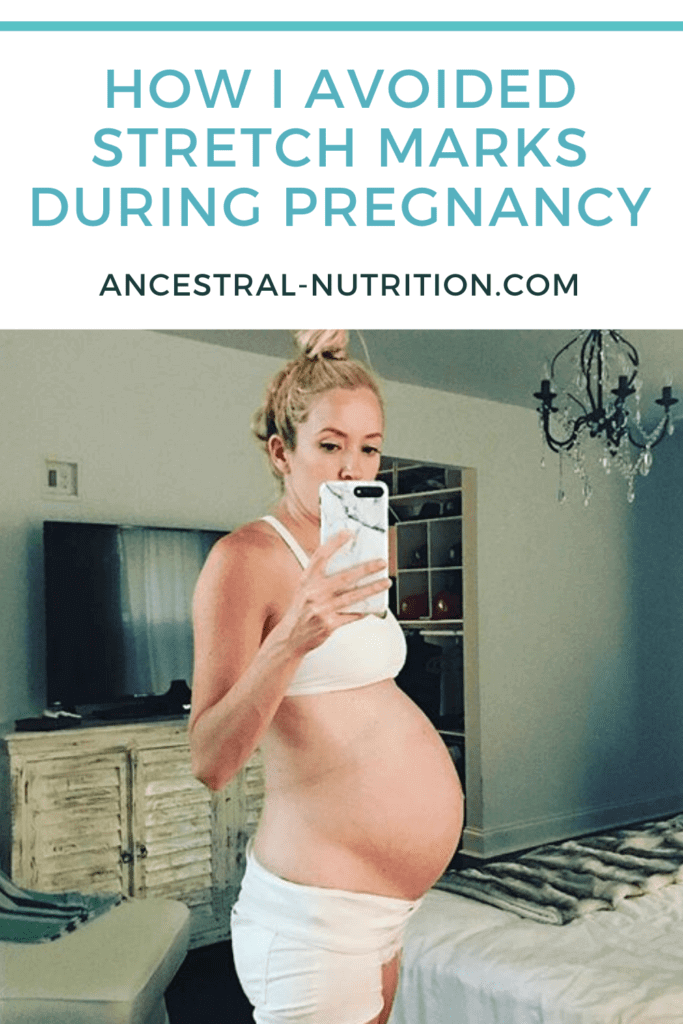 https://my.clevelandclinic.org/health/articles/10978-skin
https://www.medicalnewstoday.com/articles/262881#uses
*Always consult your doctor prior to adding any supplements or making a dietary change.