You guys. I don't even like pumpkin. I know – my Uggs should be revoked (and yes I wear Uggs because I live in the effing Mid-Atlantic and our winters are freezing and I want my feet to be warm while simultaneously feel like I'm walking on soft furry pillows). But I loved this smoothie. LOVED.
It's a creamy, delicious treat that feels like you're having dessert despite the fact that this high protein pumpkin spice smoothie actually has no sugar. It's also paleo, dairy-free, low-carb and Whole30 safe. It's the absolute perfect snack.
It's high in protein from my new favorite protein powder, Collagen Fuel.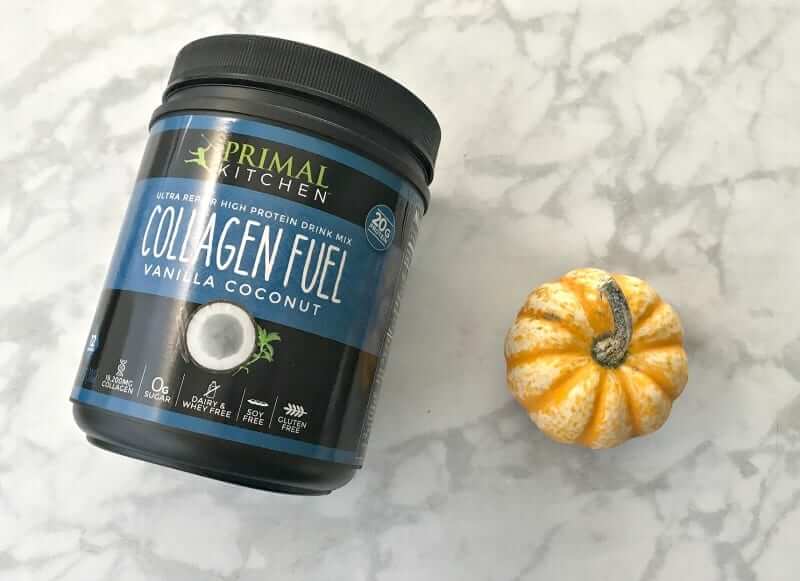 I've written about how amazing collagen is before, but here's a refresher:
collagen is the most abundant protein in the body
around 25, we produce less and less every year
this lead to wrinkles, arthritis, brittle nails, weaker bones, etc
it's amazing for gut health
it prevents and improves wrinkles, stretch marks, fine lines
strengthens bones, cartilage
I'm not positive that the above brand is Whole30 approved, but this one is – it's straight collagen and it is flavorless. I'm obsessed with collagen. It's insanely healthy and the vain side of me is happy that it makes me prettier in addition to healthier. Win win.
In addition to the protein, it also has healthy fats – both of which are very satiating. These two keeps you fuller, longer.
Now, as for pumpkin. A lot of people like to say it's high in vitamin A. It's not. It's high in beta carotene, the precursor to to vitamin A (retinol) which is only found in animal foods. But it does have a decent amount of fiber, antioxidants and potassium.