We woke up bright and early, had breakfast and headed to the Citadel.
Scott came here as a kid and was excited to go back and walk around. Your dude might also enjoy looking around and checking out the helicopters and stuff they have. It wasn't quite my bag, but my husband was happy to do it and I was more than fine with walking around the campus.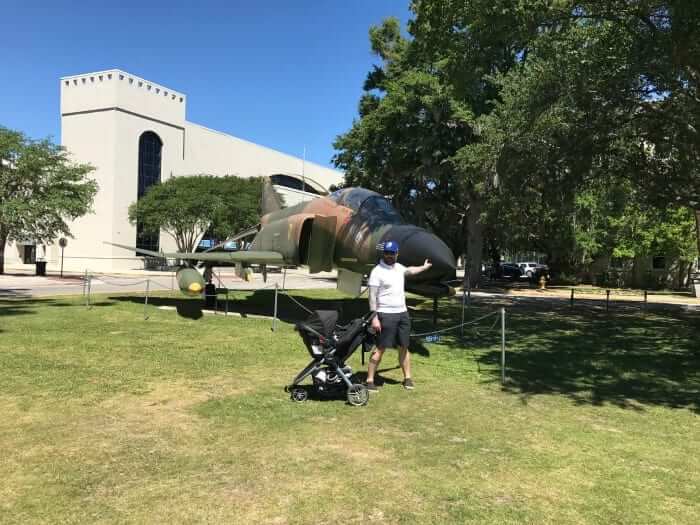 After checking out all the cool stuff at the Citadel and buying a shirt for my husband, we headed to a late lunch at Husk. A late lunch because it was the only reservation I could get. At all. At 2 pm. On a Monday. Yes, you should book this place way in advance. It's very popular.
I routinely heard from everyone and their mom that we HAD to try Husk.
That it was one of the best, if not THE best restaurant in Charleston. To say it has a lot of hype is an understatement. So I showed up for lunch ready to be blown away. I was just kind of blown instead.
I ordered their signature drink, which was found in the Charleston archives and is a recipe from 1783. How amazing is that? It's called the Charleston Light Dragoon's Punch and even though I never drink any of the liquors contained in it – I had to try it. I'm glad I did because it was one of the best cocktails I've ever had. It was absolutely delicious and tasted more like a yummy tea than a cocktail. I feel like they could be very, very dangerous. I could've had like, six but I stuck to one.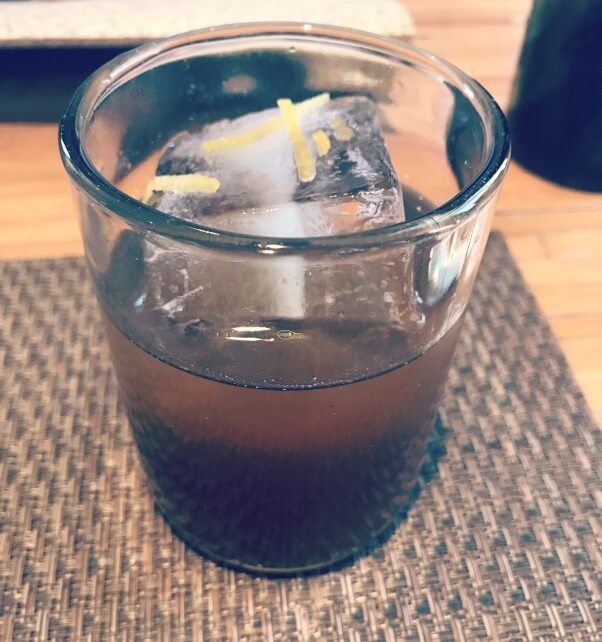 For starters, we split the pig ear lettuce wraps, which everyone raves about. I heard it was unique and the flavor was insane.
I am kind of obsessed with lettuce wraps in my personal life, so I thought this would be right up my alley.
Unfortunately, I thought they were pretty lacking in the flavor department. I liked the crispiness of the pig ears and I love weird, harder to find food items like pig ears, but it honestly just tasted like vinegar. It would've been much improved with garlic and maybe maple syrup for some sweetness.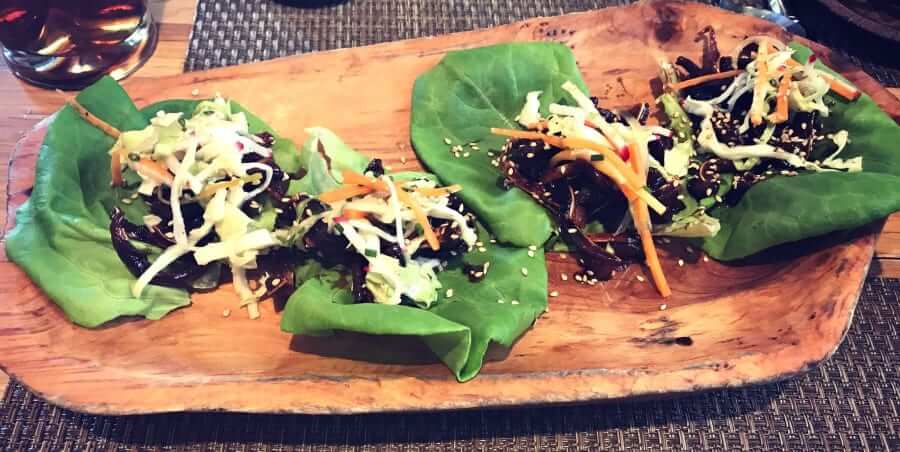 I think the fried chicken must be the hot menu item at this place. By the time we arrived, they ran out of it.
Nothing on the menu really spoke to me, so I chose with cornmeal dusted catfish with Carolina gold rice. It was pretty good. Nothing to write home about but not bad by any means. It was a perfectly fine meal. With as much hype as Husk has, I was just expecting it to be better.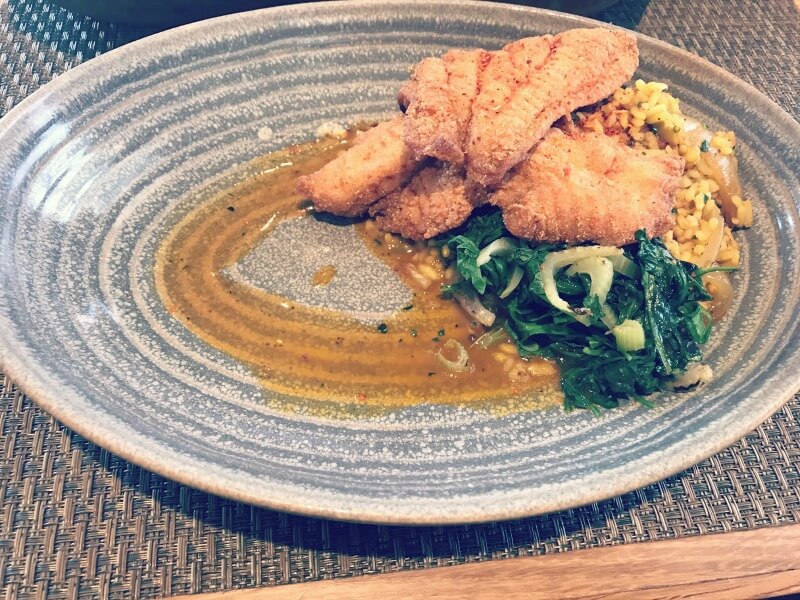 Scott got the burger. Now, we have an awesome farm to table seafood place by our house that has an amazing burger. Scott is in love with it. Sometimes I think he likes it more than me. But he said the burger at Husk was even better. He even said it's the best he's had in his life.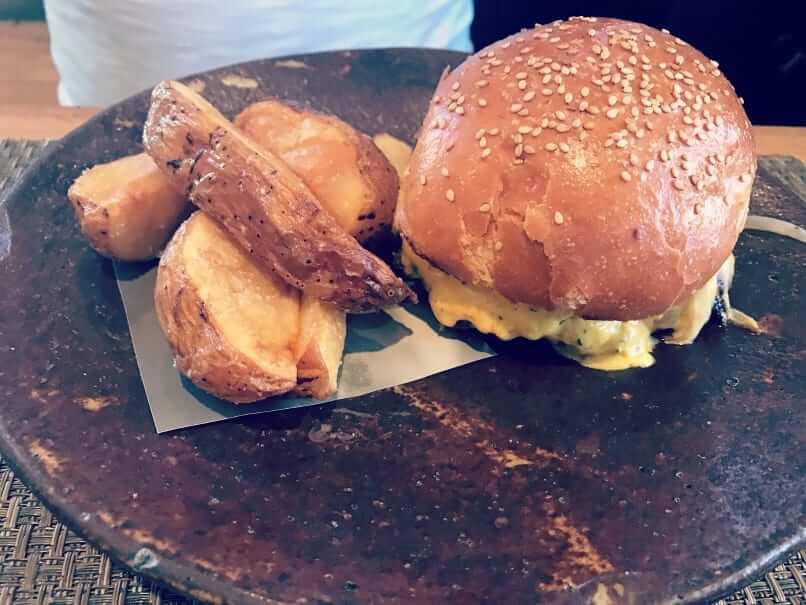 So overall, I didn't think it lived up to the hype for me. However, I loved the vibe of it, it was a really beautiful restaurant and I want to go back and drink that cocktail. It was absolutely delicious. I would definitely go back to order it, hang on the porch and order some food to split. I mean, look how gorgeous this place is!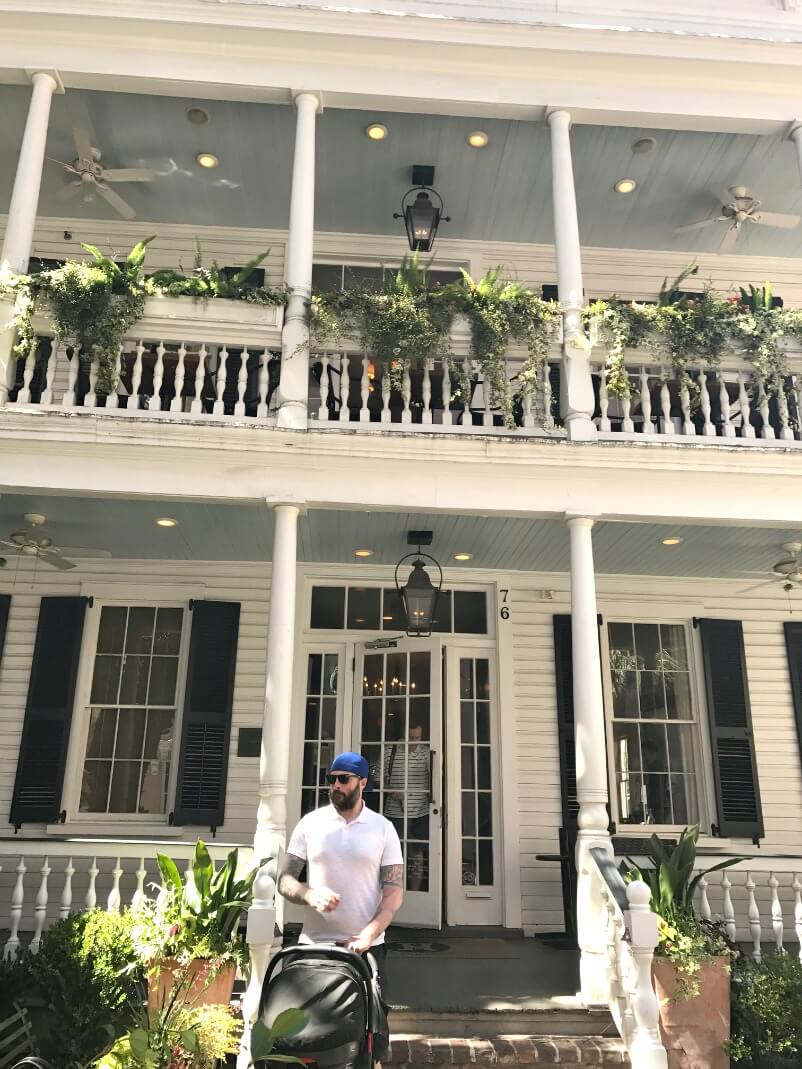 We walked around more, popped into cute boutiques and walked along the water.
Which is always gorgeous. Then we headed home to put the baby to bed and get ready for a night out.
This dress has pockets AND pants. I like to refer to it as "drants."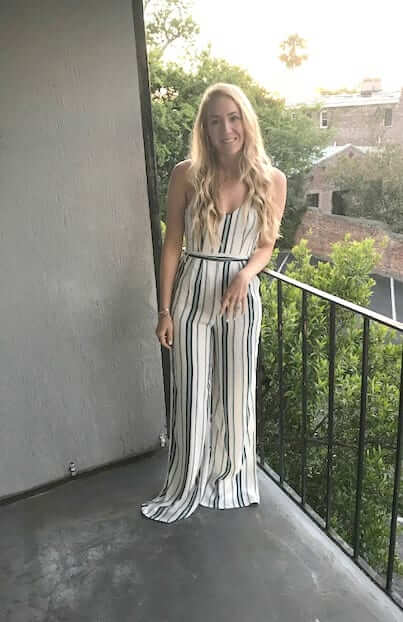 Scott wore his crazy Hawaiian dad shirt. I love it so much.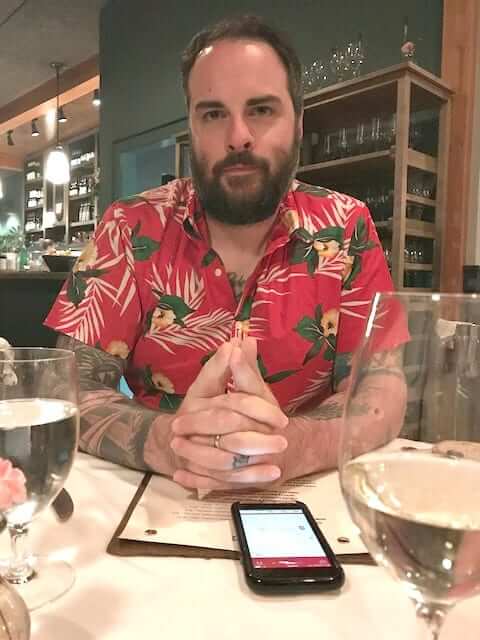 That night we planned to go to Fig.
Fig is another restaurant I had heard about, albeit not nearly as much as 167 Raw or Husk. Which is surprising, because the head chef and owner, Mike Lata, has not one but two James Beard awards! That's pretty damn impressive.
Don't get me wrong, Fig is a very popular restaurant, and rightfully so. I feel like I just heard and was told more often about 167 Raw and Husk. Which is a shame, because Fig was one of the best meals I've ever had.
Scott started with the asparagus soup with creme fraiche and caviar. He got it because he's sweet and thought I wanted it. I don't love asparagus, but the soup was very good! I love me some caviar.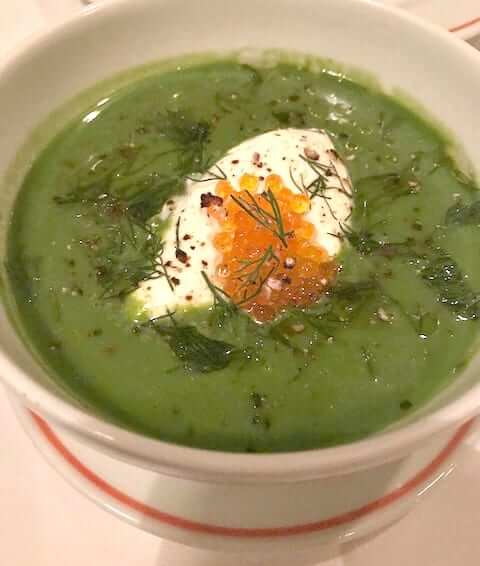 I ordered the chicken liver pate.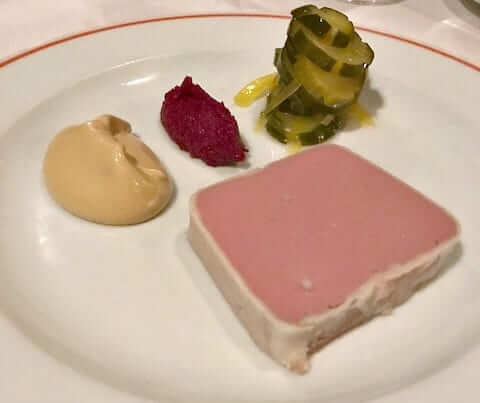 I followed that up with olive oil poached grouper with leeks, ramp yogurt, and cucumber broth. I thought it sounded so interesting – cucumber broth and ramp yogurt? I was sold. And you guys. It was amazing. The leeks were so butter, the ramp yogurt was creamy and the cucumber broth was so interesting. I loved it.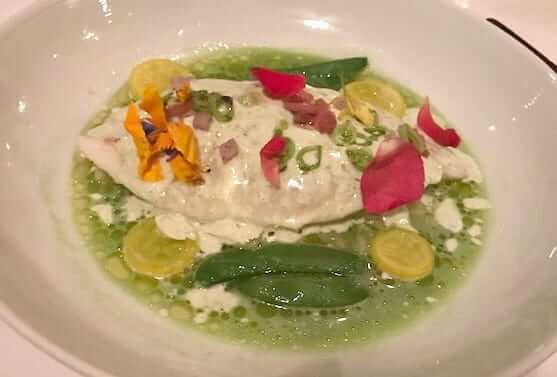 Scott got the pork with farro, arugula, onions and some kind of cheese. He loves pork but was kind of unsure about it. Indeed, it did sound a bit odd. But it was absolutely delicious. He loved it. We agreed it was the best place we ate in Charleston.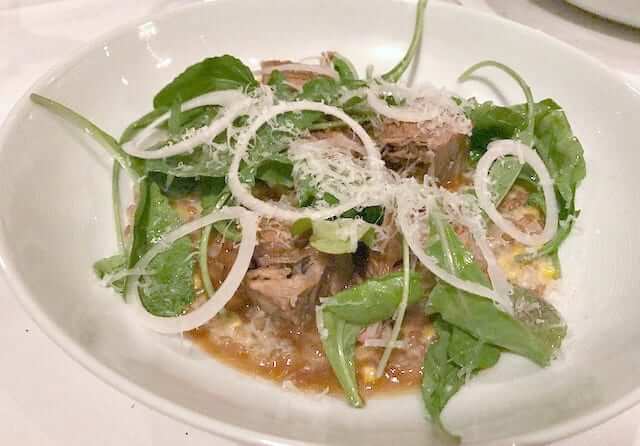 For dinner, we split the pot de creme, a delicious, gluten-free dessert that was very rich and just so, so good.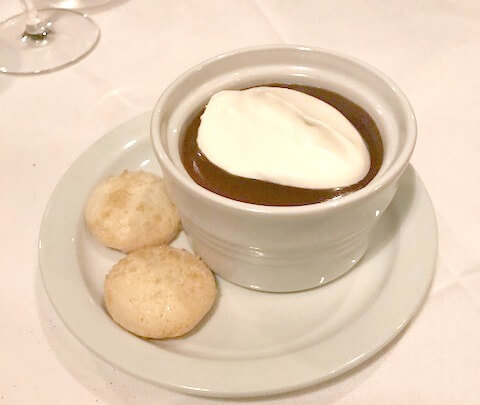 The next day we hopped a boat to Fort Sumter.
My husband is a huge history buff and loves anything related to the Civil War. Again, not exactly my cup of tea, I would've preferred to explore some of the local islands. But it sure was nice taking a boat out to the fort and seeing all the gorgeous scenery.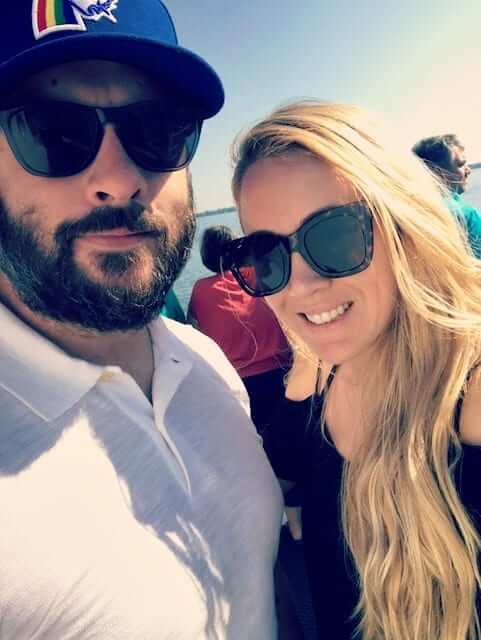 Baby and baby daddy at the fort.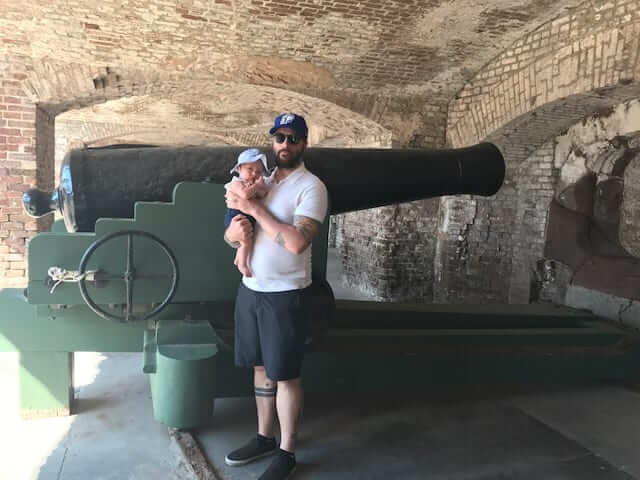 Lookin' good, hubs.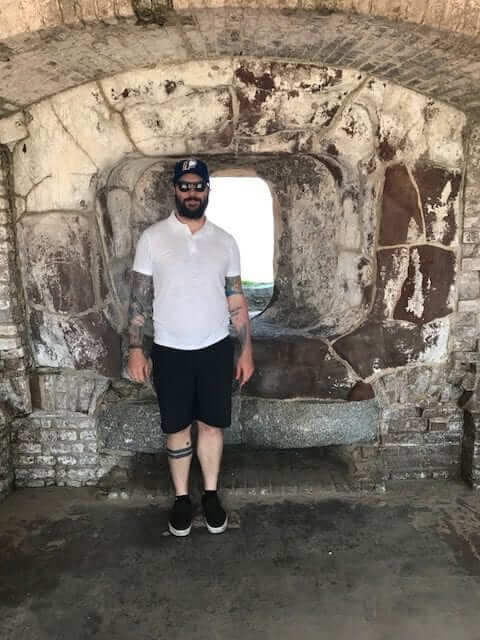 The boat ride over included an oral history lesson played over the speakers. I actually loved this. They emphasized the history of the fort and the Civil War and included the history of slavery. I appreciate that they did not gloss over this, despite a large number of children on the boat. The fort was built by slaves, as was a large part of Charleston. They built homes, building, and businesses for white people. They farmed and fed them. That town was built on the backs of slaves. It's important not to forget history, no matter how unpleasant. We will definitely take Everett here when he is a bit older.
That night, we had reservations at Circa 1886 Restaurant, which I suspect I would've loved. But we were just beat. Neither of us felt like dressing up, putting the baby to bed, taking him out in the car seat and hopping a cab.
I hadn't planned this – which is hard for me because I am such an insane planner. I hadn't even heard of this restaurant, which is surprising because not only is it very good, it's a Charleston staple.
Scott got scallops, which were big and cooked perfectly.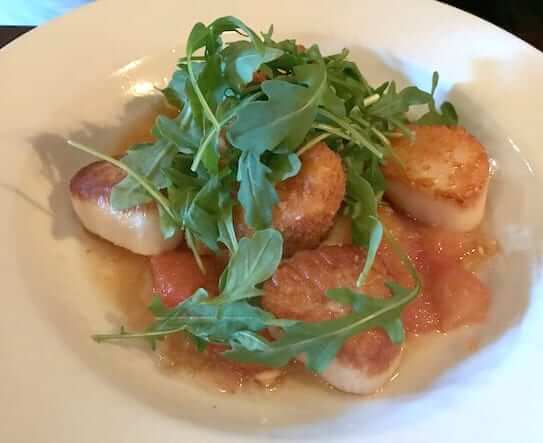 And I got the grouper with spinach, mushroom and goat cheese risotto over a balsamic tomato reduction. It was absolutely delicious.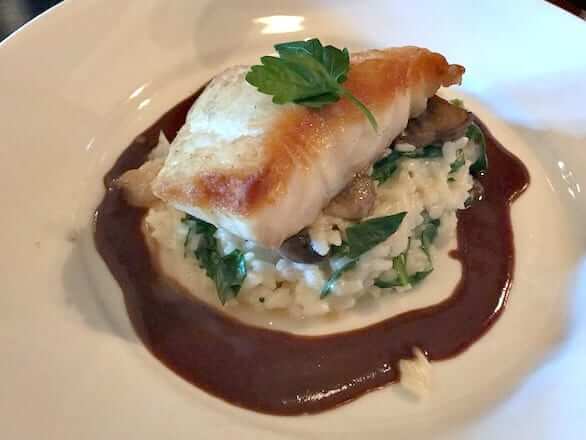 I feel like this place should have been on more lists and higher on Yelp reviews, but it's not trendy. It's not a hipster place. This is a place where it seemed like a lot of locals, a lot of older people that were dressed up and a lot of people who were regulars. I enjoyed it very much.
So in conclusion of Part III of our Chucktown trip:
Husk is good, but not the best meal ever
Fig is indeed the best meal ever
Go to Fort Sumter and take your kids and teach them about history
Check out Hank's for some delicious seafood