We rented an apartment on Home Away for our Charleston vacation, which was the cutest apartment ever.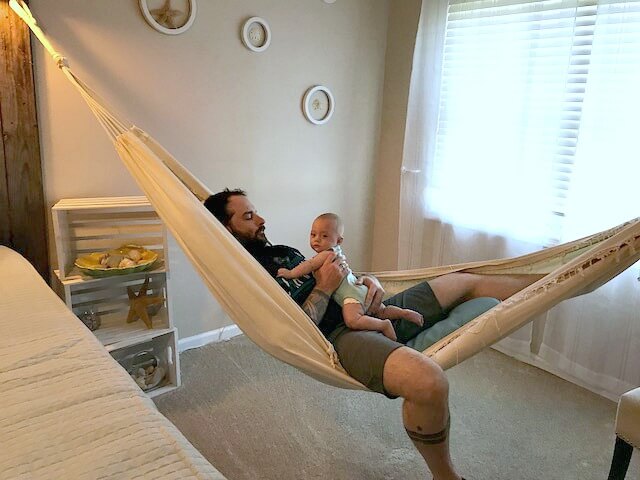 Doing this also saved us money in more ways than one: not only was it cheaper than a hotel, but because it had a full kitchen, I made us a healthy breakfast every morning.
We went to the local Harris Teeter where I got:
organic eggs
Kerrygold butter
organic black beans
white rice (also organic!)
organic shredded cheese
organic tomatoes
Suja juice (the green one with the lowest amount of sugar)
And had us a bit of a Mexi style breakfast.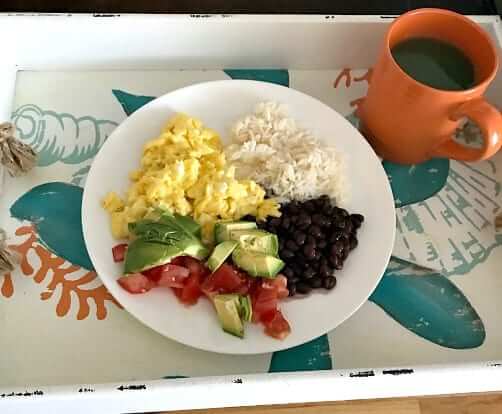 After that, we walked all over the city. In total, we walked around 25 miles from Saturday to Wednesday. Charleston is the perfect city to get out and explore. We woke up bright and early, which we actually always do, and headed to the waterfront park. It was cool, uncrowded and absolutely gorgeous.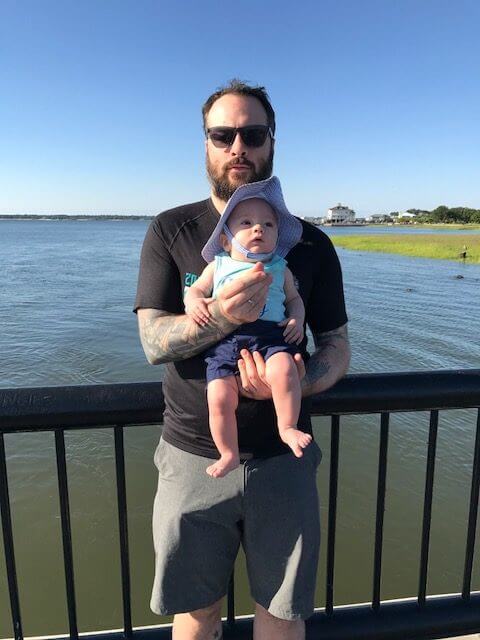 We walked over to the shopping district, which I highly recommend. There are so many cute stores with cool stuff. The strip is really long. Maybe go down one way the first day and the other day the next.
Because we had breakfast so early and we'd been walking so much, I was in Anthropologie when I started to get a little nauseous. And then it grew. And then I was pretty sure I was going to puke because I hadn't eaten in so long and I'd been walking miles in the intense heat. It was Sunday and we were going to walk all the way to Warehouse, whom I was told had an amazing brunch. I was very excited about it. But I was pretty sure I was going to vom on all the pretty clothes.
Am I the only one this happens to?? Probably.
My husband made me put the baby down, who was strapped to my chest and chug water while we walked to the nearest decent looking restaurant. We were aimless. I needed food ASAP. We landed at Amen Street Fish & Raw Bar. We split the tuna tacos, which weren't the best I've ever had but nonetheless were pretty good.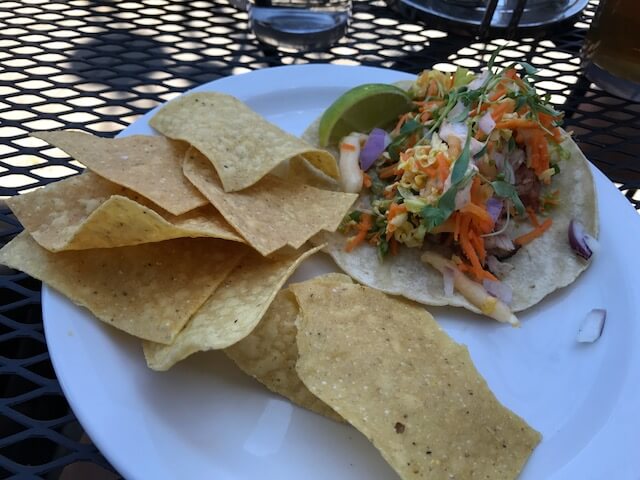 I liked the massive amount of veggie slaw on top, it was my favorite part. I skipped the chips.
Scott ordered the calamari steaks, which I found out are the center, thick cut of squid that is more steak-like. They were very lightly breaded and topped with a creamy bacon sauce, tomatoes, and fresh green onions. You guys, this was my second indulgence into gluten and it was SO GOOD. They were meaty and delicious. I forgot to snap a picture but if you're a gluten-eater, get 'em! They're the best calamari you will ever have.
I got a salad. A salad! Boring. I just needed food and wasn't sure what to get.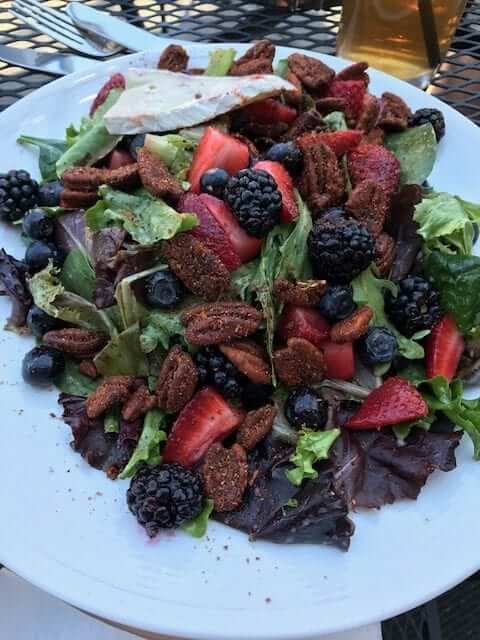 After that, we headed back over to shopping on King Street. I had heard about this place called Skinny Dip on Instagram while searching for good food and found out that they served frosè. Obviously, I was sold.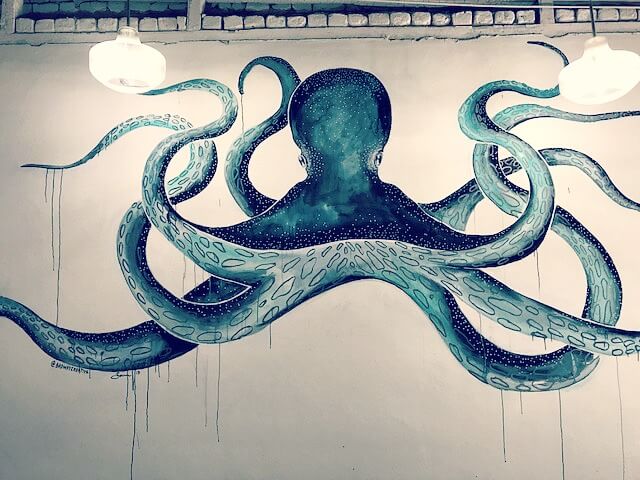 They had some pretty cute clothes but the prices were a little too much for me (ie: $167 for a top), my husband managed to find a shirt he liked. After checking out the store, we headed upstairs for the real reason I wanted to go there. Gimme that delicious, frozen rosè, ya'll (see, I already turned southern).
Here I am with my baby and a glass of booze. Motherhood is really wonderful and I'm not even being sarcastic. Anyone who says otherwise should probably drink some frosè and travel to Charleston, baby in tow.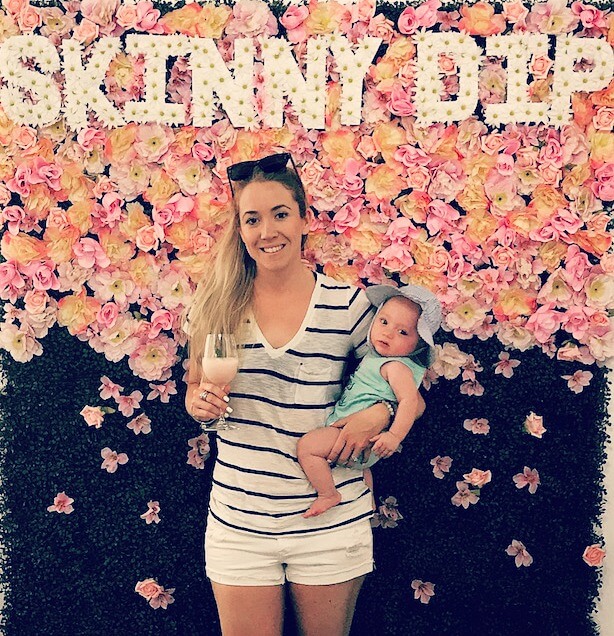 We headed out onto their very relaxing and well-decorated patio to hang. We chatted, Scott sipped his iced coffee, I sipped my frosè, bubba sipped his breast milk. It was an awesome place to stop and chill for a bit before walking seventeen thousand more miles – which I quite enjoyed.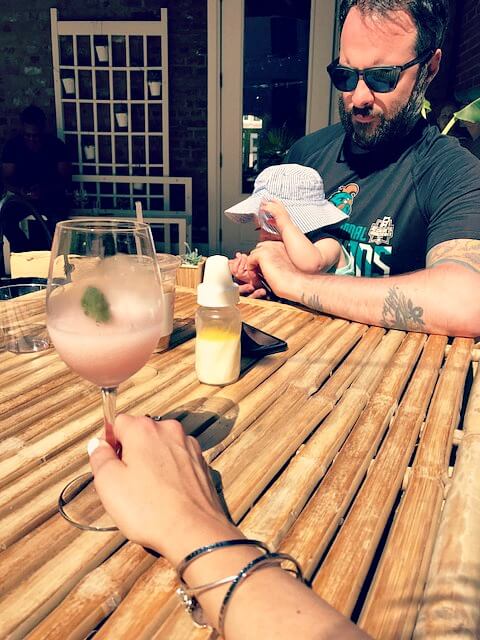 That night we had dinner reservations at The Ordinary. I was sure I'd like this place. After I was let down by 167 Raw, I studied The Ordinary's menu repeatedly and assured myself that they'd have fresh, simple, delicious seafood prepared with delicious veggies and herbs.
Thankfully, I was right. Because The Ordinary was f*cking great and also very well decorated. People in the south sure know how to make pretty spaces. It used to be a bank, now it's just a very good restaurant.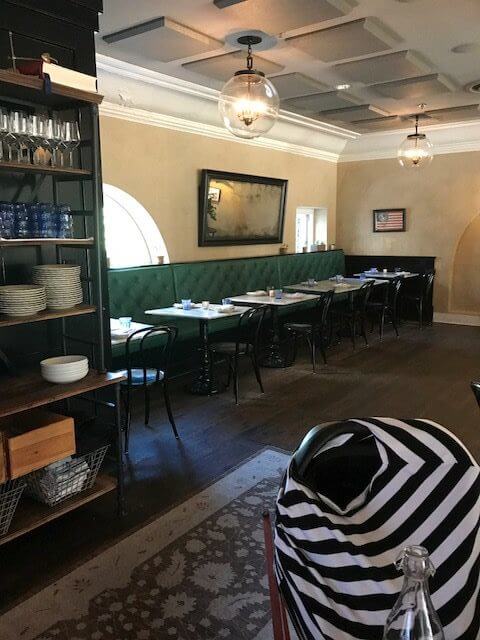 See E's cover? He was napping in there with his shusher. Works like a charm. Parents, take note!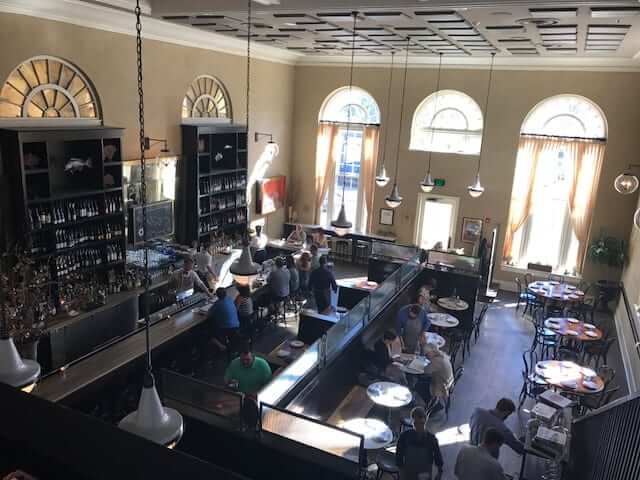 I started with the mackerel Crudo with fresh lemon, fresh horseradish, and caviar. You guys. It was amazing. This is what I'm talkin' about when it comes to seafood.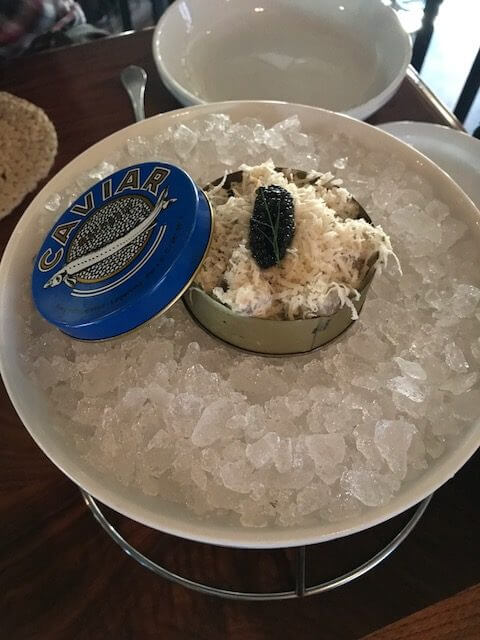 After this delight, I tried the Moscow oysters, which are oyster with creme fraiche, caviar and a splash of vodka. Which I thought sounded weird but the creme fraiche and caviar won me over. Thankfully. Because these oysters were insanely good. So creamy and delicious. I want more right now. I wonder if I can make this on my own…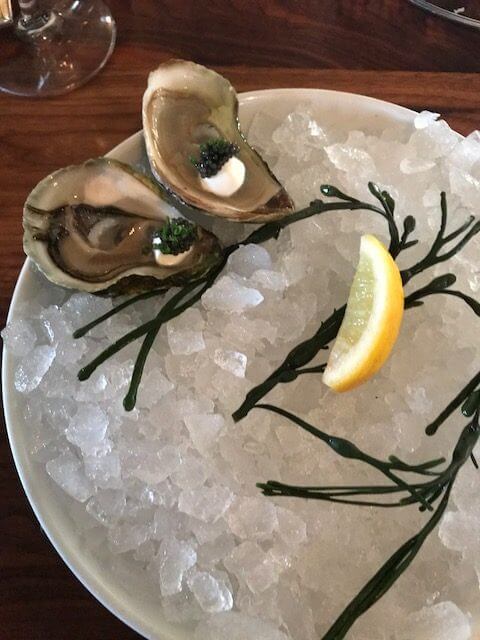 Scott got some peel and eats, which he liked a lot. He didn't love the menu at The Ordinary but thoroughly enjoyed his food. I think the menu seems a bit mysterious because it doesn't have any description of the food. But once you get it, it's really good.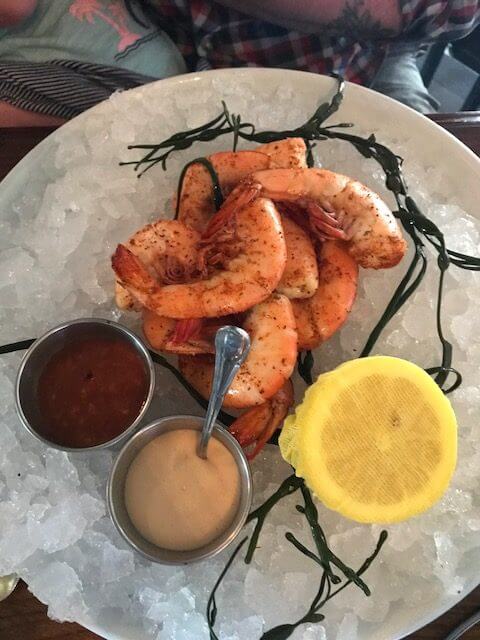 He followed this up with BBQ shrimp toast. The man loves shrimp.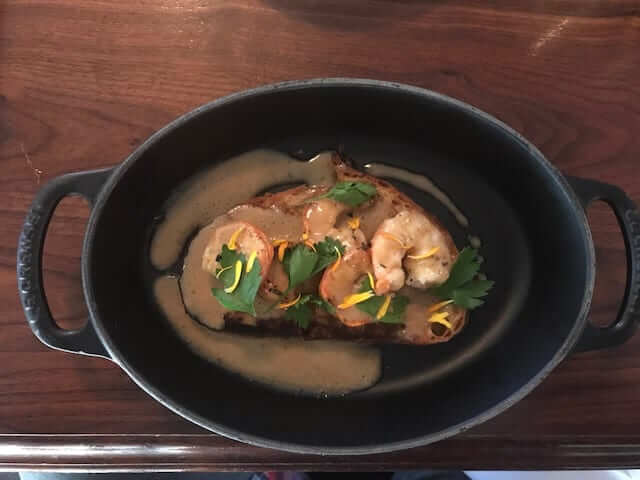 The softshell crab was calling out to me. I think I asked if it was gluten-free and she told me it was because they use cornmeal. I think? I'm not sure because I had a glass of wine and two tequilas with soda and grapefruit. I was pleasantly tipsy and loving every minute of this dinner. I just double-checked the menu. Yes! It was gluten-free.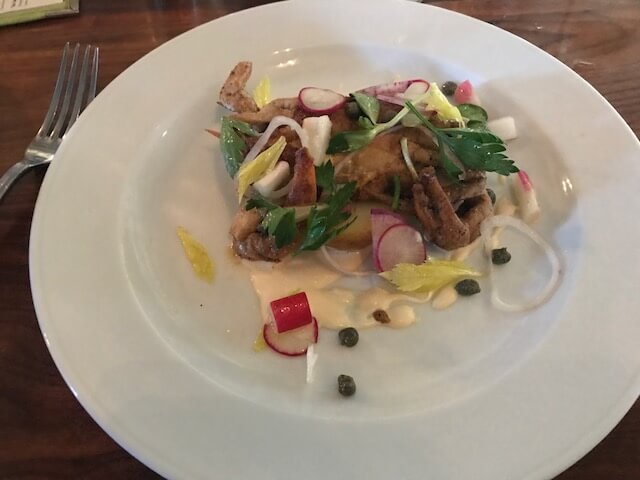 It was served with celery, parsley, onion, capers, pickles and some sort of creaminess. The idea was that the crab would be served with a deconstructed tartar sauce. It was gooood. I was drunnkkkk. Just kidding. Sort of.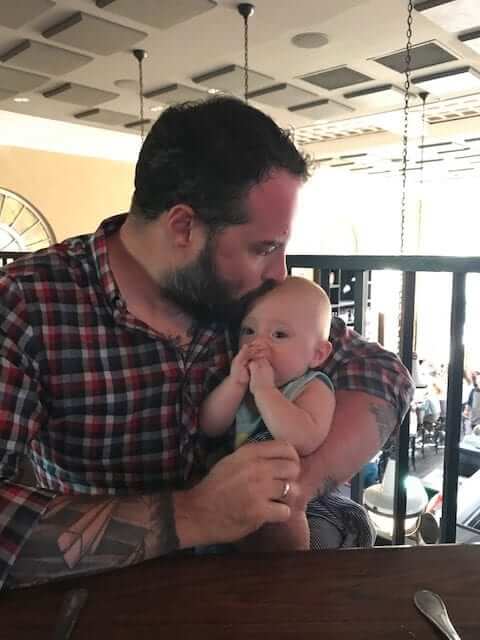 So I had a few drinks and balanced it out with a very healthy seafood dinner and a ton of water. Also, we ate dinner at like 5 pm because we're old and get tired by 9 pm. Baby woke up from his nap, we headed to our Charleston apartment and I hydrated and we watched movies. It was great.
To sum it up:
Walk up and down King Street, checking out the cute shops, old buildings, interesting architecture, antiques, boutiques, etc.
Make sure to get from frosè at Skinny Dip
If you go to Amen's, get the calamari steaks
Definitely, add The Ordinary to your Charleston itinerary!