I've been more relaxed about meal planning this summer but this week felt like a good time to start again! Check out my free summer meal plan below!
This summer has been amazing. I'm growing a lot of veggies in my backyard and getting fresh produce from the farmers market every week. I absolutely love summer.
One of my favorite things to do is grill a bunch of fresh food for my family and hang out on our back deck. It's just such an amazing season.
Interestingly enough, I'm being a bit more lax about food lately. In the past I've been on very low carb, healing protocols due to gut issues. But I never really felt better.
Now, I'm eating white rice if I want it. I'm not stressing over having a cookie with my son. And I'm not beating myself up over that extra glass of wine at happy hour with my friends.
I'm just enjoying food, without worrying if it's going to contribute to gut dysbiosis or spike my blood sugar. And not that I strive for this – but my abs look better than even before I had kids.
Stress has so much to do with our overall wellness and I think the fact that I'm so much less stressed has done wonders for my body. I'm still eating incredibly well, I'm just eating what I want. And making it as healthy as possible, like cooking white rice with bone broth or using grain-free tortillas.
I'm excited for this coming week of food! I hope you find some inspiration from my meals!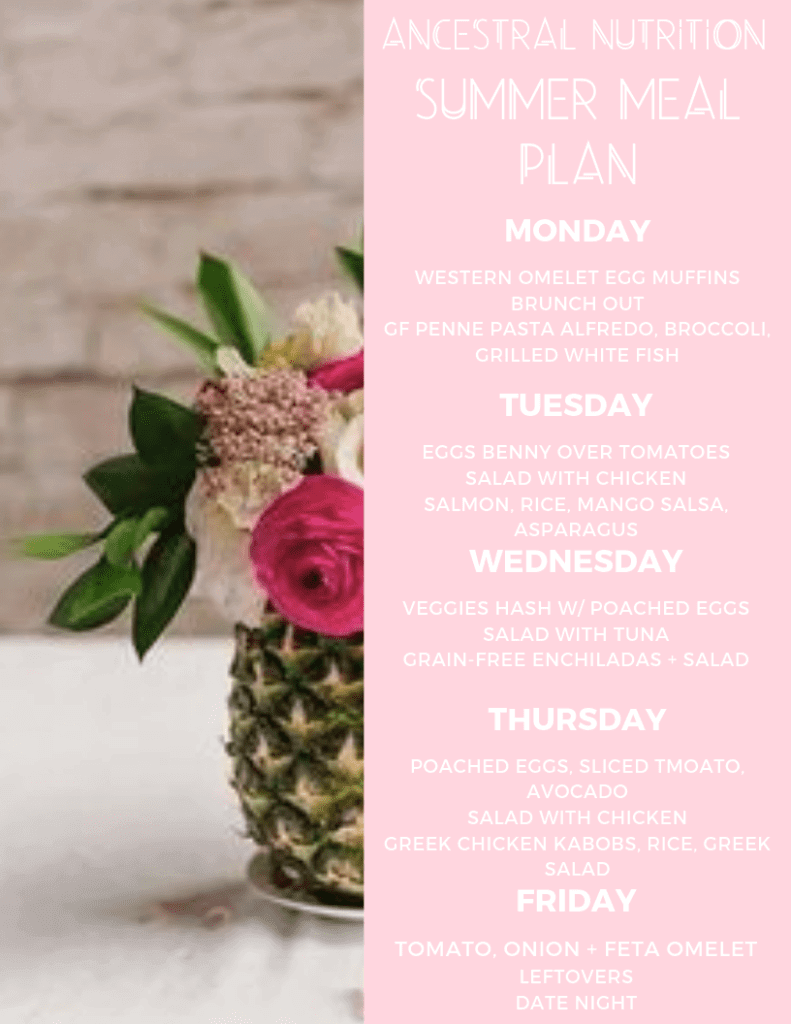 Here's the grocery list. I didn't add common ingredients that you likely already have, like salt and olive oil. I also don't add portion sizes to the grocery list. I have to buy a lot of everything because we're a family of four, but many people reading may only be buying for 1-2 people. Adjust to whatever you need/like!
Grocery list:
Eggs
Bell peppers
Onions
Grass-fed shredded cheddar
feta
Gf penne
Organic cream
Pecorino cheese
Butter
Parsley
Tomatoes
Romaine
Bubbie's pickles
Cucumber
Avocado
Chicken breasts or thighs
Carrots
Olives
Salmon
Mango
Red onion
Cilantro
White rice
Broth
Asparagus
Potatoes
Tuna
Grain-free Siete tortillas
Enchilada sauce cabbage
A word on random ingredients like carrots, cucumber, pickles and olive. I use these in my daily lunch salads. Having a salad for lunch everyday isn't just easy, it's incredibly healthy. It's a great way to get a ton of veggies in your diet daily.
Hope this inspires you to make some healthy meals!